Bicycle Infrastructure
Weekend Roundup: Central Subway/T-Third Link to Open, S.F. Fire Dept. Endangers Cyclists
3:59 PM PST on January 6, 2023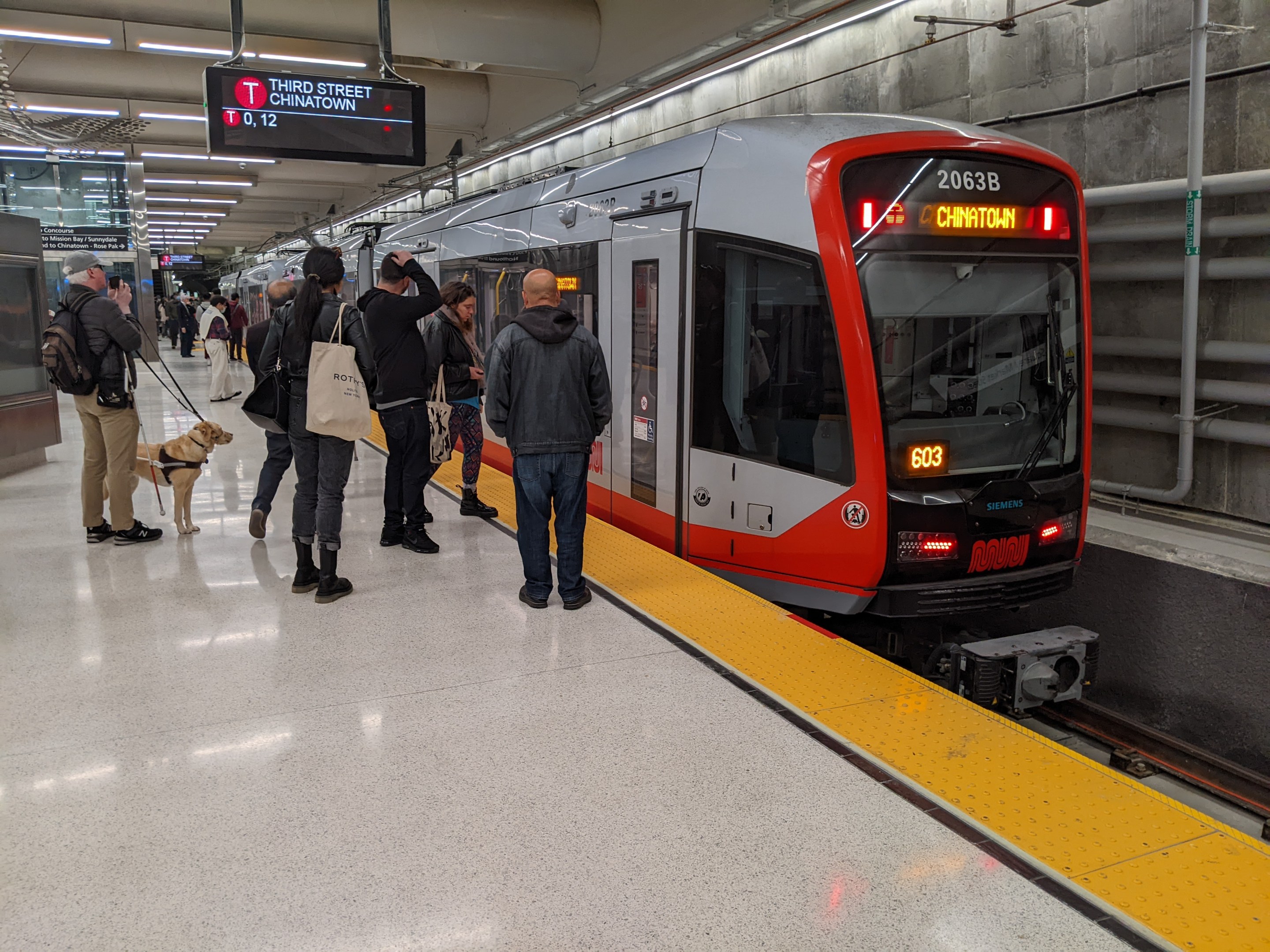 Here are a few Streetsblog news nuggets to start the first weekend of 2023.
Central Subway to finally open-open
SFMTA started operating the Central Subway from Chinatown to 4th and Brannan in November, on weekends only. Saturday, at long last, the line will start full operations, from Chinatown all the way to Sunnydale. This will connect Visitacion Valley and Bayview neighborhoods directly with Chinatown. From a release from D-10 Supervisor Shamann Walton's office:
Just in time for the upcoming Lunar New Year, the T-Third will start its historic new route on Saturday, January 7, providing a direct Metro connection between Sunnydale and Chinatown-Rose Pak Station. Service runs Mondays through Fridays, 6 a.m. to midnight every 10 minutes, and Saturdays and Sundays, 8 a.m. to midnight every 12 minutes. This new route will provide a vital connection for residents living in Visitacion Valley and Bayview directly to Chinatown for the upcoming 2023 Lunar New Year festivities. Both the Visitacion Valley and Bayview neighborhoods are home to a large population of Chinese Americans, many of whom rely on public transportation to visit Chinatown for their basic necessities, groceries, and in-language services.
There will be a ribbon cutting ceremony and celebration Saturday, January 7, at 12:30 p.m. at Sunnydale Avenue and Bayshore Boulevard (Eastern side of Sunnydale Avenue) at the Sunnydale Station.
Anybody want to bet Supervisor Walton drives to it?
SFFD endangers cyclists. Department makes no apology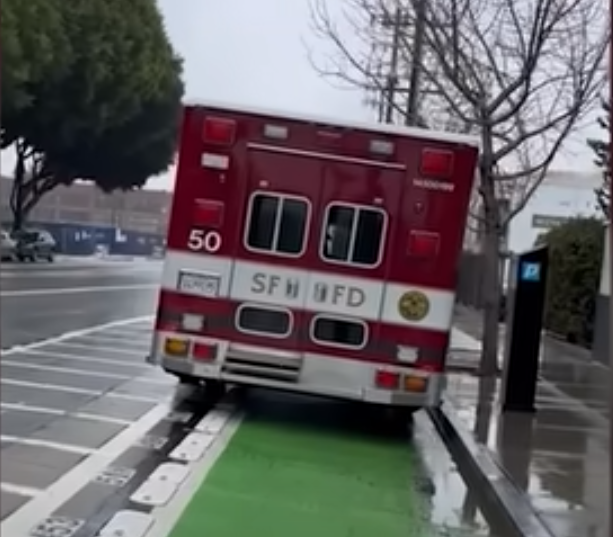 Pop quiz: are bike lanes for cars, trucks, or bikes? According to the San Francisco Fire Department, they're for doing paperwork.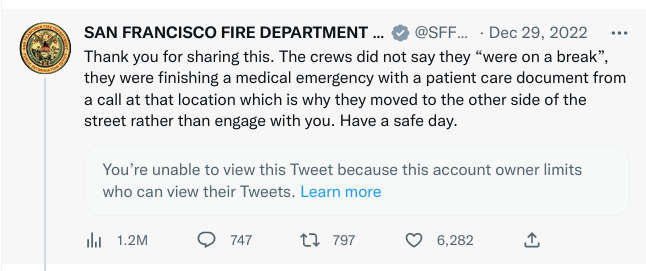 In the above tweet, the SFFD communications person tries to rationalize an incident that happened on December 29th on 7th Street, when advocate Stacey Randecker was riding a bike in the rain and came across the ambulance parked in the bike lane pictured above. No lights, no injured party; the ambulance was just parked there with its driver tapping away on a cell phone. Randecker shot off an angry video and tweet, which went viral and was picked up by press outlets globally. The comms person who responded from SFFD is basically making stuff up about it being an emergency, however, as Randecker discovered when she looked up the day's reports. "They had a seemingly low-stress call (no medical treatment needed), 1/4 mile away, 35 minutes before I got to them," she wrote on Twitter. That was all especially frustrating for Randecker, considering "it was the fifth vehicle in 1/2 mile in the bikelane."
Randecker was lambasted online by drivers unfamiliar with the street who think a cyclist can just "go around" (no, they can't, since the section of bike lane was protected with "armadillo" obstacles at the edge of the lane). Even with a stripe-only bike lane, "going around" is far more dangerous than it might sound to someone who is not familiar with street safety and Vision Zero--people have literally been killed trying to get around parked vehicles blocking bike lanes.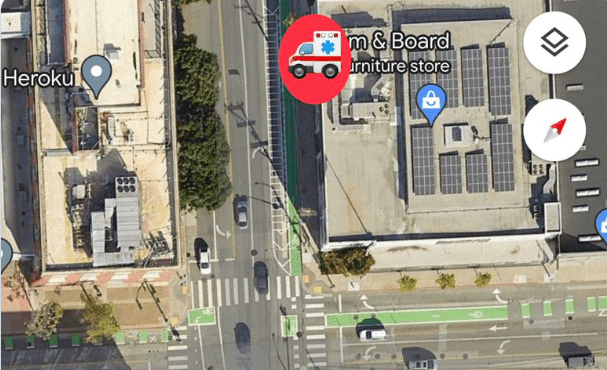 Furthermore, what's the point of building bike lanes if motorists just park in them? Obviously, they don't contribute to safety if there are cars and trucks blocking the lane on almost every block.
It goes without saying that emergency responders can use bike lanes, car lanes, or whatever they need to when rendering aid. But parking on them to get lunch, do paperwork, play Angry Birds, or do whatever that EMT was doing on their phone is inexcusable. Even the EMT seemed to understand this--the driver moved to a legal parking space after being confronted by Randecker.
First responders scrape enough cyclists off the street to know better. For more on the incident, check out Randecker's video or the DailyMail's coverage.
And an unpleasant reminder about Valencia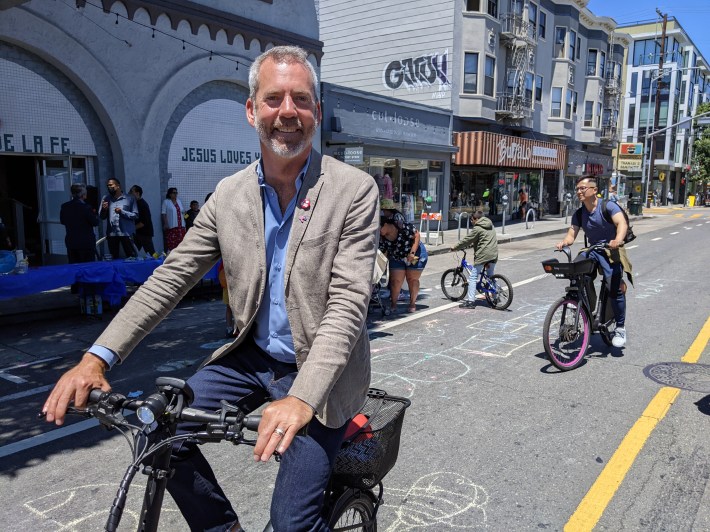 Speaking of blocked bike lanes, SFMTA has one again broken its pledge to add protected bike lanes to Valencia by the end of the year (a surprise to nobody). Streetsblog, of course, will continue to cover this pathetic situation as SFMTA and the city waits for someone to die on this street. Advocate Kyle Grochmal summed it up well:
As editor of Streetsblog, I feel like Charlie Brown from Peanuts trying to kick Lucy's football; it's difficult to know what else to say about it. Tumlin, Supervisors Rafael Mandelman and Hillary Ronen, SFMTA's Jamie Parks and other electeds and officials are one day going to have to look into the eyes of a bereaved husband, wife, mother, father, son, daughter, friend and explain why they let their loved one die. No doubt, after that, Valencia will get its protected bike lane, just like happened on Howard and so many other streets.
Stay in touch
Sign up for our free newsletter