Streetsblog.net
Safe Streets for All coalition pushes for "transit that works," hopes to influence elections
8:06 AM PST on January 11, 2023
2022 was a devastating year for traffic violence in Chicago. Drivers fatally struck at least 31 people walking and 8 people on bikes. And according to an NBC investigation, there were at least 33,000 hit-and-run crashes in Chicago in 2022, with at least 28 hit-and-run fatalities (of all types), and 4,400 people injured.
Many local traffic safety activists and advocacy organizations have been calling for safer streets for years. But Rebecca Resman of Chicago Family Biking called summer of 2022 a "boiling point." On June 2, an SUV driver struck and killed 2-year-old Rafi Cardenas as he rode a scooter in Lincoln Square. One week later, Lily Shambrook, 3, was fatally struck by a semi-truck driver while riding in a child seat on the back of her mother's bike in Uptown. Two days later, a sedan driver struck and killed 75-year-old Peter Paquette while he was crossing Irving Park Road in North Center, shortly after the senior attended the Safe Streets for All rally, a memorial to the two toddlers. The following week a hit-and-run driver fatally struck Ja'lon James, 11, as he crossed the street in North Lawndale. And the list goes on. Clearly new tactics, and a louder megaphone, were needed.
In response, several sustainable transportation groups came together to form the Safe Streets for All Coalition, amplifying the call for improved safety, transportation equity, affordable housing, and climate action in Chicago. "There are so many groups and organizations that comprise the landscape of the active transportation advocacy scene in and around Chicago," Resman said. "The Safe Streets for All Coalition unites these groups, enabling us to effectively mobilize our audiences and use our collective power to demand better of our elected officials, city planners and each other."
Six groups are currently listed as members on the coalition website: Access Living, the Active Transportation Alliance, Better Streets Chicago, Chicago Bike Grid Now!, Chicago Family Biking, and Southwest Collective. Together, the coalition members created a platform that envisions how better roadway design and maintenance, revised traffic laws, state-level reform, and investment in transit can crate a safer and more efficient Chicago transportation system.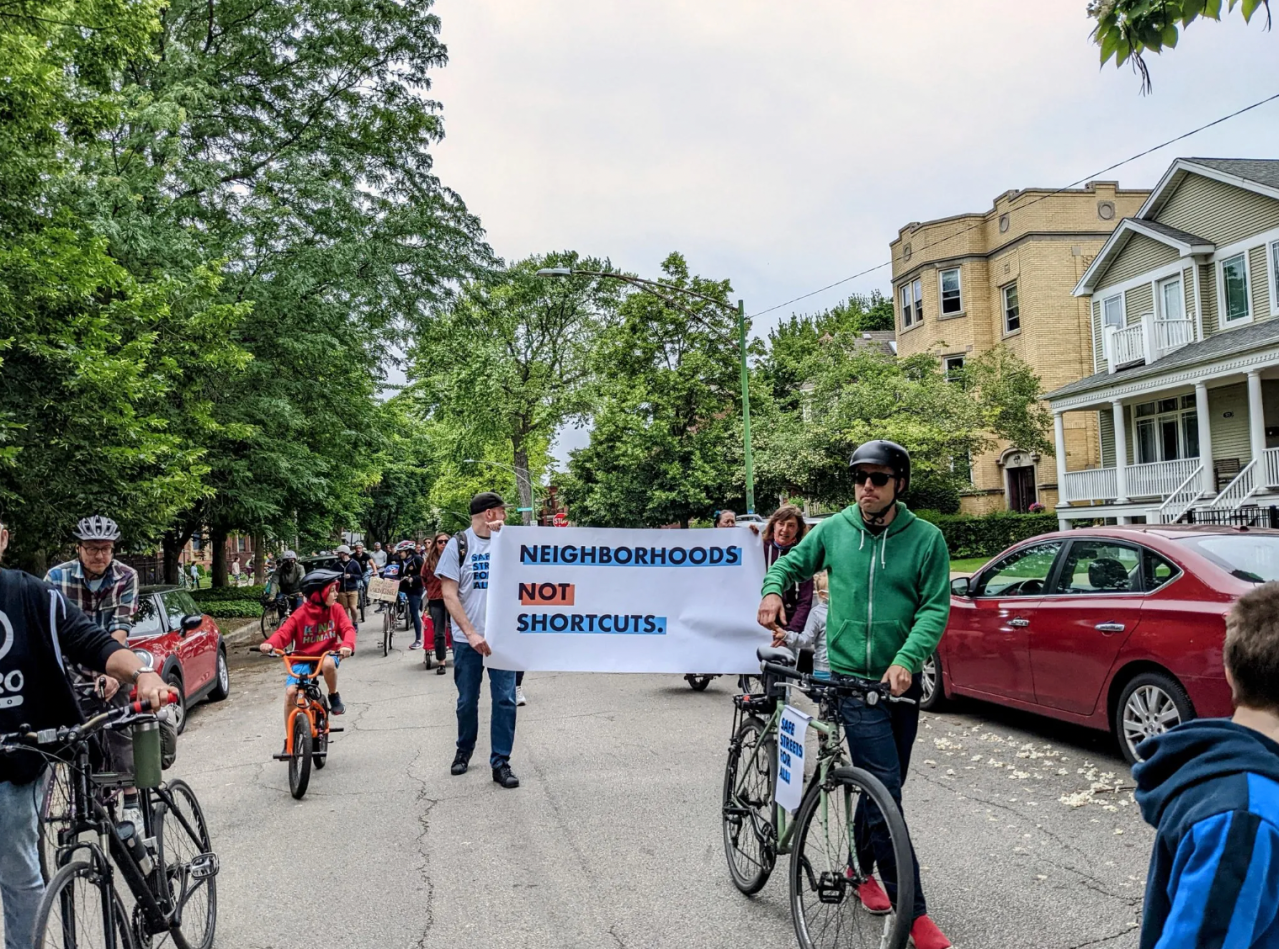 The group's platform is divided into two categories: Safe Streets for All and Transit that Works. In these buckets are a few concepts that may be familiar if you've been following the work of transportation advocates over the last few years. For instance, creating a network of well-enforced dedicated bus lanes is a relatively low-cost improvement that would dramatically speed up CTA bus service, so that's been a major campaign for Active Transportation Alliance. Chicago, Bike Grid Now! has noted that lowering the default citywide speed limit, currently 30 mph, to 20 mph on main streets and creating 10 mph pedestrian-and-bike-priority corridors on residential streets would be an effective way to reduce traffic fatalities and encourage sustainable transportation. And Better Streets' Plow the Sidewalks campaign, which calls for a municipal sidewalk snow clearance pilot, is the call-to-action banner near the top of the group's website. 
Other Safe Streets for All platform items include:
Pressing the Illinois Department of Transportation to adopt street design standards appropriate for urban areas
Limiting the size of commercial vehicles and where they can travel in the city
Improving compensation and schedules for CTA employees
Making train stations accessible to people with disabilities
Coordinating city departments to effectively address transit and housing issues
Eradicating "ghost" buses and trains with an accurate bus and rail tracker
Together these planks form a fairly comprehensive vision for a safe and convenient transportation system. And many of these items fall under the purview of the mayor's office and City Council, making the upcoming election a golden opportunity to raise awareness of the platform and garner commitment from mayoral and aldermanic candidates.
To that end, Safe Streets for All is hosting a mayoral candidate forum on Saturday, January 28 at UIC's Student Center West, 828 S. Walcott Ave. "In Chicago, a lot of the transformational change on our streets is championed, or thwarted, by alderpersons and the priorities of the mayor," Resman said. "Our coalition is organizing in all 50 wards to understand where various candidates stand on transportation and ensure our audiences consider those positions when they visit the polls on February 28th.  Beyond election season, we hope our hyperlocal approach to election outreach will result in a renewed commitment by city council and the mayor to prioritize the safety and experience of people biking, walking and taking transit. As a coalition, we're just getting started and we are actively recruiting people, organizations and businesses to stand alongside us in demanding safer streets for all."
The Safe Streets for All Coalition is looking for ward captains to do election outreach and build relationships with aldermanic candidates. A virtual training takes place January 10 from 6 – 7pm. Information can be found on the Safe Streets for All website.
Stay in touch
Sign up for our free newsletter