Pedestrian Safety
Commentary: The Bay Area has a Driver Problem
8:45 AM PST on January 19, 2023
Note: GJEL Accident Attorneys regularly sponsors coverage on Streetsblog San Francisco and Streetsblog California. Unless noted in the story, GJEL Accident Attorneys is not consulted for the content or editorial direction of the sponsored content.
The picture above was taken Tuesday, two blocks from my home in Jack London Square. My friend, who had just walked across Oakland's Embarcadero with his wife and baby, witnessed the car in the picture crash into another car, and then take off down the railroad tracks. The driver was heading towards a train and turned to try and mount the platform, flipping his car.
Perhaps he saw too many commercials exaggerating the capabilities of SUVs and other dangerous vehicles.
The driver got out and ran away, no doubt to try and sober up before he got picked up for hit and run. The fact that he drove down the train tracks wasn't the only clue that the driver was wasted--there was a bottle of bourbon under the car, on the driver's side, where it apparently fell out when he opened the door: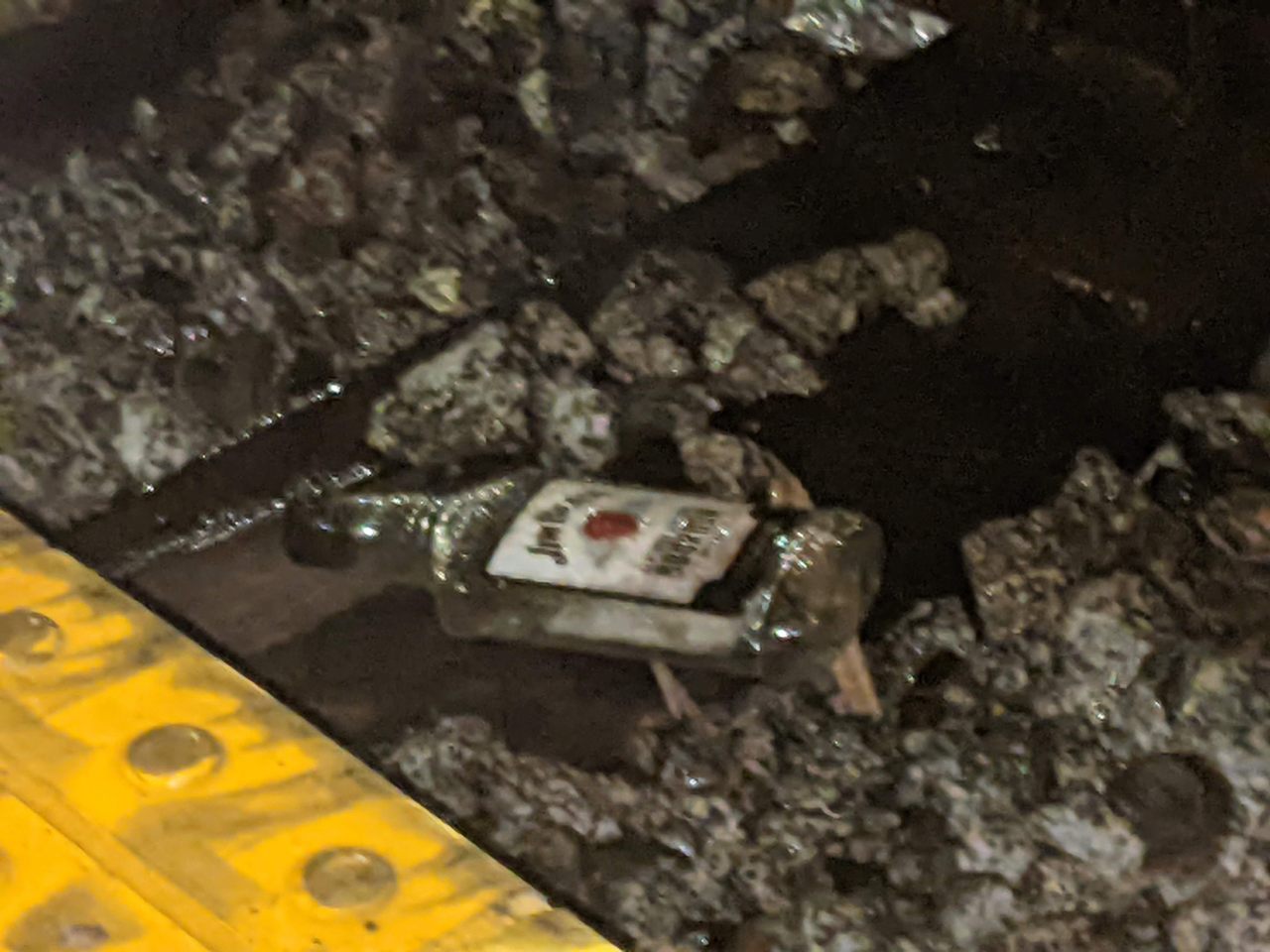 An Amtrak worker who was rerouting the train around the wreck told me the entire incident was probably caught on the train's front camera. Like any train worker, he said he has witnessed many egregious motorist behaviors in his career, although he said this was particularly crazy.
It wasn't even the saddest example of systemic driver insanity that I saw that day. Actually, it was this, seen near Lake Merritt:
How messed up is it that kids can't walk in a crosswalk on their way to a city park without adults escorting them holding up stop signs?
Aren't traffic lights and crosswalks full of kids enough to get drivers to reliably stop? But motorists blowing through red lights and violating crosswalks are so common, often right in front of police without any response, that it's now just accepted. It's FUBAR that a good portion of our drivers are so unhinged and reckless that kids aren't safe just going to the park on their own.
Meanwhile, the latest news on enforcement is pretextual traffic stops are ending. That's a good thing. Cops should not be pulling over drivers for infractions because they look "suspicious." But as part of these new policies many police departments are also abandoning enforcement of supposedly minor infractions altogether, such as failure to signal, tinted windows, etc. I'm going to go out on a limb here and propose that the driver who flipped on the tracks probably doesn't signal his turns either (and of course he must have prior DUIs). Maybe if there was consistent enforcement of traffic laws he wouldn't have been on the road in the first place.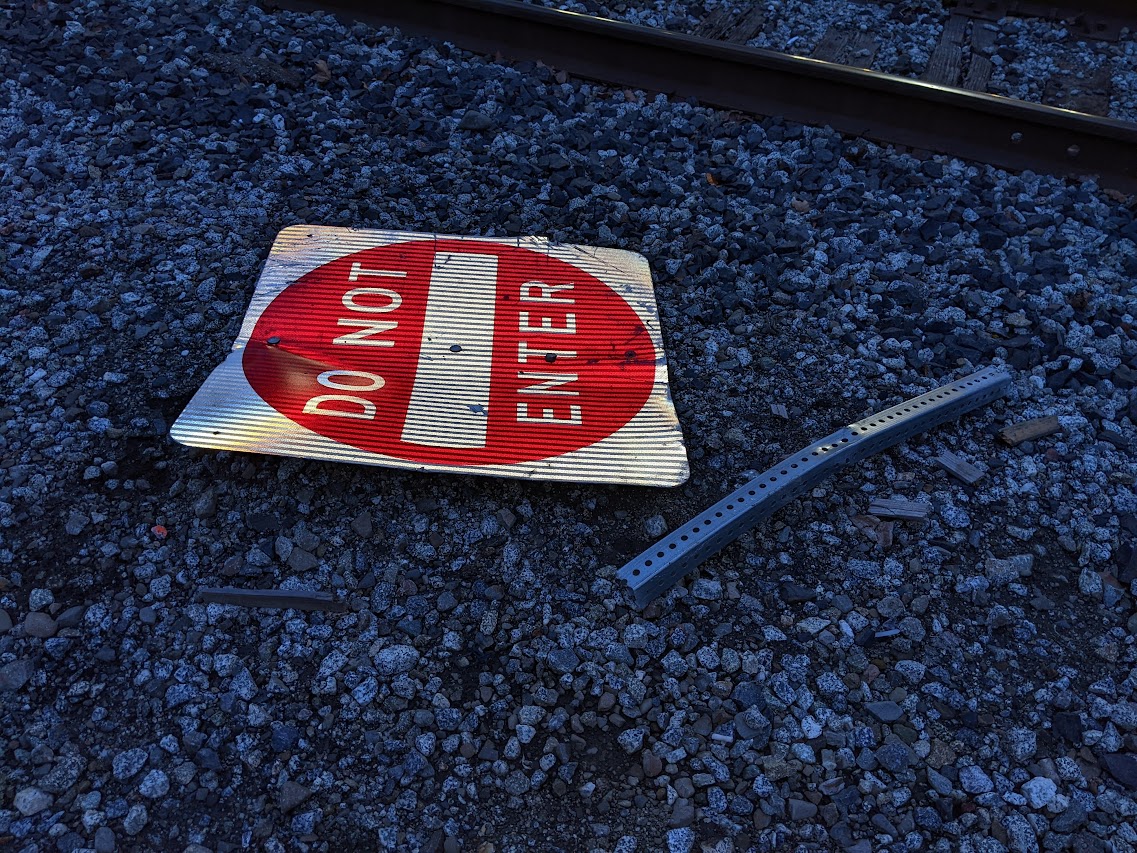 Enforcement is one of the foundations of Vision Zero. Bias needs removed, not enforcement itself. And yet some are so ideologically driven that they're even opposed to speed and red-light cameras, which are clearly shown to curtail two of the leading causes of deadly crashes. That said, nobody who really believes in equity can argue that running red lights or violating a crosswalk should just get a driver points and a fine, which is basically the worst that can happen now. It should result in a mandatory license suspension and an impounded car. Repeat offenders should get their licenses revoked for life. People should never get a pass for dangerous behavior. But instead our system allows hit-and-run drunk drivers such as Marin politician Damon Connolly to get behind the wheel the next day. Why is he, and so many like him, still allowed to drive? It sends a clear message that anything goes, especially if you're wealthy and connected, until you actually kill someone.
And maybe not even then.
It was just an accident of timing that the driver in the lead photo didn't kill my friend and his family or some other innocent bystanders. Better infrastructure can help, but it still isn't enough to make streets truly safe. Sympathetic state lawmakers such as Matt Haney and Scott Wiener need to get legislation going to change how we regulate drivers, so the priority is on protecting the public--not some non-existent "right" to drive like a maniac. Nobody, regardless of creed, color, or socioeconomic status, should be permitted to drive in a way that risks lives. We need comprehensive, color-and-socioeconomically-blind enforcement with serious consequences and driver-licensing reform if we're to have any hope of making our streets safe.
Stay in touch
Sign up for our free newsletter