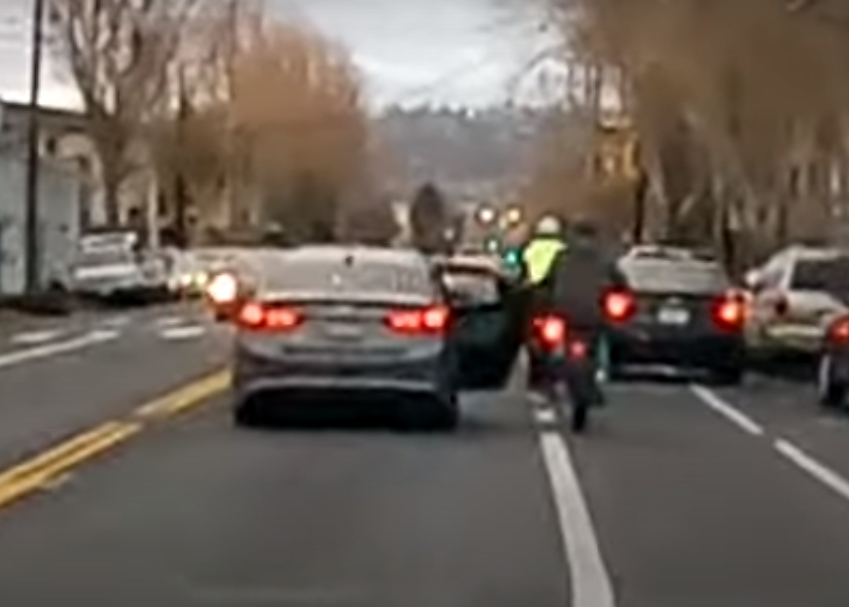 Note: GJEL Accident Attorneys regularly sponsors coverage on Streetsblog San Francisco and Streetsblog California. Unless noted in the story, GJEL Accident Attorneys is not consulted for the content or editorial direction of the sponsored content.
A seemingly organized group of motorists is intentionally using cars to assault and injure cyclists in the East Bay, as documented with bike camera video by East Bay Bike Party (EBBP). From a statement by one of EBBP's organizers, Mingwei Samuel:
A group of people, using four different cars, are intentionally driving into people riding bikes in a string of attacks in Emeryville, Oakland, and Berkeley on Thursday thru Saturday. In several attacks a driver sped alongside people riding bikes and a passenger on the right side of the car opened their door to hit the bike riders at speed. In at least two incidents the same driver also swerved directly into a bike rider rather than using the side door.
Also from the statement:
14+ people have been targeted and at least eight people were hit. At least two people were hospitalized for serious injuries. The motivation of the attackers is unclear, but they are clearly targeting people on bikes which certainly makes these attacks terroristic in nature.
KTVU did an excellent segment on the incidents, which includes bike-camera videos of some of the assaults and interviews with victims. Video of one of the attacks below:
"Did these people know about this gathering [of cyclists] in advance and they went out to purposely do this? Or do they live in the neighborhood and it was road rage," District 1 Councilperson Dan Kalb remarked to Streetsblog via phone. "What the hell is going on here!"
"These assaults are extremely disturbing," wrote Walk Bike Berkeley's Ben Gerhardstein in an email to Streetsblog. "I hope that police in Oakland, Emeryville, and Berkeley are working together to investigate them."
Streetsblog emailed the three relevant police departments. "The Oakland Police Department (OPD) is investigating a collision that occurred on February 10, 2023, just after 8:00 p.m.," was part of a reply signed by the department's media team. "This incident is still under investigation. Anyone with information is asked to contact the Oakland Police Department Traffic Investigation Unit at (510) 777-8570. At this time we are unaware of any other reports filed for similar incidents."
Of course, similar incidents are fully documented in the KTVU report and by EBBP. Streetsblog also asked the police why this was being treated as a traffic investigation, rather than an assault with a deadly weapon. "This is an ongoing investigation and after review, the traffic investigator may forward the incident to the felony assault unit if needed."
In Streetsblog's view, of course it should be forwarded as felony assault. Just look at the videos.
Kalb agreed. "I have a call into OPD about it, asking 'what are you guys doing to investigate these assaults?'"
Streetsblog did not hear from Emeryville or Berkeley police by press time.
Meanwhile, Kalb and the advocates agreed this is yet more proof of the need for better infrastructure, including protected bike lanes. "Some of the attacks happened on corridors which used to be Slow Streets (Shafter and Colby), and one of them occurred at a location proposed for a protected bikeway (Grand Ave)," wrote Bike East Bay's Robert Prinz, in an email to Streetsblog. "Infrastructure upgrades won't 100 percent protect from someone who is intentionally trying to hurt people biking or walking, and advocacy for protected bikeways and traffic calming does not excuse violent actions, but it can inhibit opportunities for harassment and reduce the severity of crashes if they do occur."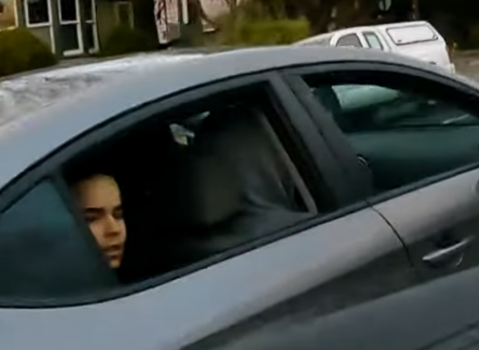 He added that "the vast majority of major injury and fatality crashes on our streets are not targeted attacks, but just regular folks going to work, school, or errands." These more typical forms of traffic violence are effectively mitigated by protected bike lanes and other forms of hardened infrastructure that keep cars physically segregated from cyclists wherever possible.
Mayor John Bauters of Emeryville told Streetsblog that people who have been victimized need to file police reports. "Many crimes are committed in patterns. If we don't get them this time, maybe we can get them in the future." Charlotte Hryse, one of the organizers of EBBP, echoed that sentiment, adding that more people are contacting her group saying they were also attacked by these drivers.
EBBP summarized several incidents in an online document. It includes more photos, video links, descriptions, and photos of the cars, plus locations and times of the attacks.
Stay in touch
Sign up for our free newsletter