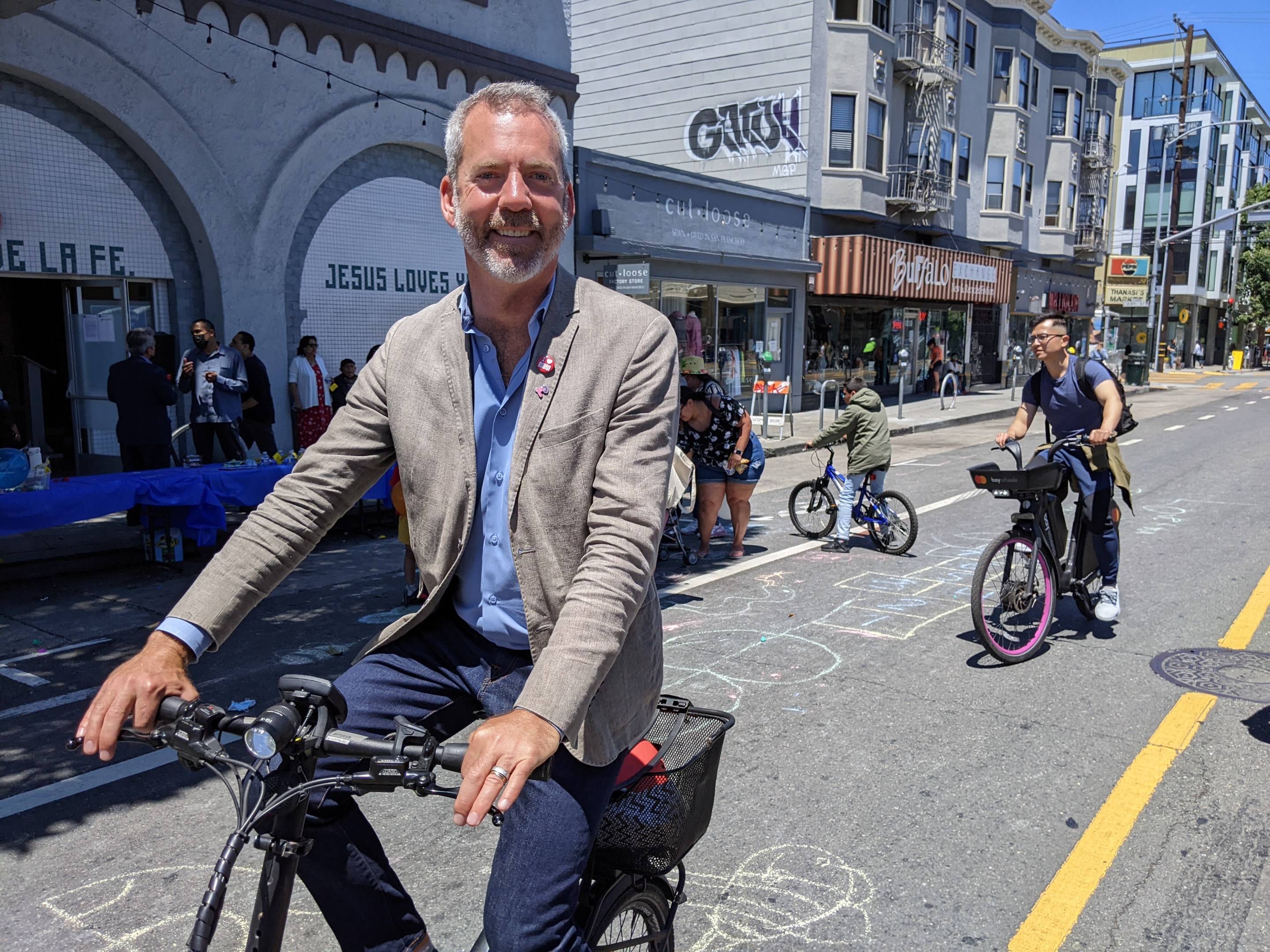 Definition of stereotype, noun: 1) a widely held but fixed and oversimplified image or idea of a particular type of person or thing.
Thirty-seven cyclists, pedestrians, and people in cars were killed on the streets of San Francisco in 2022. They were killed not by people on bikes or scooters or pogo sticks--nearly all were killed by motorists who, in nearly every case, did something illegal in a car or truck, including speeding, drunk driving, distracted driving, violating a crosswalk, running a red light, or some combination.
Nevertheless, SFMTA's director, Jeffrey Tumlin, in a leaked video taken at the general meeting of the Planning Association for the Richmond on January 18th, massively overstated the role that cyclist behavior plays in street safety. Many of the audience members are also active with "Open Lake Street," which wants to end the Slow Streets program.
"Part of that rise in incivility is absolutely people on bikes who are behaving like arrogant, horrible people," he said, replying to the crowd's grumblings and an audience member who shouted that cyclists don't yield: "I know they don't. And I've seen that. This is a huge problem."
Tumlin's comments feed a false narrative that cyclists are somehow equally or disproportionately responsible for antagonism and danger. The numbers, of course, don't bear that out at all--and studies confirm that deadly crashes are almost always caused be illegal behavior by motorists.
Pleading for civility is an oft-repeated theme in Tumlin's speeches. But anyone who watched the video can hear the lack of civility from the crowd he's nodding along with.
Civility begins with honesty. In December, SFMTA removed "road closed to through traffic" signs from Slow Lake Street shortly before an SFMTA vote on the matter. The agency told Streetsblog it was because the signs were old. It's now clear that SFMTA removed the signs to redefine Slow Streets to include through traffic prior to the hearing. In the video, Tumlin confirmed that the no-through-traffic restriction is lifted--which he knows invites "Waze" style cut-through traffic and speeding.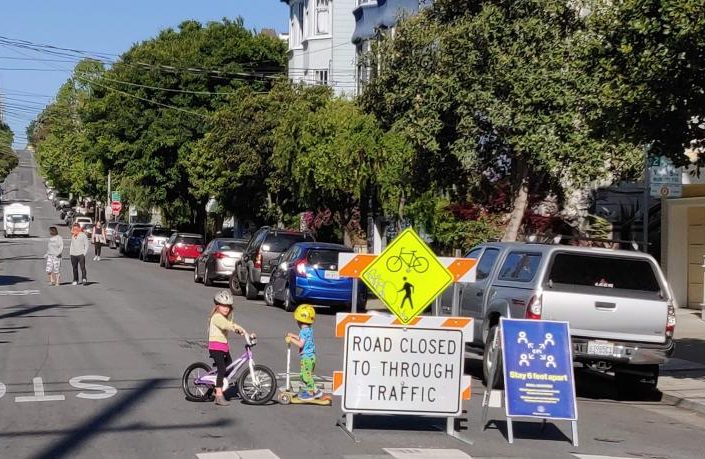 "We admire Jeff for many things, but we and many in the Slow Streets community are all a bit staggered that after ALL we went through, we'd find Jeff himself telling people that they are free to drive on Slow Lake, just pleading with them to 'go slow,' even though there is no infrastructure to create slowness. In effect, on the ground, we have pre-pandemic Lake. And that's how the opponents of Slow Lake are interpreting it," wrote Friends of Slow Lake, in a message to Streetsblog about Tumlin's speech.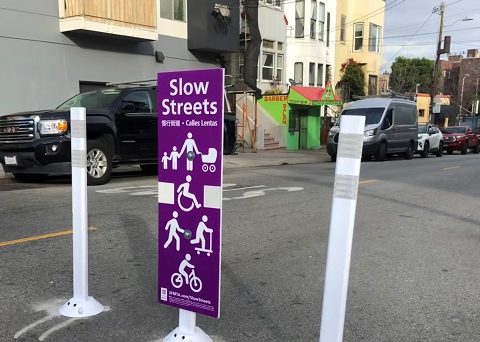 Tumlin continued to reinforce the stereotype of cyclists as angry, spandex-clad marauders. "Like a bicyclist banging their hand on a hood of somebody in a car. No!" he said with the crowd grumbling in approval.
To point out the obvious, someone on a bike can't slap the hood of a car unless that car is within arms reach--an average human arm is 25 inches. A motorist is not supposed to come with 36 inches of a cyclist, because it's extremely dangerous. Either way, it's basically impossible to harm a driver inside a car with one's hand. Meanwhile, drivers maim and kill cyclists and pedestrians every day in the U.S. due to inattentiveness, conscious law-breaking, or straight-up sadism, as was recently the case in Oakland. But Tumlin accuses cyclists of bullying motorists, even though just last year on Slow Lake Street, a driver threatened to run over children with his truck. But Tumlin says that cyclists speeding is a big problem. Go look at the speed data gathered by Walk San Francisco to see who's actually speeding.
Tumlin, in his past career, made a name for himself talking about the inherent inequity of prioritizing drivers over all other users of the street. Now, as head of SFMTA, he's been going along with the watering down of Slow Streets and circumventing democratic process with the elimination of an approved safety project on Valencia. That's already cost one person her life.
These actions and this leaked video show how far he's departed from his previously stated principles.
Note: an earlier version of this story incorrectly stated that all 37 deaths in 2022 were caused by drivers. Two appear to be bonafide accidents that did not involve a motorist or a second individual. Nobody was killed by a cyclist.
Stay in touch
Sign up for our free newsletter