High Speed Rail
High-Speed Rail to Vegas Clears Another Hurdle
2:40 PM PST on March 9, 2023
The dream of high-speed rail from the major cities of California to Las Vegas took a step forward today with the announcement of a labor agreement to construct the 260-mile Brightline West project. From a statement:
...the State Building and Construction Trades Council of California (SBCTC), Southern Nevada Building Trades Union, and Brightline West announced a historic memorandum of understanding to construct America's first true high-speed rail system connecting Las Vegas and Southern California. The agreement will ensure that Brightline West will be built with unionized labor in California and Nevada, creating nearly 10,000 construction jobs and career opportunities.
Construction on the $10 billion project is expected to start later this year, with a potential starter segment to open in time for the Los Angeles 2028 Olympic Games. There are stations planned  for Rancho Cucamonga, Hesperia, Apple Valley, and Las Vegas.
Economic studies show that Brightline West will create more than 35,000 jobs including 10,000 construction jobs and nearly 1,000 permanent jobs for operations and maintenance, according to the union groups.
Having union support, obviously, helps move these projects forward--indeed, union advocacy has been a major factor in the successful funding approvals of California's own high-speed rail project, which will one day link Los Angeles and San Francisco. That project, now well under construction in the Central Valley, is also helping fund rail upgrades throughout the state, including the electrification of Caltrain.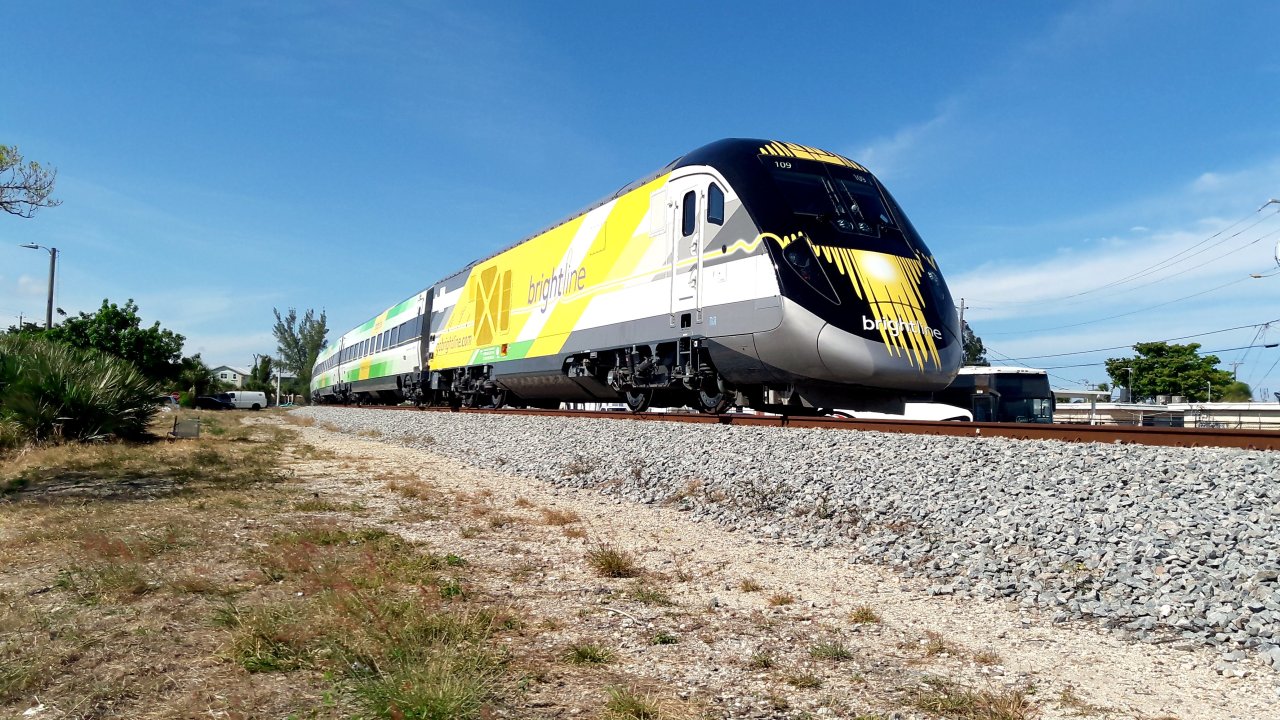 Brightline, meanwhile, is the only private operator of intercity rail in the United States. It currently runs a high-quality - but not high-speed - train in Florida from Miami to West Palm Beach. That route reaches speeds of about 80 mph, and the company is now testing an extension to Orlando International Airport and Cocoa. The newer segment is grade-separated and will permit the diesel-powered trains to reach speeds of 125 mph - still slower than Amtrak's Acela service between Washington D.C. and Boston, but definitely "high speed" by American standards.
Plans for the train from Los Angeles to Vegas are very different. The Brightline West proposal would be electrified, allowing much better acceleration and sustained speeds of around 180 mph. That's fast enough to qualify as "high speed" even by European and Asian standards.
While separate from California's High-speed Rail, plans for the two projects are linked. Brightline trains will one day share tracks with California's trains (see the alignments in yellow on the map below) to get to Los Angeles and, potentially, San Francisco. Until then, Brightline passengers will have to drive to Victor Valley or take a commuter train to San Bernardino to catch the trains. Brightline has committed to keeping its tracks and trains compatible with California's high-speed trains.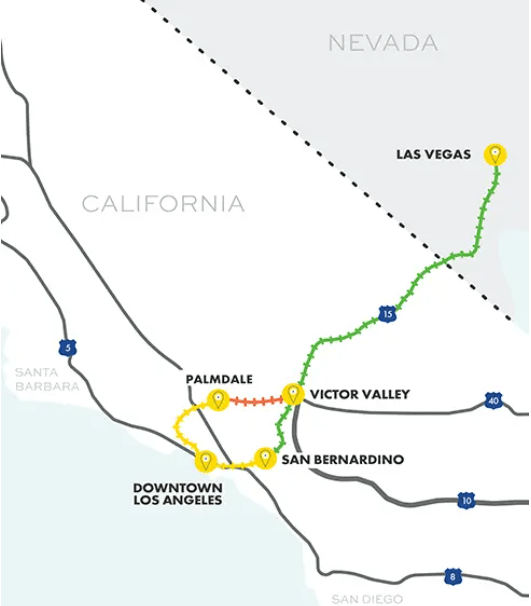 Approximately fifty million one-way trips are made annually between Los Angeles and Las Vegas, according to a Brightline page about the project. At full operations, Brightline expects to attract approximately twelve million one-way trips each year. The project will mostly be built in the median of I-15, and therefore it doesn't face the difficult and costly land acquisitions of California's project.
The labor agreement is the second milestone in recent months. In February, Caltrans agreed to build wildlife crossings over the tracks and I-15. "The ability to clear away impediments by meeting environmental needs, as with these wildlife crossings, allows the projects to avoid delays that cost billions in inflationary cost increases," wrote Rod Diridon, Sr, Co-chair of the US HSR Coalition, in an email to Streetsblog. "Compliments to Brightline."
Stay in touch
Sign up for our free newsletter