Freeways
Not a Surprise: 101 Freeway Widening Shows Negative Results
4:11 PM PDT on April 12, 2023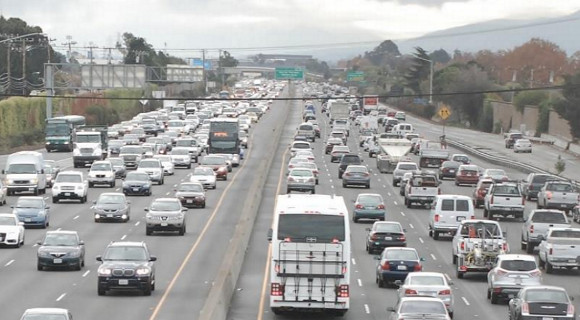 Note: GJEL Accident Attorneys regularly sponsors coverage on Streetsblog San Francisco and Streetsblog California. Unless noted in the story, GJEL Accident Attorneys is not consulted for the content or editorial direction of the sponsored content.
Traffic congestion on 101 remains essentially unchanged in San Mateo County, despite the recent completion of an almost $600 million express lane project that included fifteen miles of widening.
Moreover, "even though 101 congestion is now bad, it is still getting worse," despite the additional lane-miles, explained Mike Swire, a Peninsula advocate and member of the Citizen's Advisory Committee of the San Mateo County Transit Authority, after a recent meeting with San Mateo County Transportation Authority officials.
"California in general has that problem: that as soon as we start to build something we're immediately over capacity by the time we finish building it, so it's almost impossible for us to keep up with the amount of demand," admitted Monique Fuhrman, Deputy Policy Program Manager with HNTB, which worked on the project, when questioned by Swire at the CAC meeting. She added that traffic levels are already "getting back to the way we were before."
Swire wasn't having it. He tried to get her to see that widening roads is actually causing the demand and is self defeating. "At what point do we stop doing something we know isn't working?"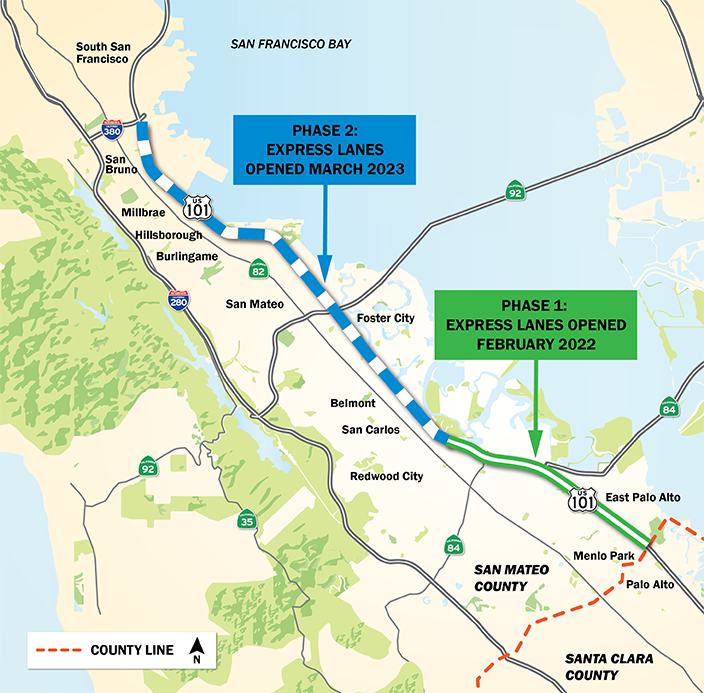 "That's like an existential question. I do not know."

Streetsblog has a suggestion: how about right now?
As Swire said during the meeting, there's nothing wrong with turning an additional lane into a bus-only lane. And perhaps it's okay to convert existing lanes into HOV or toll lanes. But this idea of continuing to add new lanes when that clearly doesn't reduce traffic congestion - that it in fact leads to worse outcomes including more deaths, injuries, and pollution - is just contemptible.
The meeting, Swire's questions, and Fuhrman's answers (or lack there of) also confirmed that:
People are driving dangerously between the new express lanes and other lanes.
The widening has increased the number of cars belching out exhaust (there are more cars on the road, but congestion has not decreased).
They don't really know how many more cars will drive on 101 with the additional travel lane.
And, last but not least: state and county officials have no idea why they keep building (except that it's how they get their paychecks).
It's ironic that Fuhrman's LinkedIn profile identifies her as a "problem solver." Riiiiight. Is that the correct description for someone who helps build infrastructure that makes current problems even more intractable?
Streetsblog readers will recall that the SMCTA gave itself an environmental award for this project, despite the fact that - as was easily predicted - it did nothing to decrease congestion and actually increased pollution by inducing more people to drive. As Swire points out, it's exactly the opposite of what the region is supposed to be pursing now to achieve its emissions goals.
This is a continually repeating pattern with freeway widening projects: think of the Oakland Alameda Access Project, a project to massively increase the size of a ramp complex in South San Francisco, or the widening of Los Angeles's 405 freeway, or many other freeway widening and road capacity projects.
Engineers need to grow a conscience and refuse to work on projects that damage the region and the larger world. Instead, Caltrans and San Mateo are now pushing to extend this project and the widening north of I-380.
To hear first-hand as an engineer rationalizes hurting people through increased pollution and collisions, check out the video recording of the meeting, starting at 1:22:24.
Stay in touch
Sign up for our free newsletter