Bay Bridge
Bike Path to San Francisco Via Treasure Island Is Only for the Strong and Confident
8:16 AM PDT on May 17, 2023
It was raining and cool that Saturday morning, and so tempting to stay under the covers. But a ribbon was going to be cut on the long-anticipated bike connection to Treasure Island from the Oakland Bay Bridge, so the ol' bike was hauled out and a good breakfast inhaled.
We knew that the ribbon cutting was really about the new on- and off-ramps from the freeway to the island, and had no illusions that we would find a Bike Eden. After all, the bike connection to the island had been cut off on weekends for the past few years so that the complex ramps could be built for cars, not because a bike connection was complicated or expensive.
The rain faded to a background mist and it turned out to be a perfect day to ride up the long, slow incline of the bridge. It was very quiet that morning; few riders or walkers were out yet - they probably stayed under the covers. Still, it was a surprise to see from a distance that there were no waiting media vans, no cameras, no gathering dignitaries at the designated spot. Was everyone afraid of getting wet?
Not that we expected any of the dignitaries to arrive by bike. This project is all within the city of San Francisco, but there still is no way to ride a bike from San Francisco to the islands. The current route benefits daytime riders from Oakland, Emeryville, and Berkeley, Treasure Island and Yerba Buena Island, as well as people bringing their bikes on transit from San Francisco.
One bike rider had paused at the designated ribbon-cutting spot, looking at his phone. Another rider came up from checking out the rest of the route. All of us had come from the East Bay to witness the ribbon cutting: a city planner, a life-long bike rider and advocate, and me.
We joked about a little rain sending dignitaries indoors, but after waiting for a few more minutes we realized it wasn't a joke - they may have set up somewhere else. So we headed up over the designated bike route to the Treasure Island administration building, where we found a couple of fancy shuttle buses waiting to ferry people.
We arrived at that fabulous art deco building - which would offer stunning views of San Francisco if it weren't for all the cars parked in front if it - just in time to hear SFCTA director Tilly Chang thanking the advocates at Bike East Bay and the San Francisco Bicycle Coalition for their input on the bike path. Those advocates were not present - several of them have moved on to other jobs after years of meetings with the authority. But we were there! Two of us made it, standing in the back with our bikes.
We had missed most of the speeches, and missed a little bit more of them when a staff person offered us coffee and snacks. As a working journalist on a small salary, I do appreciate a good Costco croissant, but believe it or not that's not what drew me out on that cold wet Saturday. I wanted to celebrate the opening of the bike path seven days a week, and I wanted to check out the route.
On the way over, we had rushed over the small mountain of Yerba Buena Island. The Bay Bridge freeway cuts through a tunnel in the heart of the hill, but the bike route - and the on- and off-ramps - circle up and over the mountain before dipping down to the flat sea level of Treasure Island. We were distracted by absolutely stunning views of San Francisco and the rush to find the event.
But on the way back, there was no distraction. The steep hill rose high in front of us. At the lower end, lovely new landscaping helped make a short set of switchbacks more enjoyable than the rest of the ride, which was just a steep uphill asphalt path next to the road. I had to walk; my fellow bike rider was able to stay on his pedals, but we traveled at the same pace.
Folks: it is steep. I went back again a few days later to check out the route all the way into the city (via ferry). My first impression - that this is not a hill for anyone not utterly confident that their brakes are in good working order - was confirmed when I encountered a bike rider standing off to the side pondering the way down. Ahead, Macalla Road curved away so steeply that it disappeared from sight. The rider was kitted out in bike gear; she had a high-quality road bike; she looked prepared. But when I pulled up beside her, she said everything that had been on my mind since that first Saturday ride.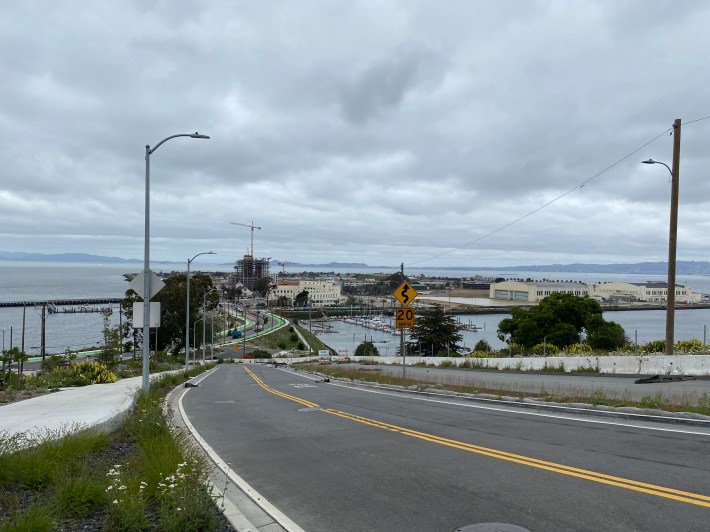 "I'm terrified," she said. "How did this get built? What were they thinking? San Francisco needs one or two people on staff who actually ride bikes so they can realize they need to build something better than this." She ended up turning back, refusing to go down the hill, even though the ferry to San Francisco was just right there.
It cannot be emphasized enough that this downhill onto Treasure Island is not for the faint of heart; it is not for cargo bikes or kids or families; it is definitely not for e-bikes with potential brake issues. If you're a confident hill bomber, have fun, but under no circumstances should you skip the ABC Quick Check (Air, Brakes, Crank and Chain, Quick releases, Quick ride) before heading out.
Take this warning seriously.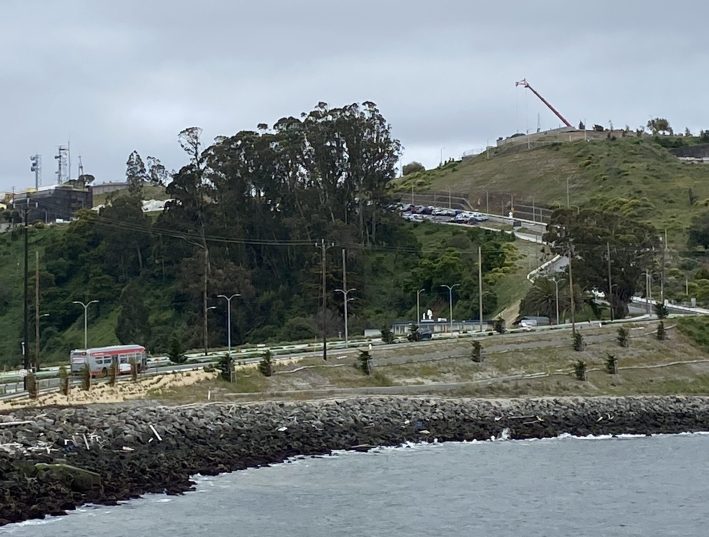 On Saturday, the two of us who had made it all the way on bikes raced the shuttle buses (slowly up the hill) back to the overlook. The ribbon had already been shredded by multiple ceremonial scissors at the administration building, but there were going to be more speeches and a "photo opportunity" at the park with a view of the bridge.
Again we waited in vain. Obviously this reinforced my belief that Bikes Are Better, since we got there well ahead of the buses.
But when they finally arrived, the shuttle drivers dropped them off at a spot far above us - and completely unreachable from the bike path. To get to where the event had been planned to happen, the dignitaries would have had to cross a high-speed on-ramp and walk a couple of hundred yards along its outside curve. How fun. How dangerous! Welcome to my world!
At least you can see us in the background of their photos. There we are, far below in the background, behind a fence. It looks like we photo-bombed the event.
That was absolutely the perfect metaphor for the day. Bikes never were at the center of this project. The bike route is jerry-rigged onto an existing vehicle route, and while parts of it are great, like the switchbacks at the bottom of the hill, much of it is impossible.
It's also clearly not finished, so hope shall not be abandoned. On my follow-up trip, I could see that where bike riders are expected to switch places with riders going in the opposite direction right at a sharp turn - it's painted green, but very confusing  - another bike connection is being built across the underpass.
It's just not open.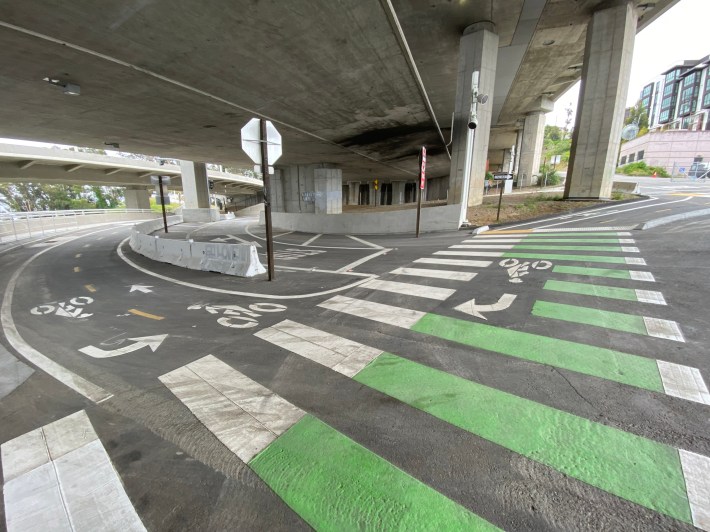 And this is an "interim" project. These on- and off-ramps were built so that the other, more gently sloping road around the farther side of Yerba Buena Island can be closed and its bridges rebuilt. The SFCTA says that one day bike riders will have a choice of either riding safely around a more gentle uphill or choosing an improved, two-way bike route over this steep one.
Also, one day one day, there will be a bike path on the west span of the bridge.
At least that is the current plan. Advocates who worked on this for years, including Bike East Bay's Dave Campbell - who is among those who have moved on to other endeavors - describe constantly shifting plans as the actual building of a busy road on that steep slope ran into unexpected obstacles. Yes, as Caltrans Director Tony Tavares said when I asked him about it, there were certainly "constraints" in terms of space when they were planning this interim route. That's in the nature of building infrastructure.
However.
Car access to these islands is already very easy. Housing is going up on both Yerba Buena Island and Treasure Island, and San Francisco made sure people could get in and out via private vehicle (even while they discuss congestion pricing, fair since the only way on or off this island is by boat or bridge).
But as usual bike access has not been taken seriously. The limit on 24-hour access for the bike path - but not for the car path alongside it - is patronizing and dismissive. Pretending that a 17 percent downgrade is a reasonable compromise for any bike route is ridiculous. The assumption that no one wants to ride a bike becomes a self-fulfilling prophecy when this is how bike routes end up.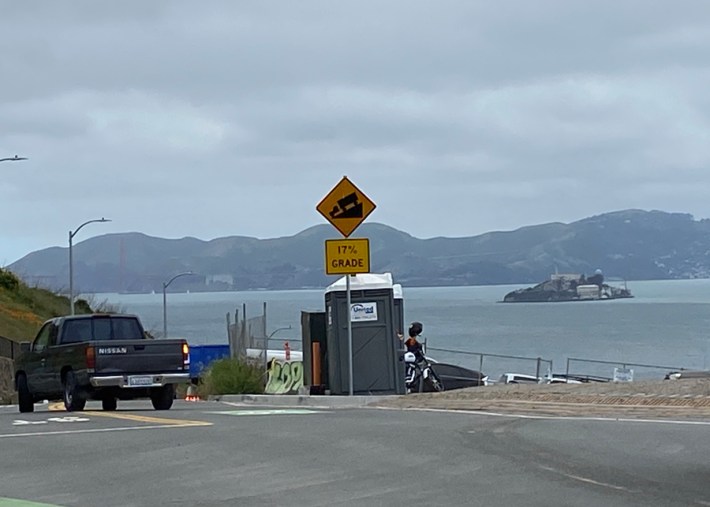 But people are riding it. We met two young men who floated down to the bridge on e-bikes along the "wrong" route - the south side of Yerba Buena Island, which is "closed" to bikes and will soon be closed to all vehicles for several years. They knew exactly what they were doing. They grew up on Treasure Island, and one of them still lives there, pondering the $3,000 their family has been offered to move out of their affordable rental.
According to too many transportation planners, people like them don't actually exist. At least, they don't matter, especially when compared to people who travel by car.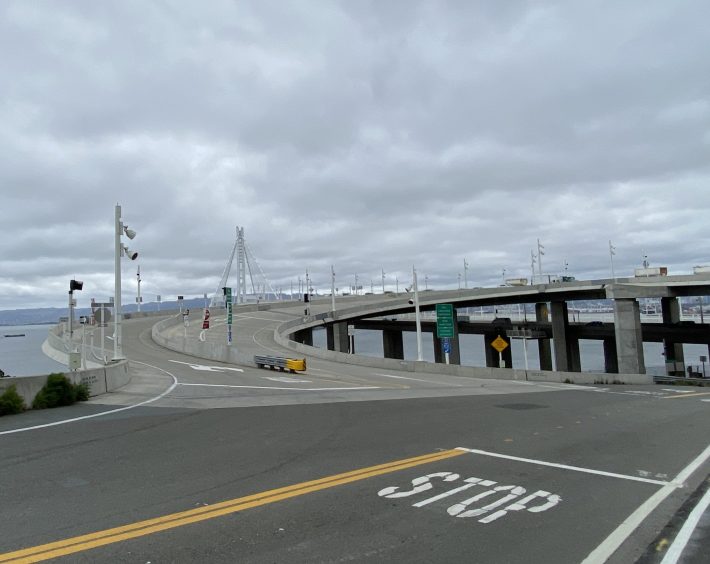 Streetsblog California editor Melanie Curry has been thinking about transportation, and how to improve conditions for bicyclists, since her early days commuting by bike to UCLA long ago. She was Managing Editor at the East Bay Express, and edited Access Magazine for the University of California Transportation Center. She also earned her Masters in City Planning from UC Berkeley.
Stay in touch
Sign up for our free newsletter