Oakland
A Little Girl is Dead. But OakDOT Director Still Won't Commit to Safety
3:54 PM PDT on September 7, 2023
Be sure to check out the "call to action" at the end of this post.
A vigil was held Wednesday evening next to Lakeshore Avenue and Hanover Street, where Maia Correia, 4, was killed last month when a parked driver opened his door without looking. Maia, who was on the back of her father's bike and wearing a helmet, suffered a fatal brain injury.
Some sixty advocates, and the child's family, gathered to remember a life cut short and to demand that Oakland DOT immediately install protected bike lanes to prevent it from happening again.
"The bike lanes on the other side of the lake are protected," said Hydeh Ghaffari, the girl's grandmother. "Why not on this side?"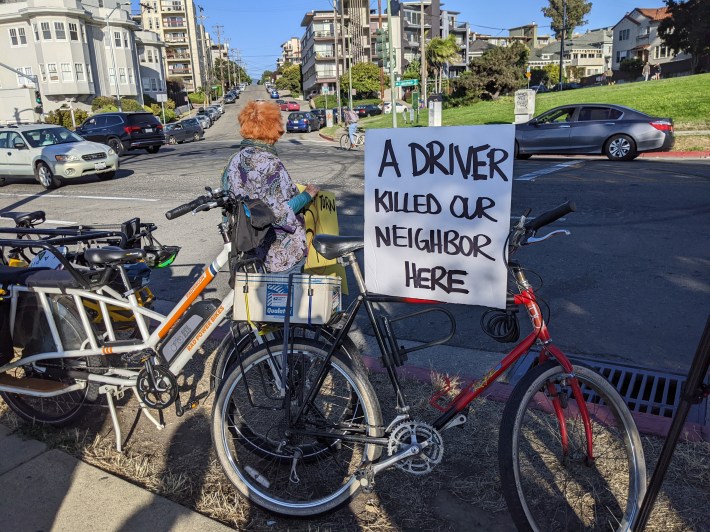 Ghaffari is referring to the fully protected, two-way cycletrack segment on Lakeside Drive that extends less than half a mile from Jackson to Grand. Opened in 2018, the Lakeside cycletrack was supposed to be part of a plan to encircle the lake with a fully protected bike facility. But other sections of the plan have been jammed up by bureaucratic infighting and other delays.
Streetsblog asked Reika McCracken, the victim's mother, what she would ask of OakDOT. "You mean outside of protected bike lanes? Maybe educating people to open car doors with their right hand," she added, referring to the "Dutch Reach" which forces drivers to look over their shoulder and check for cyclists.
"They're saying it could take until 2027 to get a protected bike lane here?" said Sheila McCracken, the victim's aunt. "I don't want this to happen to anyone else."
Meanwhile, it's unclear if protected bike lanes will even be delivered in 2027, given OakDOT's current leadership. The "paving plan" McCracken was told about by Oakland DOT is not specific about protected bike lanes, Bike East Bay's Robert Prinz told Streetsblog.
Streetsblog introduced Ghaffari to Fred Kelley, OakDOT's director, who has been at the helm for a year. The bereaved grandmother pointed across the lake and demanded to know why they can't "do what they did on that side on this side!"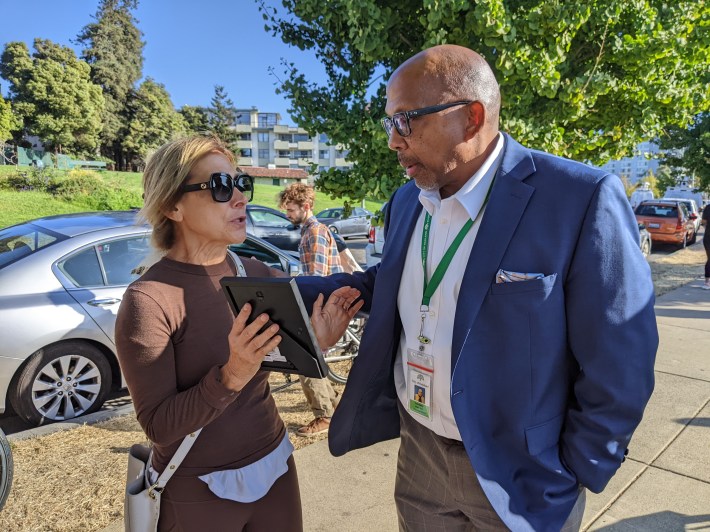 "This is an opportunity," said Kelley. "There's so many problems; nevertheless we're doing our best."
When pressed on the specific question of protected bike lanes, Kelley told Streetsblog he had no comment and "stands by the official statement" given by OakDOT in the Tweet embedded earlier in this post.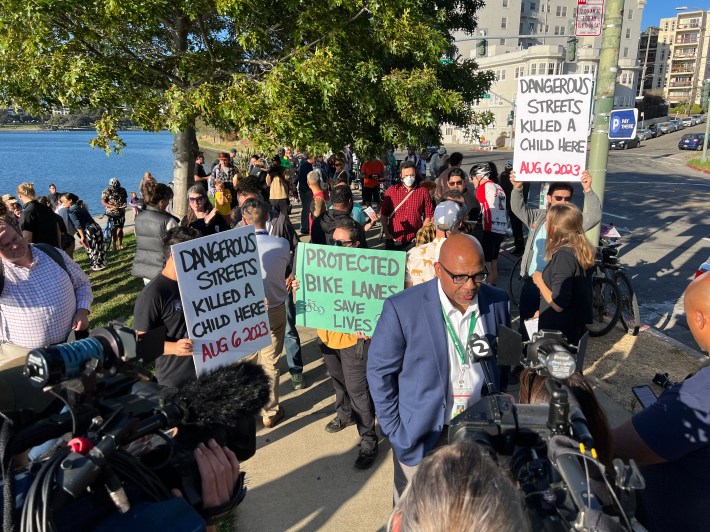 In other words, not protected bike lanes, just signs. "No doubt OakDOT officials care and are really affected by Maia's death," said Tim Courtney, an Oakland street safety advocate. "But offering to put up signs and education is the equivalent of thoughts and prayers."
Kelley told KTVU that the DOT is "not resourced for that [protected bike lanes] from a staffing standpoint or from a funding standpoint."
Advocates weren't buying that line.
"We could have a protected lane within a week if they put up highway barriers. I don't know why they aren't doing that," said Courtney.
In fact, during the pandemic a lane was closed by OakDOT, creating the beginnings of a protected bike lane, as shown in the Tweet below.
But Kelley's statement is consistent with his reputation as a bureaucrat skilled at finding reasons not to do bike-safety projects, as was the case during his tenure at the city of Hayward.
Putting in protection, no matter how messy or imperfect, on Lakeshore could be done in no time, if the DOT were motivated to do it by a real leader. This isn't even a situation where any general-purpose lanes would need to be removed. In an interview with SPUR, Kelley cited driveways as a reason not to build protected bike lanes. But this is about a two-way cycle track along a lake--there are no driveways and no intersections, making it the lowest of low-hanging fruit. Eliminate the parking on one side of the street and put up an off-the-shelf K-rail or a similar barrier. Or if parking is so contentious, eliminate the center turn lane. This is done routinely, sometimes literally overnight, at construction sites. In fact, OakDOT made a quick-build, concrete-protected bike lane in 2019 on Clay Street under former DOT Director Ryan Russo.
As if to highlight this, there are K-rail sections just a few blocks from the location that could be picked up and moved to start making a protected cycletrack.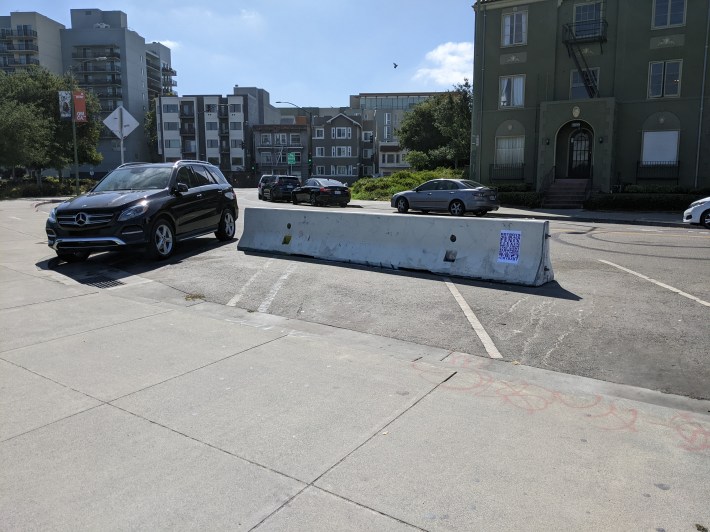 And this isn't politically complicated. If someone complains about the loss of parking or the center turn lane, there's only one appropriate response: "Sorry, a little girl died here because of the current configuration and we're just not going to let that happen again no matter what."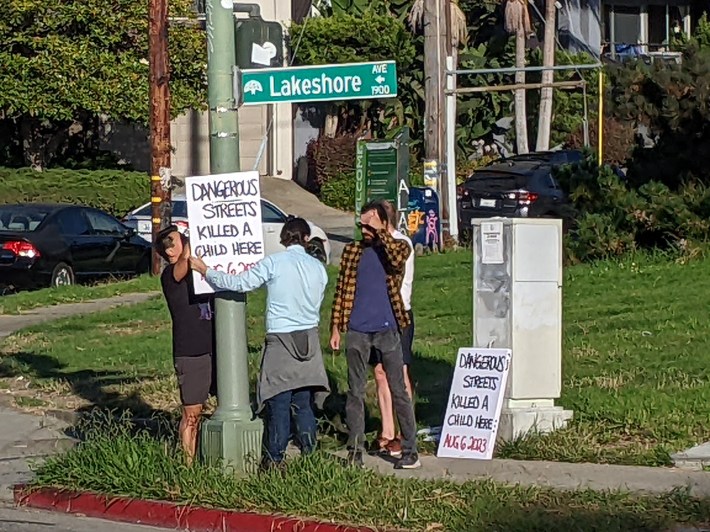 Anybody who doesn't understand that or thinks "we have to discuss [this] from a political standpoint," as Kelley said, is just a drain on the city. Mayor Sheng Thao needs to step in and straighten out Kelley or replace him as soon as possible.
***
Advocates urge people to call Councilpersons Nikki Fortunato Bas at 510-238-7002, nfbas@oaklandca.gov, and Rebecca Kaplan at 510-238-7008, atlarge@oaklandca.gov
Stay in touch
Sign up for our free newsletter