Valencia
Motorist Kills Pedestrian on Valencia
While distracted/inattentive driving was a primary factor, the non-intuitive and dangerous center-running design almost certainly contributed
4:16 PM PDT on September 21, 2023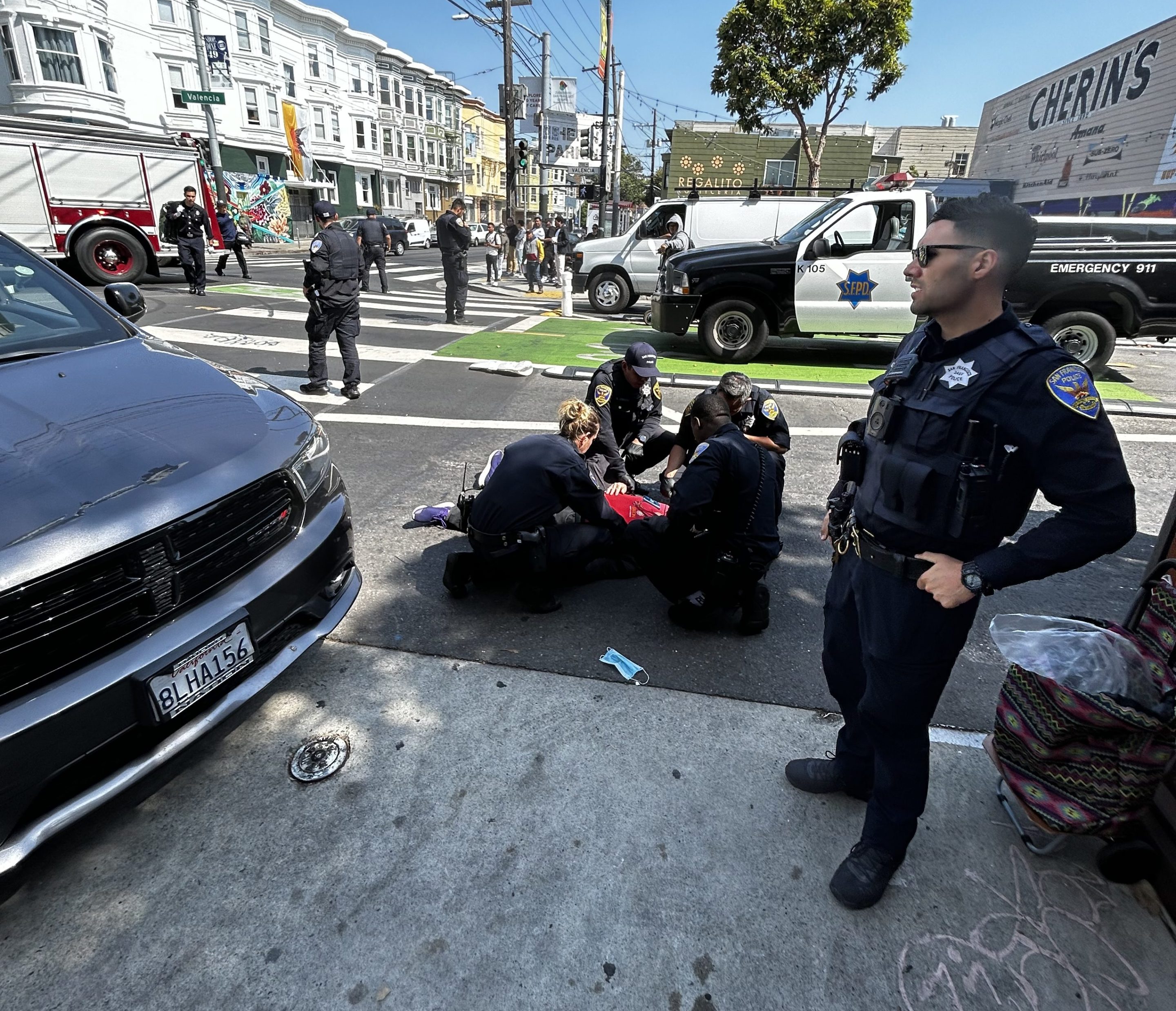 A turning driver ran over and killed an 80-year-old man in the crosswalk at 18th and Valencia some time before 1:50 p.m. on Wednesday.
"Initial details of the crash indicate an SUV driver was making a left turn onto Valencia Street from 18th and hit the victim in the crosswalk," wrote Walk San Francisco's Marta Lindsey, who saw the aftermath of the crash, in a statement.
Mission Local quoted a witness to the crash who said the victim was
an older gentleman who was in the crosswalk pushing a shopping cart east on Valencia Street. An SUV driver heading west down 18th Street then turned left onto Valencia Street and struck him. 

The victim was well into the crosswalk and "clearly had the right of way."
Greg Chopskie, who lives and works "at street level maybe twenty meters from that intersection" and who provided the lead photo for this post, told Streetsblog that he now hears and sees close calls daily. They became significantly more frequent after the installation of a center-running bike lane last June.
"This was an ambitious design that confuses the hell out of drivers, cyclists, scooters, and pedestrians," he added. "Hell, I touched a cyclist myself last week driving my car. And I'm acutely aware of cyclists. That says something."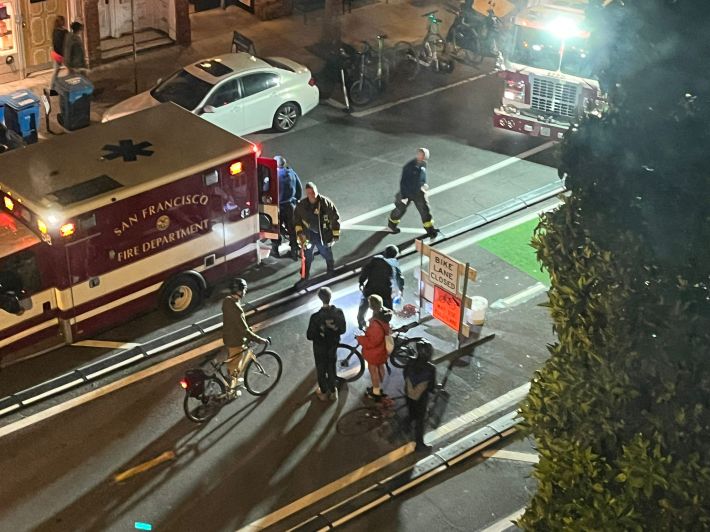 Chopskie witnessed another collision between emails about this post on Thursday. The motorist made "an illegal left from Valencia to 18th. The cyclist, traveling south, hit his brakes hard and met the car... toppled over the hood." He added that the cyclist, miraculously, received only minor injuries. "After some swear words, everyone moved along," he said.
"My point really is this: the intersection is confusing and we're only hearing a quarter of what's actually happening," said Chopskie. He explained that near-hits are going on all the time. "This is a ten-times-a-day thing here."
Chopskie didn't know Wednesday's victim, but had seen him around the neighborhood and was shocked by his death. "[He] would pick up trash at the corner and put it in the bin. He cared about his streets."
Streetsblog witnessed the immediate aftermath of a crash between a skateboarder and a scooterist at the same intersection in July. And it's not just at the intersection with 18th. The confusing design of Valencia, with its hard-to-see, black bus curbs on black asphalt, its flimsy plastic posts, and a weird center-running bike lane, is without doubt contributing to a higher rate of crashes and close calls for all road users. From Streetsblog's view, this is more confirmation of why the design does not work.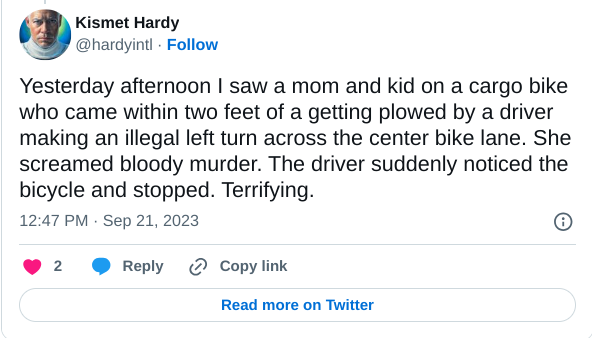 For cyclists the problem is obvious: SFMTA has placed them in the center of the street, unprotected, where they are continually exposed to the most serious possible collisions. For pedestrians, the crossing distance that's exposed to vehicular traffic is much longer than it would be with conventional, curbside, Dutch-style protected bike lanes and intersections. The current design also invites long, fast, sweeping turns. Using signs and plastic posts to deter this doesn't cut it (note the mashed post near the center of the lead image). If SFMTA built for safety rather than worrying about preserving parking spaces, in all likelihood instead of a dead man there would be - at most - an SUV driver having his car towed to the shop, just like this inattentive van driver in New York: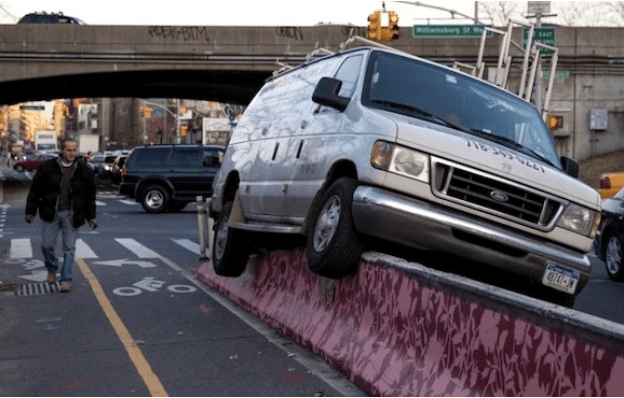 SFMTA didn't need to learn this anew. The Dutch, Danish, and even Washington D.C., which also has center-running bike lanes, already figured this out with readily available crash data that SFMTA chose to ignore with this installation.
Repeating experiments and building streets that don't conform to international best practices is behind San Francisco's alarming death and injury rates. "Under Vision Zero, a data project that tracks traffic collisions, sixteen people have died by a collision in San Francisco so far this year, and three of those have been pedestrians," wrote Lindsey.
"NYC has got the right approach," wrote Chopskie. "A curb-side lane with parking to protect it."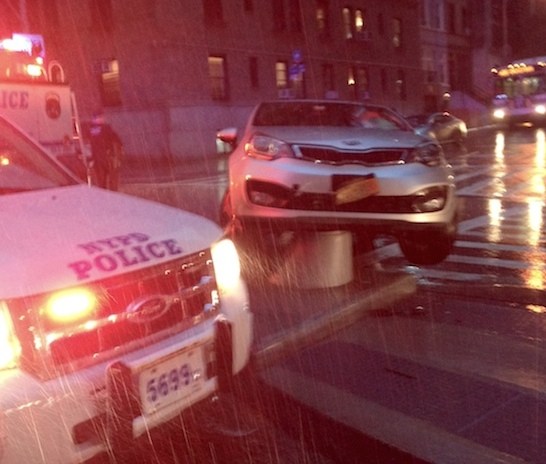 Add concrete bulbs for protected intersections and pedestrian refuges with real bollards (see image above from Manhattan) and Valencia will finally be safe for pedestrians, cyclists, and all users. But as long as SFMTA continues to experiment with failed designs--reinforced by paint, plastic, and prayers--the results will continue to be as predictable as they are tragic.
Stay in touch
Sign up for our free newsletter