Valencia
SFMTA Officially Begins its Valencia Experiment on Humans
Valencia's center running lanes have been open and used by cyclists, scooterists, and others for months now, but only today will the agency start to count the damage they cause
6:02 PM PDT on August 1, 2023
Note: GJEL Accident Attorneys regularly sponsors coverage on Streetsblog San Francisco and Streetsblog California. Unless noted in the story, GJEL Accident Attorneys is not consulted for the content or editorial direction of the sponsored content.
SFMTA announced that it has "substantially completed" construction of its center-running bike lane on mid-Valencia and on Tuesday will start "evaluating" this "pilot," or more accurately, "experiment on people riding bikes."
More from SFMTA's release:
We will spend the next twelve months closely evaluating the mid-Valencia Street pilot design for its safety and effectiveness; data collection will start in the fall. As the pilot progresses, we will consider design adjustments to improve safety and effectiveness. Your input and experiences will be instrumental in shaping these enhancements. SFMTA's enforcement division will also conduct regular traffic enforcement to ensure all roadway users are properly using the street and following all parking and loading regulations.

The project team plans to return to the SFMTA Board of Directors in the winter to provide an update on the pilot.
Presumably that means the experience of Phoebe, the woman in the lead image, won't count because her crash happened Monday evening, just before the start of SFMTA's arbitary start-of-pilot date. I was there when it happened, at a meeting with advocates, when we heard some commotion just south of 18th Street. According to advocate Bruce Halperin, who witnessed the crash, "The skateboarder was attempting to enter the bikeway mid-block and collided with the woman on her scooter who was already in the bikeway."
Apologies to readers for not getting Phoebe's full name or any info on the skateboarder, but we were all focused on getting help and trying to make sure nobody got run over as she lay on the pavement putting pressure on a gash on her head.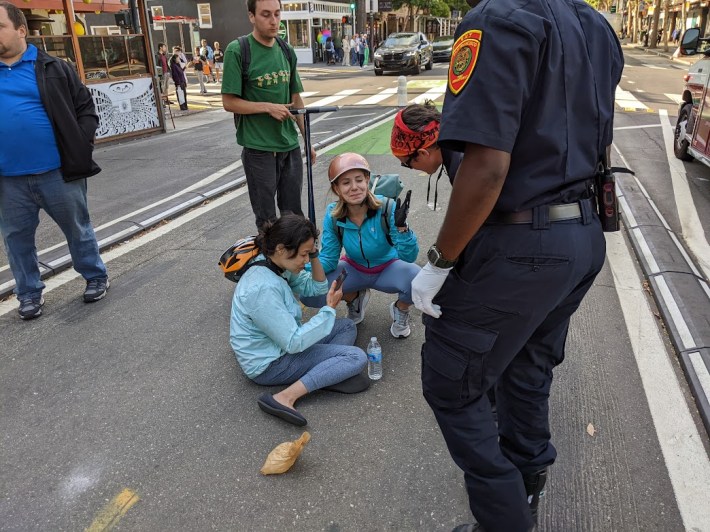 Fortunately, a physician's assistant (seen above in the pink helmet) was riding by and stopped to help. EMTs arrived shortly thereafter. Phoebe was taken away in an ambulance.
This is the second injury I've witnessed on Valencia. The first was July 13, when Ndaka Campos, a security guard, was crossing the street at 15th and tripped over the bus curb, falling into the motor-vehicle lane. No cars were coming and thankfully her injuries were minor.
Nobody knows exactly how many people have already crashed because of the bus curbs or other features of this experimental design because they are not yet being counted - but it's obviously happening frequently. Of course, the city tabulates crashes that involve a visit to the emergency room, so that data will become known eventually. But what really matters is that it seems inevitable that at some point a cyclist or scooterist is going to have the misfortune to wipe out and fall in front of an oncoming car or truck.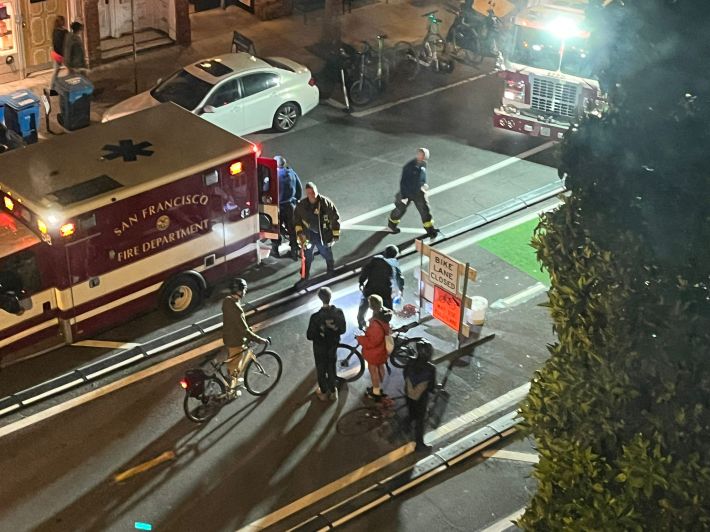 The real tragedy of all this: the city already piloted curbside, protected bike lanes on Valencia from Market to 15th. They're not perfectly executed, but they follow the basic tenets of international best practices and they work for safety. SFMTA's own data show dramatic decreases in close calls, bike-lane violations, and other safety hazards on those lanes, as noted in advocate Luke Bornheimer's tweet below: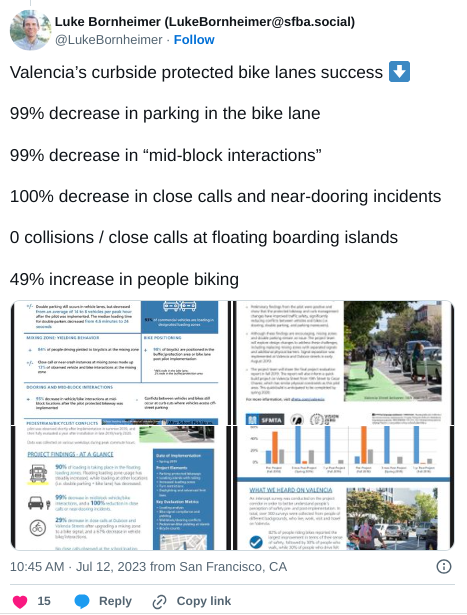 But rather than improving on and extending what works, as was the plan up until 2020, SFMTA director Jeffrey Tumlin killed the planned extension.
Instead, the city built his center-running pet project, based on designs that have already been tried in cities such as Washington D.C. Studies there showed that collision rates either remained the same or went up compared to having no bike lane at all. One of the authors of a study that reached that conclusion is SFMTA's own Jamie Parks. Some of the problems with the D.C. bike lanes have been addressed, but intersection issues persist today to the point that a professional advocate in D.C. told me they wished they could get rid of the city's center-running lanes.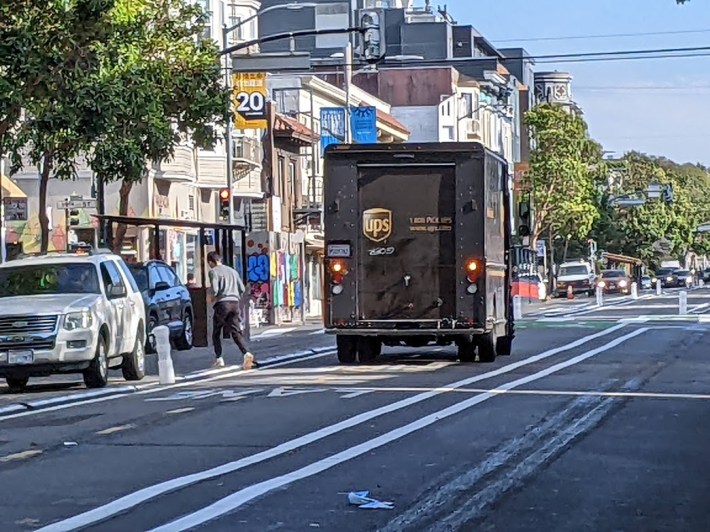 Those results shouldn't surprise anyone schooled in the fundamental principles of safe-street designs. One such principle is that if traffic volumes are anything above quiet residential levels, you separate vulnerable road users. This is done with space and concrete barriers, to keep people on bikes apart and protected from the heaviest, fastest road users: cars, trucks, and transit vehicles. In other words, you do not put cyclists in the middle of a street!
People who aren't familiar with street safety and the long history of bike lane design built up over a century can be forgiven for being somewhat enamored with the idea of the new center-running lanes on Valencia. I've ridden it. My inner vehicular cyclist gets it. They aren't continuously parked on, at least not to the extent of the old door-zone lanes. Dooring crashes are more or less eliminated. And you can really get moving. But center-running lanes create a host of new, deadly problems, such as the increased likelihood of crashing into a car or truck making an illegal turn or someone entering the lane mid-block; the injuries that have already occurred are only history repeating itself. With this design, cyclists are left with no escape routes; they are going to keep slamming into the pavement. More, serious collisions are inevitable.
It's clear that many at SFMTA, including Tumlin himself, are not familiar with basic principles of safe design. Either that or, for political expediency and self-interest, they decided to disregard them.
If there's a hell for transportation officials, Tumlin and company have earned entry tickets for what they've done on Valencia, for canceling bike lanes on Market Street, for fanning anti-bike hate, and a lot of other things.
Stay in touch
Sign up for our free newsletter