Valencia
Commentary: The Bicycle Coalition Needs to Shift Gears on Valencia
The org's credibility is on the line along with the lives and limbs of people walking and biking
10:02 AM PDT on July 18, 2023
Note: GJEL Accident Attorneys regularly sponsors coverage on Streetsblog San Francisco and Streetsblog California. Unless noted in the story, GJEL Accident Attorneys is not consulted for the content or editorial direction of the sponsored content.
"This design, we are asking, essentially the MTA, as they put this pilot in the ground, to have zero, zero vehicles in this protected [see note at end] bike lane," said Janelle Wong, head of the San Francisco Bicycle Coalition, in an interview with KTVU about the Valencia center-running bike lane.
She said the same thing at the SFMTA hearing in April where the center-running lane was originally approved. In the same speech, she reluctantly endorsed SFMTA-director Jeffrey Tumlin's plan to abandon a best-practice, Dutch style curbside protected-bike lane project and instead build an unprotected, center-running lane for cyclists.
Wong is also on the record saying that self-enforcing infrastructure is key to safe streets. I specifically asked her about this in May of 2022, after she took over the reins at SFBC. From that Streetsblog Q&A:
Janelle Wong: I think the real answer lies in building better infrastructure, so enforcement issues with bike lanes don't come up.

Streetsblog: So use concrete to keep motorists out of bike lanes?

JW: That is essentially the point. The infrastructure of our street designs would correct undesirable behavior.
Of course, expecting zero-encroachments--or even near-zero, which I'm assuming is what Wong meant--with the center-running lane on Valencia was always ridiculous. When has that ever happened with a San Francisco bike lane, except for those few and rare instances where real concrete barriers are used?
If she stands for infrastructure that does enforcement automatically, why was she supporting the center-running Valencia plan in the first place? SFMTA never proposed using real barriers that would keep scofflaw motorists out. As the lead image, the Tweet it came from, and a million other pics from social media illustrate clearly, plastic, paint, signs and even traffic signals are not enough.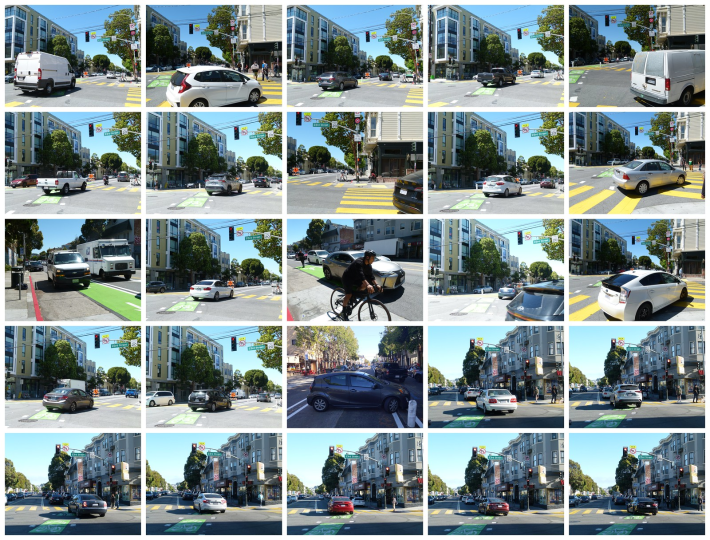 I reached out to Wong via email over a week ago and called out SFBC publicly about the encroachment issue on Twitter. No response. That said, in an earlier Tweet, to their credit, the SFBC specifically called for Jersey barriers to be used on Valencia during construction (but why only during construction?).
Meanwhile, there have already been at least four injury/crashes involving vulnerable road users on Valencia. I witnessed one on the afternoon of Thursday, July 13, when Ndaka Campos, a security guard, was crossing the street at 15th and tripped over the bus curb, falling into the motor-vehicle lane. "I thought it was [part of] the street," she told Streetsblog. "Thank God the light was still red or I'd have been run over."
The black bus curbs used by SFMTA don't stop cars at all (as seen in the video in the Tweet below) but they seem almost intentionally camouflaged to blend into the lane lines and cause cyclists to crash and pedestrians to trip.
I keep thinking about how differently things turned out with the protected bike lanes on Telegraph in Oakland's KONO District. The Oakland DOT head at the time, Ryan Russo, attempted to have that street's protected bike lane project thrown out, just as Tumlin did in San Francisco. But Bike East Bay said "no way" and lobbied hard. In July of 2021, the City Council overruled Russo and stopped his bid to cancel the protected bike lanes.
If Bike East Bay had gone along with Russo, there's no question that Telegraph would not have protected bike lanes today. Bike advocacy orgs really can make a difference when they show leadership and hold the line on core principles.
The San Francisco Bicycle Coalition recently created a poll to hear from membership about whether they're going in the right direction. Wong and her staff must know they made a fatal mistake by supporting the unprotected, center-running lane on Valencia.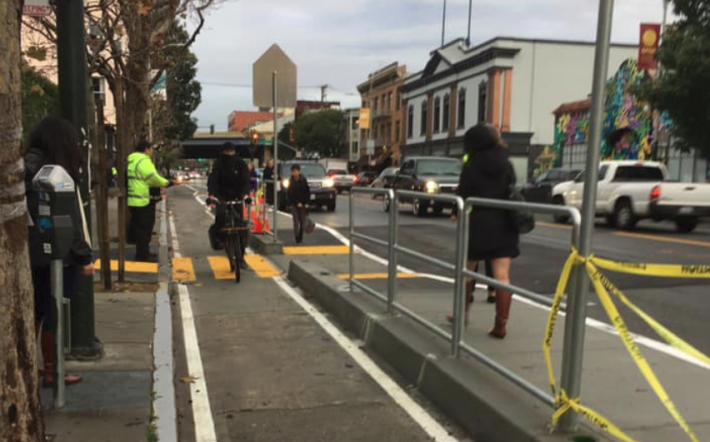 SFBC needs to withdraw its support for the design and demand the city install the originally planned and piloted, curbside-Dutch style lanes on the entire street immediately. Every minute they wait further damages the credibility of the SFBC as an advocacy organization and jeopardizes the safety of people who walk and roll in San Francisco.
Note: it also doesn't help SFBC's credibility when Wong repeat's SFMTA's lies and refers to the center-running lane on Valencia as "protected," when it clearly is not.
Stay in touch
Sign up for our free newsletter