MTC
Metropolitan Transportation Commission Set to Gut Own TOD Policy
In a vote of the commissioners Wednesday, October 25, the MTC may undercut its own transit oriented land use policies for rail extensions.
2:51 PM PDT on October 24, 2023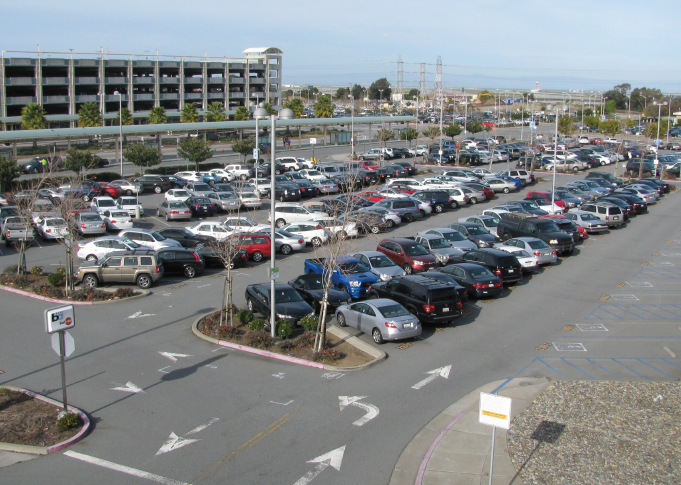 The Metropolitan Transportation Commission – the transportation planning, financing, and coordinating agency for the nine-county San Francisco Bay Area – is set to gut its new transit-oriented communities policy (TOC Policy) before it is even implemented.
When passed over a year ago, the TOC Policy was hailed by the agency as a, "landmark policy to promote housing and commercial development near
transit stations." This is important because MTC's strategy for meeting the region's greenhouse gas emissions reductions, housing needs, and affordability targets explicitly depends upon significant growth in jobs and housing near transit. Without the right kind of development, transit, especially rail transit, just doesn't work.
The TOC Policy was the tool to make sure the Bay Area stops building expensive rail extensions surrounded by giant roads and parking lots, assuring that traffic jams and emissions continue. In other words, if a city wants the bucks for transit, they better plan their land use for it.
Unfortunately, MTC is often criticized for sucking up time and resources to pass plans and policies that are little more than aspirations. But the TOC Policy was poised to actually drive change, delivering on MTC's ambitious climate, housing, equity, and mobility goals.
When MTC passed the TOC Policy more than a year ago, it was designed to implement MTC's unanimously supported regional plan known as Plan Bay Area 2050. This plan charts a course to meet greenhouse gas emissions targets, deliver housing at all affordability levels, protect vulnerable populations, and improve mobility. The central strategy of Plan Bay Area 2050 is to focus new jobs and housing near high quality transit, and this new TOC Policy was designed as the primary tool for delivering this outcome. The TOC policy works by making certain regional transportation funding contingent upon a jurisdiction's willingness to support policies that are consistent with the region's
housing, jobs, and equity targets. In other words, if you want the money for your train, you'd better lock in a plan to build housing and employment centers near the station.
During more than two years of engagement with the TOC Policy development, advocates had to accept painful compromises, including carve outs for wealthier communities such as Orinda and Atherton that wanted lower housing requirements, and watering down anti-displacement and tenant protection
policies. But the policy retained its essential strength – requiring that significant funds would be held contingent on cities and counties' willingness to align with the region's climate, equity, and mobility policies.
Now over a year after the TOC policy was passed unanimously, some Bay Area cities are resisting compliance and pushing to have funding contingencies eliminated. In other words, some cities and counties in the Bay Area want to keep building exclusively for cars but they still want their train money.
The first sign of trouble was in June, when MTC staff asked the Commission to allocate $2 million in funding for an extension of VTA's East Ridge Light Rail project, completely ignoring the TOC Policy requirements. When advocates asked for clarification of why the policy was being ignored, the Commission voted to delay implementation of the policy until after the East Ridge funds were allocated so that this project would not have to comply.
In September, MTC proposed another major carve-out. This time for a larger transit extension project – BART to Silicon Valley. Once again, TOC policy requirements would require zoning for housing and jobs that is consistent with the regional plan. So, MTC staff proposed that this $12 billion transit investment be exempt from the very policy MTC had passed just the year before. This project is among the largest current transit projects in the country.
Exempting it from the TOC Policy misses the biggest opportunity we have to advance the Bay Area's climate, equity and housing goals.
Wednesday/tomorrow, in its most sweeping undoing of the TOC Policy, MTC proposed to eliminate any meaningful funding contingencies or commitments for new transit extensions. This would be the nail in the coffin of the TOC Policy, undermining three years of work by Bay Area city and county staff, more than 20 advocacy organizations, and countless members of the public, not to mention the MTC staff members that championed the policy from within.
As MTC guts the TOC policy, along with the climate, equity, and mobility outcomes that depend on it, it is simultaneously urging the public to engage on an update to its regional plan, Plan Bay Area 2050+.
But advocates and public citizens must wonder – why engage on the new plan if MTC isn't willing to stand behind it?
On October 25, the Commission plans to vote on whether to gut the TOC Policy. We hope that the Commission will show the integrity and leadership that our regional transportation solutions demand by voting to retain the funding contingencies: the only thing that makes the TOC policy work.
***
The MTC meets Wednesday/tomorrow/Oct. 25, starting at 9 a.m., Board Room - 1st Floor, Bay Area Metro Center, 375 Beale Street, San Francisco. Click here to attend the meeting and comment via Zoom.
Stay in touch
Sign up for our free newsletter