BART
BART Breaks Ground on East Contra Costa County Extension
2:36 PM PDT on October 29, 2010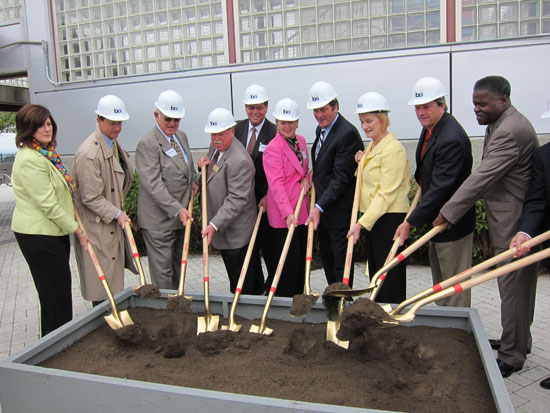 For BART, the past month marks the beginning of two very different extensions, though both have been controversial. After surmounting vigorous opposition to the Oakland Airport Connector (OAC), BART inaugurated the 3.2 mile, $484 million extension last week with great fanfare and a large crowd of construction workers and politicians proud to get the project underway.
Today's groundbreaking for the 10-mile, $462 million eBART extension was a much smaller affair, though the speakers emphasized job creation nearly as heavily as they did during the OAC event.
"BART is very fortunate this month, we've celebrated two groundbreakings, this and the Oakland Airport Connector," said BART board director Joel Keller, a champion of the eBART project. "I think the important thing to remember here today is, we are building a transportation extension, but we're also stimulating the economy. When eBART is in operation, there will be 40-80 permanent jobs and during the construction phase there will be 600 construction jobs."
The eBART project will extend from the current Pittsburg Bay Point terminus along the Highway 4 median to a new Hillcrest Avenue Station in Antioch. The extension is expected to carry as many people as an additional lane of traffic on Highway 4.
The eBART extension is funded mostly through bridge tolls and a Contra Costa sales tax measure and will accompany the widening of Highway 4 to six and eight lanes along the corridor from the existing four lanes. As Caltrans widens the highway, it will build infrastructure for BART's trains in the median.
"For those who sit in traffic every day in this corridor, it's clear that we need major improvements to address the growth in East Contra Costa County," said Bijan Sartipi,  Caltrans' Region 4 Director. "It will take a multi-modal approach, also being mindful of the environment and smaller carbon footprint."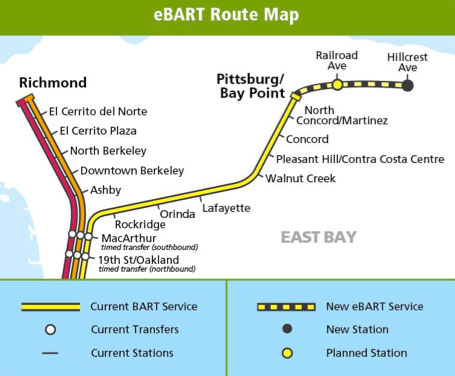 Ridership estimates are 10,100 per day in the horizon year and 260,000 pounds of CO2 are expected to be removed daily due to reduced traffic.
The extension uses Diesel Multiple Unit (DMU) technology, linking up to standard BART at the Pittsburg Bay Point Station. According to BART, extending traditional BART would cost upwards of $1 billion dollars, though the agency and local officials haven't ruled out the conversion from DMU to the traditional system if funds are available in the future.
More than a few of the politicians at the groundbreaking pointed to the DMU technology and the controversy around not extending traditional BART into a county that has been paying BART sales tax for decades.
Antioch Mayor Jim Davis recounted an experience when he was in 2nd grade seeing the original conceptual drawings for BART to East Contra Costa. "We expected a long time ago that we would get the real BART, but it has morphed into something different," said Davis. "A lot of disdain, a lot of discourse, a lot of strife has been discussed over the years about this project. A few years after this is completed, when the trains are moving back and forth, the freeway's widened, when 10,000 people are taken off the freeway everyday and traffic is moving, we're all going to stop and say, 'what was all that fuss about.'"
"The communities of Eastern Contra Costa County have grown much larger since BART was envisioned," said Salvatore Evola, Mayor of Pittsburg. "Planning for and funding of the eBART extension has at times tested most of our patience, however, all of our citizens placed an extremely high value on public transit and we welcome with open arms a much needed expansion of BART to the community."
The Metropolitan Transportation Commission, the Bay Area's regional transportation planning body, is paying for approximately 60 percent of the project, with $263 million in bridge tolls and $20 million from other sources. The remainder of the funding will come from Contra Costa sales tax revenue and Caltrans. Construction is expected to start late this year or early next year during the Highway 4 widening and BART expects to have the trains in operation by 2015.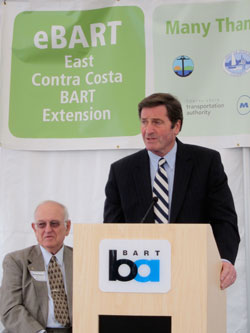 MTC's Executive Director Steve Heminger lamented his agency couldn't do more to stimulate construction jobs, given unemployment among construction workers and low bids generally. "We are getting great bids on these projects right now. I wish we had more money to invest right now," said Heminger
Heminger also pointed to the need to make infrastructure funding a priority at the state and federal levels. "We need that new governor to place a priority on transportation investment in our state as well," said Heminger.
US Representative John Garamendi, whose congressional district spans portions of the Bay Area and is the only Northern California member of the House Transportation Committee, cast a shadow on the possibilities of getting significant federal money for public transit if the Republicans regain the House and especially if they regain the Senate as well.
"The politics at this time are not very favorable to the whole effort of building our infrastructure. If we fail to build the infrastructure, our economy will slow down as we move slower and slower with congestion," Garamendi told Streetsblog, warning of what it will mean if Republicans have more control of Congress. "We will not be able to pass a surface transportation act that supports public transportation. They won't go that direction, they've been opposed to it for years and years. We need to be really aware of what this election means in terms of infrastructure. Republicans are not willing to fund it."
Garamendi has sponsored a slate of bills he calls "Make it in America," which would close tax loopholes and other incentives for shipping manufacturing jobs oversees. With these bills in place, he hopes to see more American manufacturing in California and the Bay Area. Pointing to the Siemens plant in Sacramento and a new Alstom plant on Mare Island, he said rail can be made locally if the incentives are right.
"We need to make sure this equipment is made here in America so we circulate our tax money in America and a lot of it be made locally. The game changer is the law, the law that Democrats put in place that said it must be built in America," he said.
Stay in touch
Sign up for our free newsletter