Car Culture
California's Pay as You Drive Insurance Program Could Reduce Driving
2:50 PM PST on December 17, 2010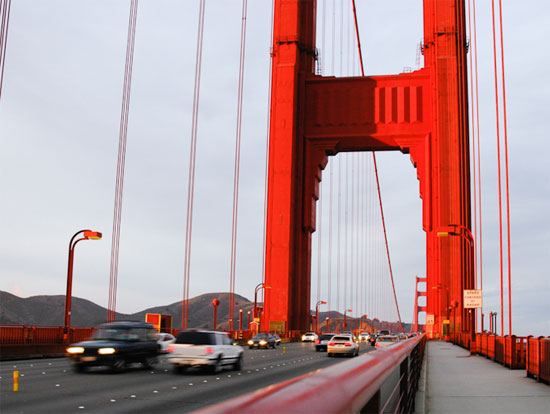 The California Department of Insurance has approved a pay-as-you-drive insurance program encouraged by environmental advocates and transportation planners because it provides an incentive to drive less by reducing premiums for low-mileage drivers. Widespread adoption of similar insurance policies could reduce driving in the U.S. by as much as eight percent, according to a Brookings Institution study.
"The voluntary pay-as-you-drive initiative is an innovative program that will allow insurers to offer plans based on more accurate mileage, so that people who choose to drive less will pay less for auto insurance," California Insurance Commissioner Steve Poizner said recently when he announced the program with the participation of State Farm Insurance and the Automobile Club of Southern California.
Though other insurance companies, notably Progressive Insurance, have experimented with pay-as-you-drive policies, because of the large number of drivers in California and the scale of the program, it could have national significance.
State Farm -- the state's largest automobile insurance company with 3.3 million policy holders and premiums of $2.5 billion -- had previously required mileage to be self-reported by customers, who then got a small discount if they drove less than 7,500 miles in a year. Starting in late February, State Farm will offer an initial 5 percent discount for the first policy term to drivers who opt-in to the Drive Safe and Save program and agree to self-report their odometer readings at the beginning and end of each policy period. Policy holders with an active On Star system, which comes with many vehicles made by General Motors, can agree to allow State Farm to access their mileage data automatically.
Customers who opt-in under the program will have their policies adjusted based on 500-mile segments up to 19,000 miles per year. For those who rarely drive, State Farm expects their premiums will be reduced by up to 45 percent. Assuming State Farm achieves its target of convincing one quarter of its policy holders to switch to pay-as-you-drive, the resulting savings would be $31 million a year.
"From our perspective it's an opportunity to help our customer have more options when pricing their policy," said Sevag Sarkissian, a spokesperson for State Farm. "An exciting positive that goes along with this is the potential impact this has on the environment."
State Farm and OnStar partnered in 2009 for a small pilot in Ohio, though both companies believe Californians will embrace the program in large numbers, given the state's reputation for environmental advocacy.
"Both OnStar and State Farm are trying to be leaders. We're trying to work with California consumers to get lower rates," said Mark DuBois, manager of strategic alliances at OnStar. DuBois said the program is primarily about saving drivers money, but he noted the incentive to drive less would help the environment. "We're all trying to look at how to make green initiatives and look at ways to reduce that carbon footprint. We look at it as a potential to change consumer behavior."
The environmental impact would be substantial, as the Brookings Institution study noted. If every driver in the state switched to pay-as-you-drive, the eight percent reduction in driving would translate to 24 billion fewer miles driven, 1.2 billion fewer gallons of gasoline and a seven to nine percent reduction in carbon dioxide.
According to a Victoria Transport Policy Institute study, widespread adoption of pay-as-you-drive would also reduce traffic crashes, lowering medical bills and saving lives. "Mileage reductions reduce traffic density (vehicles per lane-mile), which reduces crash rates," the study noted.
Another potential benefit of the program is the gradual public acceptance of reporting vehicle miles traveled (VMT). For Robert Atkinson, President of the Information Technology and Innovation Foundation and former chair of the National Commission on Surface Transportation Infrastructure Financing at the U.S. Department of Transportation, this could make it easier to transition to a distance-based VMT tax to pay for roads.
This is particularly important as cars get increasingly better mileage and the gas tax now pays for barely half the cost of highways. Given that raising the gas-tax has been a political third rail, a shift to another funding mechanism will be crucial to pay for infrastructure, according to Atkinson.
"People will get marginally used to the notion of paying by the mile. Then it's less of a big emotional or intellectual shift," said Atkinson about moving to a distance-based tax.
"If it works in California, then they talk about it elsewhere. Eventually these innovations will permeate to other states," he said.
Stay in touch
Sign up for our free newsletter