Fix Masonic
Growing Push to Redesign Masonic Ahead of SFMTA's Proposed Timeline
2:55 PM PDT on May 12, 2011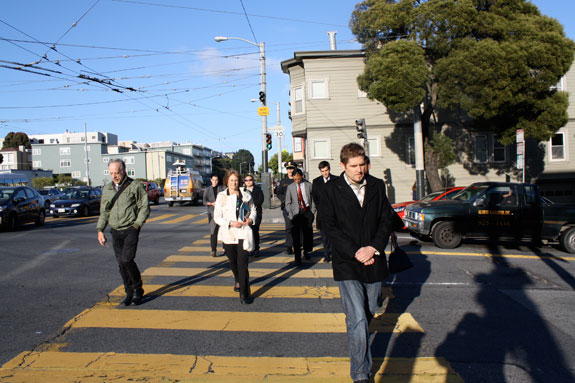 San Francisco Mayor Ed Lee told Streetsblog today that he will look into having the SFMTA figure out a way to speed up the timeline for redesigning Masonic Avenue, a dangerous traffic sewer that has been the scene of two deaths in the last nine months, including a 61-year-old pedestrian who was killed one week ago by a drunk driver.
"It's very deserving of attention, particularly when it comes to pedestrian safety. I know the MTA should be focusing on that, and I'll be talking to both the commissioners and the director about that," Lee said. "I think the neighbors are absolutely correct in bringing forth whatever they can to make that area safer and see what our best traffic engineering minds and our public safety officials can actually put together."
A growing number of elected officials, neighbors and community groups plan to step up the pressure on Lee and the SFMTA to identify funding sooner rather than later to implement the widely supported Boulevard option, a $20 million plan that wouldn't see construction for at least two years while funding is identified and a potential environmental review is conducted. It would add a landscaped median, bus bulbs, a 6-foot wide raised cycletrack and other amenities to benefit pedestrians, bicyclists and transit riders.
"It's time we take back Masonic Boulevard," District 5 Supervisor Ross Mirkarimi told a cheering crowd at this morning's Bike to Work Day rally at City Hall. "It's time that we actually step up the city's game in making sure that Masonic is safe for bicyclists and pedestrians and that we all descend on this cause right now before anyone else gets hurt again."
The Boulevard plan will be considered at an SFMTA engineering tomorrow before going to the full board. It's expected to be approved, but advocates are encouraging folks to show up and testify, or write the SFMTA expressing support.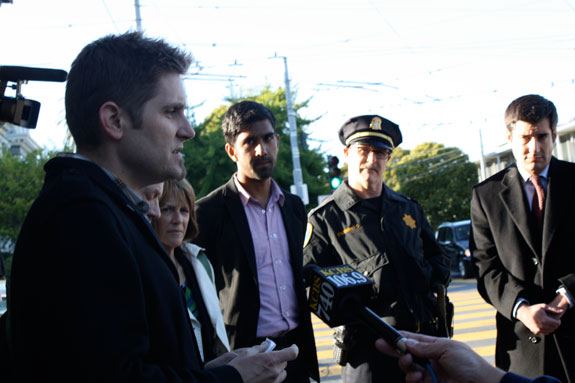 Vigil to Remember James Hudson
A group of neighbors, city officials and advocates held a vigil last night to remember James Hudson, who was struck and killed by a drunk driver in the crosswalk at Masonic and Turk last Friday morning. Not many public details have emerged about Hudson since his death. The 23-year-old driver, Jose Jimenez, a San Francisco sheriff's cadet, is currently being held on $1 million bail and facing charges of vehicular manslaughter, hit-and-run and DUI.
Some members of Jimenez's family attended last night's memorial, which began at the San Francisco Day School, and ended at the site of a previous vigil at Masonic and Turk for 22-year-old Nils Yannick Linke, who was killed by a drunk driver while riding his bicycle last August. A NOPA resident, Melissa Denison, was killed by a driver in September 2009 while walking across Fell Street, another dangerous arterial.
"James, Melissa and Yannick's deaths were avoidable. They are victims of an autocentric mindset that plagues our culture and our city and that mindset does need to change. That change needs to start right here on Masonic," said Jarie Bolander, the head of the North of Panhandle Neighborhood Association. "This one street stands for everything that is wrong with transportation in San Francisco."
Captain Denis O'Leary of the SFPD Park Station attended, and told Streetsblog that he hopes beefed up enforcement efforts will help change behavior. He pointed out that every intersection on Masonic Avenue has seen an injury collision. At least two have been reported since last Friday's fatal crash, and neighbors report hearing crashes daily.
"What I'm trying to do is get the officers who are working at Park station who patrol this neighborhood to spend more time on traffic enforcement, and I'm also getting the officers from our traffic company to come out here and do the same," O'Leary said.
Supervisor Eric Mar said he planned to talk to Mayor Lee next week about Masonic and is disappointed the city hasn't acted sooner to fix it.
"I wish the MTA and other city departments had been listening to the neighborhood's concerns, the Bicycle Coalition and Walk SF, that have for three years been meeting here at this school," said Mar.
Bruno Peguese of nearby St. Cyprian's Episcopal Church on Turk Street attended UCSF in the 1960s and remembers it as a dangerous street even back then.
"I think if we take a real close look at the years and the years past at how many have died at these intersections we would just be shocked," he said. "The death of James Hudson was senseless."
Bryan Goebel is a reporter at KQED Public Radio in San Francisco. A veteran journalist and writer, he helped launch Streetsblog SF in 2009 and served as editor for three years. He lives car-free in the Castro District.
Stay in touch
Sign up for our free newsletter