AC Transit
Advocates Rebuff Merchant's Absurd Argument Against East Bay BRT
5:33 PM PDT on July 10, 2012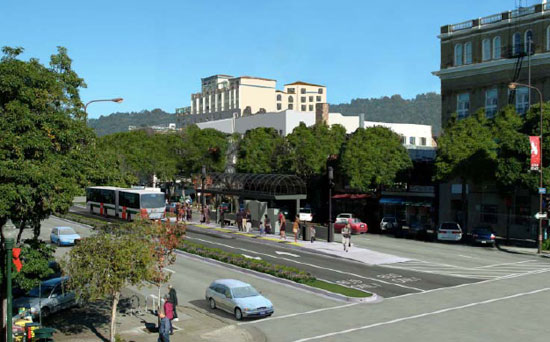 In an op-ed in the Oakland Tribune yesterday, local business owner Randy Reed laid down a whopping piece of misinformation: For businesses, he wrote, enhancing East Bay transportation options with Bus Rapid Transit will be no different than when construction removes all of the car parking on a street.
Reed, who led the charge in killing the Telegraph Avenue leg of the East Bay BRT route, got the piece published just as the project faces two critical hearings next week (see below for the schedule). Based on this new op-ed, Reed isn't content to just squash transit improvements in his backyard -- he also doesn't want to let residents on the rest of the Downtown Oakland - San Leandro route reap the benefits.
Here's what Reed calls the BRT "test run" that forms the backbone of his screed:
We have tested the effect of removing all street parking in our area, and it was devastating to our business. A test was run with city staff several years ago to see what happens with lane closures and parking removal on Telegraph from 43rd to 45th streets.

The problems were tracked: When the street was repaved; when ramps were installed on the corners; and when sidewalk repairs were performed.

Staff concluded that it would be disastrous.
Two local advocates offered up some fantastic rebuttals in the comments section. I'll hand the mic over to Streetsblog's own Oakland-based intern Robert Prinz, who is also the education coordinator for the East Bay Bicycle Coalition:
Maybe you would have a point if removing all street parking was actually part of the plan. Removing a few spots, sure, but the bulk of curbside parking spots will remain. The BRT planners I have talked to bent over backwards to keep as much parking as possible, to the detriment of other parts of the plan.

What is really going to happen is the reduced scope San Leandro-Oakland BRT is going to be built, it will be a huge boon for the communities along that corridor, and then the Telegraph merchants with a collective case of selective memory loss will start lining up to ask for an expensive extension into their business districts.
The reality is that there is no amount of curbside parking that will satisfy the future demand for potential shoppers along Telegraph, so if a merchant really wants to maximize their exposure to potential shoppers they should be fighting FOR better transit and bike/ped facilities, not against them. To argue otherwise is very short sighted.
Reed encouraged readers to push for a "curbside" BRT alternative, which can hardly be called true BRT, since it would actually stick buses between the parking lane and car traffic lanes, subjecting transit service to frequent blockages from motorists.
TransForm Community Planner Joél Ramos (who is also a member of the SFMTA Board of Directors) elaborates:
"Curbside" BRT is not an option, as it would increase operating costs to deliver service along the corridor. Also, construction of BRT won't be too much more complicated than repaving the streets, which has recently been done along some portions of the corridor with no detrimental impacts to businesses, and is sorely needed along other parts of the corridor, but for which there is no funding. BRT will include repaving the street, curb to curb.

Finally, there is no way any "test" could have ever worked because transit would not have been improved enough to get people out of their cars. No real alternatives existed during any "test" that would replicate the trade-off for a reduction of travel lanes. Besides, If BRT really doesn't work, we can always restore the lanes with minimum costs. My guess is that it will work, though, as it has in every other place where it has been implemented, and is why both San Jose and San Francisco are planning their own BRT projects for the Van Ness, Geary, El Camino Real, and Alum Rock corridors.
An agreement on the center-running alternative passed the Oakland Public Works Committee with broad support this morning, and
TransForm is calling on supporters
to speak up at two final
meetings
next week to ensure a fast, reliable transit corridor comes to the East Bay:
Monday, July 16th @ 7pm - San Leandro City Council, Civic Center, City Council Chambers, 835 East 14th Street.
Tuesday, July 17th @ 5:30pm - Full Oakland City Council, Council Chambers on the 3rd floor of City Hall
Aaron was the editor of Streetsblog San Francisco from January 2012 until October 2015. He joined Streetsblog in 2010 after studying rhetoric and political communication at SF State University and spending a semester in Denmark.
Stay in touch
Sign up for our free newsletter