Muni
New Colored Transit Lanes Coming to Church Street Next Month
3:30 PM PDT on August 22, 2012
New red-colored transit lanes are slated to be implemented on a section of Church Street in September in a SF Municipal Transportation Agency pilot project to speed up the J-Church and 22-Fillmore lines. Following the T-Third line, it would be the second time San Francisco has used colored paint on transit-only lanes to help clarify that they're off-limits to drivers -- one of the practices used in cities like New York and London in recent years to make transit faster and more reliable.
Staff from the SFMTA's Transit Effectiveness Project will hold a public meeting on Monday evening to explain the proposal, which would create red transit lanes on Church between Duboce Avenue and 16th Street -- one of the "slowest portions of both the J Church and 22 Fillmore lines," according to an SFMTA flyer [PDF]. As many Muni riders know, on streets like Church and Market, cars in front of transit vehicles -- moving or parked -- are a common cause of delay. Transit lane violations are rampant, especially on streets like Market, where drivers often prevent buses and streetcars from loading passengers at boarding islands, forcing them to wait until the next traffic light cycle.
"Separating public transit from private vehicles has been proven again and again to make trains and buses go faster," said Ben Kaufman of the SF Transit Riders Union. "We hope that this pilot program proves to be a success and will lead to many more of these treatments. This is just one part of moving towards a rapid transit system in our city."
At the hectic intersection of Church and Duboce, removing private autos from the center lanes could also help reduce confusion, as drivers approaching from the south currently merge from two traffic lanes into one lane on the north side of the intersection.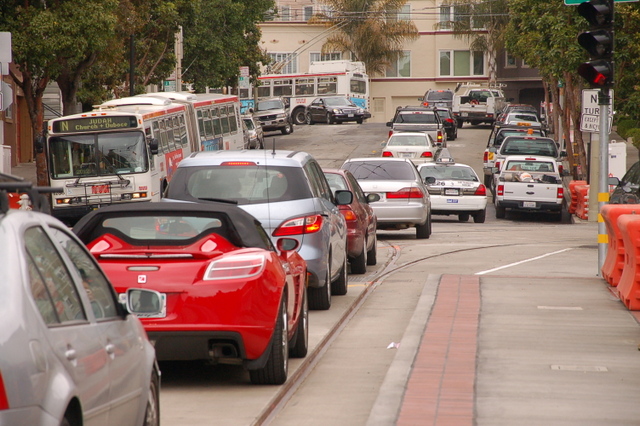 Currently, Church between Market and 16th has two traffic lanes in each direction, and though the center lanes are paved with concrete, drivers can use them. Under the one-year pilot project, the concrete lanes would be explicitly reserved for Muni and taxis, and left turns on Church would be banned at 15th and 16th Streets between 7 a.m. and 7 p.m.
In addition to observing driver behavior and taking public feedback during the pilot, the SFMTA will be testing the durability of the red coating on concrete, as colored transit lanes in other cities are usually paved with asphalt.
Transit lanes were recommended in the Market and Octavia Plan, the Upper Market Community Plan, and the Muni TEP recommendations for speeding up the J as part of the "Rapid Network." The construction would be integrated into ongoing streetscape and rail work on Duboce, Church and Carl Streets, which recently brought transit bulb-outs to Carl and a green "bike channel" to Duboce.
The SFMTA is also considering coloring existing transit lanes on other streets along the 8x route and plans to install more bus-mounted cameras to ticket violators via mail. That practice is also used in New York and London.
The SFMTA's public meeting will be held on Monday, August 27 at 6:30 p.m. in the Gazebo Room of the California Pacific Medical Center Davies Campus, located at 45 Castro Street (next to Duboce Park). The project will also be up for approval at a public SFMTA engineering hearing on Friday, August 31 at 10 a.m. at City Hall, Room 416. Comments on the project can be sent to sustainable.streets@sfmta.com.
Aaron was the editor of Streetsblog San Francisco from January 2012 until October 2015. He joined Streetsblog in 2010 after studying rhetoric and political communication at SF State University and spending a semester in Denmark.
Stay in touch
Sign up for our free newsletter