Great Streets Campaign
In Park(ing) Day's Seventh Year, Parklets Now a San Francisco Institution
5:10 PM PDT on September 20, 2012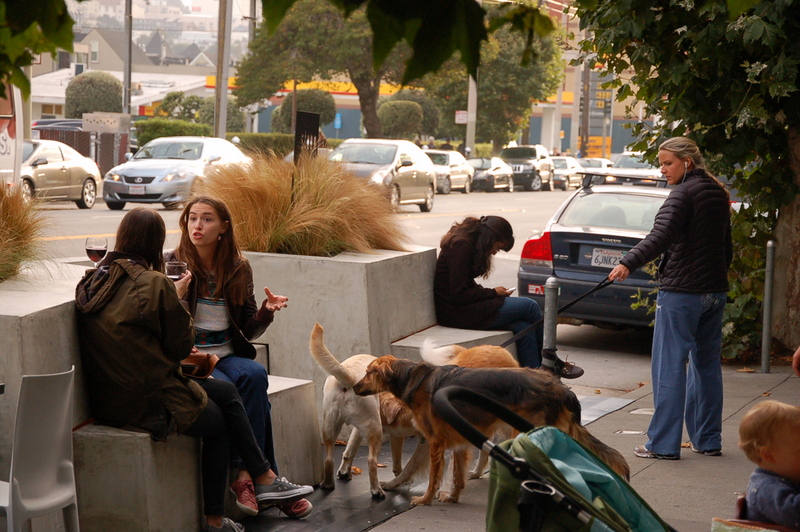 When Park(ing) Day started in San Francisco seven years ago, setting up camp on a sliver of street space normally reserved for storing cars was a somewhat radical idea. But these days, evidence of the movement's continuing success can be seen year-round with more than 35 (and counting) semi-permanent, city-sanctioned parklets around the city.
Park(ing) Day returns again tomorrow, and dozens of parking spaces around the city will be reclaimed as public gathering spots. San Franciscans have embraced the event over the years, and the city's parklet program is wildly popular among merchants, who clamor for a permit to bring a vibrant public gathering space in front of their store. It seems a world away from the first time Rebar, an art collective, decided to introduce Park(ing) Day by plugging a parking meter for a place to lay down some few rugs, plots of sod, chairs and art pieces.
"What has been really gratifying is that Park(ing) Day, which began as a guerilla art project, has been adopted by cities and integrated into their official planning strategies," said Blaine Merker, a principal at Rebar. "A relatively modest art intervention has changed the way cities conceive, organize and use public space."
By now, parklets are a uniquely ubiquitous institution in San Francisco. The SF Planning Department's Pavement to Parks program continues to grant permits through a streamlined permit application process, resulting in dozens of uniquely designed spaces popping up around the city. The city also installed a "mega parklet" promenade along three blocks of Powell Street, San Francisco's most crowded pedestrian thoroughfare. A multi-agency website launched in May, sfbetterstreets.org, even lays out a simple guide for merchants (and residents) to apply for parklets, among other street improvements.

View San Francisco Parklets in a larger map
The Great Streets Project's current map of parklets citywide. Some of the newest ones may be unrecorded.
While Park(ing) Day grows internationally (there were 975 spots on six continents last year, according to Rebar), the number of spots planned in San Francisco seems like it may have actually plateaued, judging by the map on the official Park(ing) Day website.
But given that the number of parklets continues to rise, the city's movement for reclaiming public space may have simply moved beyond its first phase of "intervention," said Kit Hodge, former director of the Great Streets Project, which ended this summer. Hodge explained that the process of designing space reclamation projects like the plaza at 17th and Castro Streets can be analogous to the evolution of the movement as a whole.
"The prevailing model now for how to get the next generation of projects on the ground is to do first an events phase, sort of like what Park(ing) Day is, then a temporary phase [like parklets], where you can get feedback on the project and tweak it along the way, then use the knowledge gained from those two phases to install a permanent vision," said Hodge. "If you think about that, then we're really in that second phase."
Hodge said there could be a more permanent future for parklets. That issue was discussed at a SPUR forum in February called "Time's Up: The End of Temporary," but Hodge, who was a panelist at the forum, said "nobody really knows the answer" to what it will look like.
In developing the parklet permit program, the Planning Department consulted Rebar and the Great Streets Project on how to ensure it would bring about successful, open public spaces rather than private cafe seating -- something Merker said not all cities have done well.
"We saw that as a potential pitfall of the program, if it wasn't explicitly stated that these are public spaces, and so in San Francisco, every parklet has a plaque on it" stating that, said Merker. Restaurants aren't allowed to serve food at parklets, and while not every one has abstained from doing so, Merker said Rebar is pleased with the transformation Park(ing) Day brought to the cityscape. "We were very active in advocating for San Francisco's program to be an extension of the public realm, and fortunately, that's what it's become."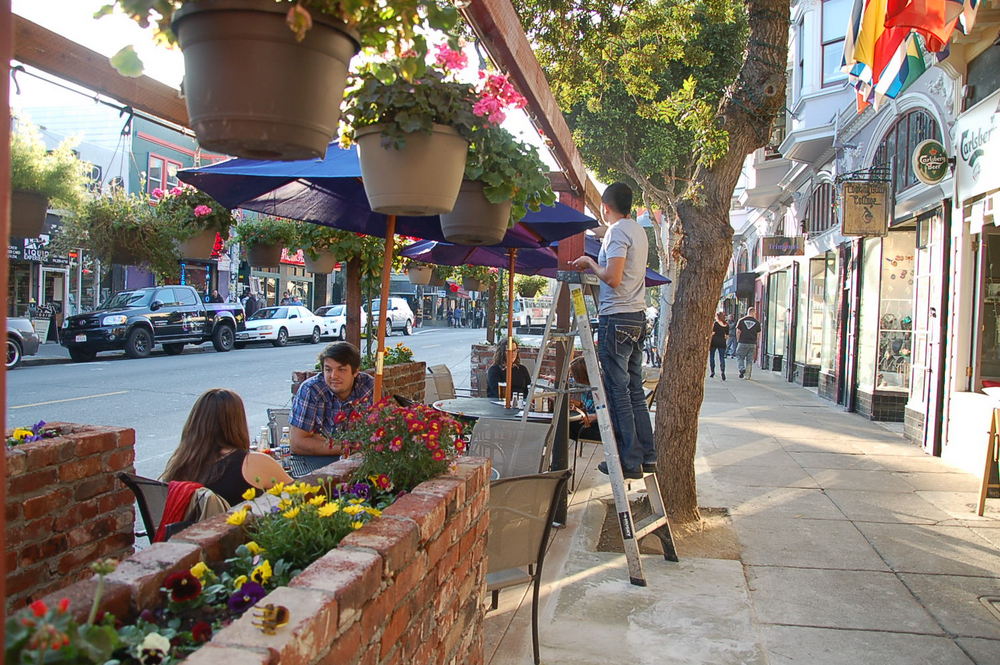 Aaron was the editor of Streetsblog San Francisco from January 2012 until October 2015. He joined Streetsblog in 2010 after studying rhetoric and political communication at SF State University and spending a semester in Denmark.
Stay in touch
Sign up for our free newsletter