Bicycle Infrastructure
SFMTA Board Approves Fell and Oak Bikeways, Work to Begin This Month
11:23 AM PDT on October 17, 2012
Construction will begin this month on physically separated bike lanes and pedestrian safety improvements on three critical blocks of Fell and Oak Streets after the project was approved unanimously yesterday by the SF Municipal Transportation Agency Board of Directors.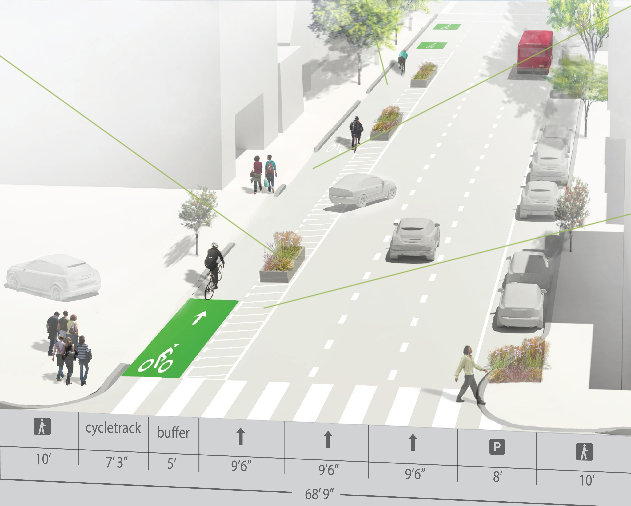 "This is such a game-changer," said SF Bicycle Coalition Executive Director Leah Shahum. "I think when we make this small but critical gap more welcoming and bike-friendly, we really are going to see more people biking to work, to parks, to school."
SFMTA crews plan to begin work in October on striping the Fell Street bike lane, re-striping parking spaces on nearby streets, and upgrading continental crosswalks, said SFMTA project manager Luis Montoya. Striping the Oak bike lane will require more work than the Fell lane, since the Oak lane will require a slight re-alignment of the three traffic lanes. The completion dates for each piece of the project will depend on the schedule of the agency's paint shop, but agency staff hopes to have both bike lanes finished by winter on the three blocks between Scott and Baker Streets, he said.
Work on the 12 sidewalk corner bulb-outs and planted concrete bike lane barriers would be finished by next spring or summer. Although the SFMTA said earlier this month that the bike lanes may not be rideable during concrete construction, Montoya said crews would be sure to maintain temporary bike lane access. The project will also add bicycle traffic signals to give bicyclists and pedestrians a head start in the traffic cycle.
Walk SF Executive Director Elizabeth Stampe cheered the pedestrian upgrades included in the plan, which initially included only bike lanes. "The project will widen sidewalks at corners with 13 [originally proposed] bulb-outs, which is really quite a lot. I'd like to get to a point where it's not a lot, but right now it's a lot."
As part of the project, the traffic signals on Oak and Fell would be adjusted to lower synchronized vehicle speeds from 25 MPH to 20 MPH, which will "help to start addressing the [traffic] speeds ... that basically make it feel like we've got freeways running right through our city," said Stampe. "For too long, Golden Gate Park and the Panhandle have been like islands in the middle of these freeway-like traffic conditions."
Of the dozens of speakers at the board hearing, the vast majority came to support the project, citing the need to alleviate the stress of bicycling alongside heavy car traffic on the link between the Wiggle and the Panhandle, which are otherwise bike-friendly. Of the handful of opponents that spoke, most complained about the loss of car parking to make way for the bike lanes, asserting that people on bikes should climb the steep hill on Page Street or detour on Hayes Street rather than use the flat, direct connection via Fell and Oak. Proponents argued that few people are able or willing to do so.
"I refuse" to take Page, said 70-year-old Cathy Kora, who commutes around San Francisco by bike. While she is personally willing to tolerate riding on Fell and Oak, she said, "I'd like to see a lot more women my age go up Fell Street, but they won't because they feel that they're taking their life in their hands."
"If we're serious about getting people from the west side to commute to the east side, the most important route in that transportation corridor has to be amenable to bikers," said Peter Lauterborn, an aide from D1 Supervisor Eric Mar's office, who pointed out that although the bike lanes aren't in District 1, they will serve commuters from areas like the Richmond.
"If we're serious about having 20 percent of our commuters doing it by bike, we can't do that by having only the fittest and most adventurous going up and down these big hills," Lauterborn added. "We have to use the flatter route. There has to be road equity, where we're using our resources in the most effective way for everyone."
Some proponents pointed out that the perceived shortage of car parking in the area could be addressed by instituting a residential parking permit zone, given that an SFMTA study found that only 34 percent of cars parked in the area were registered in the local zip code. SFMTA Sustainable Streets Director Bond Yee said planners did reach out to neighbors to start a petition to create a new RPP zone, but the petition failed to pass the necessary threshold: 250 signatures or more than half of residents on 12 contiguous block faces.
In total, about 100 free parking spaces would be removed from Fell and Oak, with 45 of them replaced by new spaces on nearby streets. SFMTA Board Member Malcom Heinicke urged agency staff to pursue an RPP zone again in the future, pointing out that there may be more support for it after the parking spaces are removed. (One car-owning resident argued that parking in the area was already easy.)
Two minor changes were made to the original plan due to opposition from the owners of Falletti Foods, located at Oak and Broderick Streets. Montoya said a proposed traffic diverter that would have prevented drivers from turning right across the bike lane from Oak on to Broderick was removed, along with a bulb-out at the northwest corner of the intersection, which the owner complained would make left turns difficult for trucks headed to his store from Oak onto northbound Broderick.
While the years of advocacy for this project were followed by delays, now protected bike lanes on these critical streets are finally on the horizon. Shahum praised the relatively speedy construction timeline for the bike lanes. "It seems like they're moving with the speed that's needed to actually implement the improvements," she said.
Read more on the hearing from Bay City News at the SF Appeal.
Aaron was the editor of Streetsblog San Francisco from January 2012 until October 2015. He joined Streetsblog in 2010 after studying rhetoric and political communication at SF State University and spending a semester in Denmark.
Read More:
Stay in touch
Sign up for our free newsletter