Bicycle Commuting
Standing Up to Legal Appeal, SFMTA Moves Ahead With Fell Street Bike Lane
4:39 PM PST on November 14, 2012
Opponents of the Fell and Oak Street bikeway and pedestrian improvements filed an appeal last week seeking to delay implementation of street safety measures on the critical three-block stretch linking the Panhandle to the Wiggle, but the legal gambit will not slow down construction of the bike lane on Fell currently underway, the SF Municipal Transportation Agency says.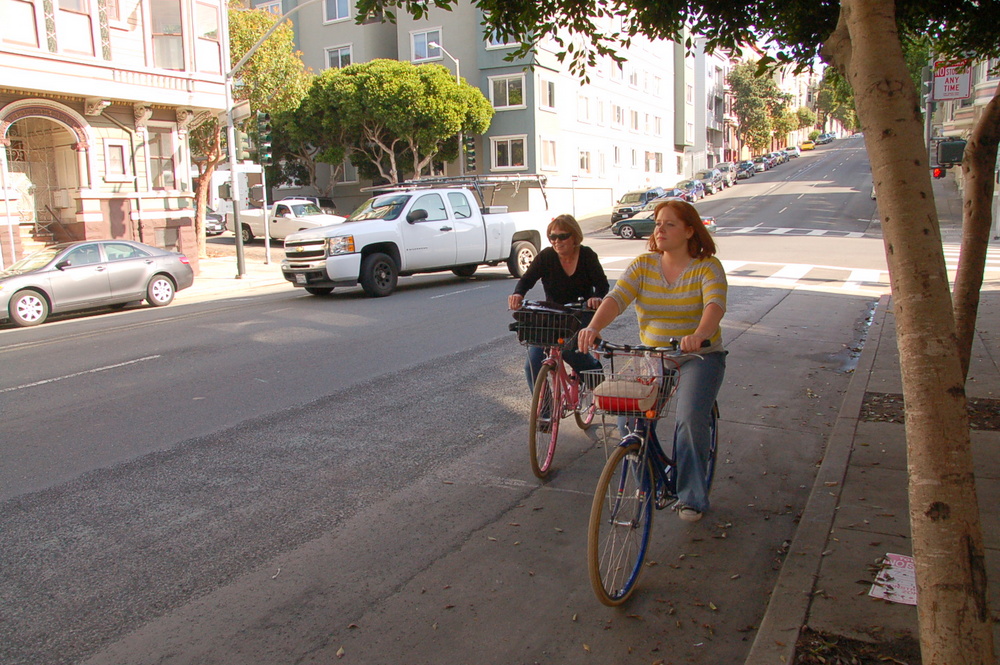 The appeal [PDF] -- filed by Mark Brennan, a developer; Howard Chabner, a disability rights advocate; and Ted Loewenberg, president of the Haight-Ashbury Improvement Association -- demands that the SFMTA abandon the bikeway, claiming that it discriminates against the disabled and requires environmental review under the California Environmental Quality Act (which the project was exempted from).
Following the recent removal of a car parking lane on Fell, between Baker and Scott Streets, SFMTA spokesperson Paul Rose said the agency will begin striping the bike lane tomorrow, weather permitting. "We are confident in the environmental work that went into this project," he said. It's unclear whether the rest of the project is in jeopardy of being delayed.
The project, which will create physically separated bike lanes and pedestrian safety measures like curb extensions at intersections, has drawn overwhelming support at public hearings. It has the backing of neighborhood groups -- including the North of Panhandle, Alamo Square, and Lower Haight neighborhood associations -- as well as a number of merchants, D1 Supervisor Eric Mar, D5 Supervisor Christina Olague, and London Breed, who won election last week as the next D5 supervisor.
"The city led an extensive and admirable community outreach and planning process that also showed appropriate urgency to address a known dangerous area," said SF Bicycle Coalition Executive Director Leah Shahum. "The strong public and political support for this improvement project speaks to the truth that when we make our streets calmer and safer, there are significant shared benefits for people bicycling, walking, and those with physical disabilities."
A hearing on the appeal could be held by the Board of Supervisors on December 11, according to a city staffer, but it's currently unclear who will decide whether it has any legal standing. The appeal centers on the claim that the removal of about 100 car parking spots on Fell and Oak (about 50 of which are being replaced on nearby streets) will cause negative impacts. It also claims the sidewalk extensions, which reduce crossing distances and improve visibility for pedestrians, will "impede traffic by making right turns difficult."
In an email to the SFMTA Board of Directors last month, Chabner expressed his opposition to the project, asserting that people on bikes should detour to Hayes and Page Streets, which the vast majority already avoid because of steep terrain and longer distances. He asserted that repurposing free curbside parking would be a hardship on car owners and people with disabilities who need to load and unload, and that bike lanes would hinder visibility for drivers pulling out of garages more than parked cars do.
No street parking spaces within the immediate area are reserved for disabled placard holders, and SFMTA studies have indicated that the lack of parking permit restrictions actually made the spaces along the bikeway corridor a magnet for long-term car storage, not short-term loading and unloading. Paratransit vehicles and taxis will legally be able to stop in the bike lanes to load and unload disabled passengers.
The SFMTA's public outreach included several community planning meetings that drew hundreds of attendees, as well as meetings with 18 groups, including the city's Paratransit Coordinating Council and pedestrian and bicycle advisory committees, to field input. Shahum noted that the SFBC has also done extensive door-to-door outreach to residents and merchants and met with neighborhood groups.
Suzanne Holland, a Mission resident who is blind and rides around the city on a tandem bicycle with her partner, said the protected bike lanes will "make it easier, safer and calmer for me to get around town. I look forward to the Fell and Oak improvements moving forward, and to being able to pedal safely to and from Golden Gate Park."
Other measures to calm traffic and improve pedestrian safety, like lowered synchronized traffic signal speeds, "ladder"-style crosswalks, and advanced stop lines for cars, will provide widespread benefits beyond enhancing a crucial link for one of the city's most heavily-used bicycling routes, noted Shahum.
"There are strong, common goals among communities working for more accessible public space for people with disabilities and those working for safer walking and bicycling conditions," she said, noting that the SFBC "looks forward to greater collaboration among our advocacy communities to help make our streets and communities safer."
"We all benefit when vehicles move more slowly and calmly on our streets and when sidewalks are clear and accessible," she said.
Aaron was the editor of Streetsblog San Francisco from January 2012 until October 2015. He joined Streetsblog in 2010 after studying rhetoric and political communication at SF State University and spending a semester in Denmark.
Stay in touch
Sign up for our free newsletter