Bicycling
Boat Owners Gripe as Car-Free Marina Path Moves Forward
6:01 PM PDT on October 22, 2014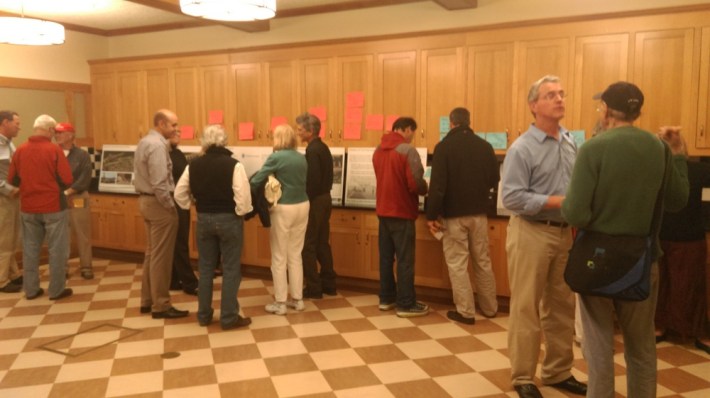 A community meeting held yesterday about plans to remove car parking from a stretch of the Marina pedestrian and bike path was attended by just a couple dozen people, most of whom appeared to be boat owners protesting the move. The Recreation and Parks Department does appear to be moving forward with the plan, despite complaints from some well-connected Marina boaters who have delayed the project for months.
Several harbor tenants repeated mostly baseless arguments heard at previous meetings, defending the 51 often-empty parking spots by instead complaining about the behavior of people who bike on the path.
This stretch of path along Marina Boulevard, between Scott and Baker Streets, sits alongside four wide traffic lanes. It's the only segment of the 500-mile Bay Trail that has car access on it. Only two percent of people using the path park cars on it -- the rest walk or bike. Most of those biking appear to be pedaling leisurely on rental bikes, and many of them are children.
But that doesn't jibe with the narrative of menacing road-hogs told by those like Paul Manning, a harbor tenant.
"I think it's important that, when bicyclists ask for sharing the road, that it be a combination and not an exclusive use of the road," Manning told Streetsblog. "In this project in particular, they want to obliterate all the cars and have exclusive use for pedestrians and cyclists, which seems unreasonable."
"That's their modus operandi," said Allen Cavey, in response to Manning. "They want everybody off, but they can't get the pedestrians off because they're on the sidewalk."
Cavey, who identified as a harbor tenant since 1963, said he's long fought efforts to take cars off the Marina path, which "really started" in 1996. Cavey was unabashed in his contempt for the SF Bicycle Coalition and in his celebration of keeping cars on the path.
"As a member of the Harbor Tenants Association, I had to rattle down the testy, belligerent, arrogant Bicyclist [sic] Coalition. We won, we prevailed. And we're still parking on the esplanade. And we're going through the same thing again."
The SFBC "has been advocating to move the parking to a convenient location for visitors and boat owners, creating a beautiful bicycle and pedestrian path for residents and visitors to enjoy," the organization says on its website.
"The only way to properly meet the Bay Trail standards and provide that experience is by creating a car-free path," the SFBC's Janice Li wrote in a support letter [PDF].
Matt Dove of the Presidio Community YMCA's YBike program, who leads groups of kids on bike rides on the Marina path, says the existence of cars only adds hazards. The section with cars is the only area where kids are at serious risk of a lethal collision with a multi-ton motor vehicle.
"If I were to think about sending my child on a bike ride on a mostly car-free bike path, the fact that there's that one spot in the middle -- that's the thing I'm thinking of the most," said Dove. "Being on a multi-use path is already chaotic. It makes it a less inviting space to enjoy."
There are no known incidences of serious collisions between people walking, biking, or driving on the Marina path. But Newton Kindland, a harbor tenant since 2001, asserted that, "As a point of fact, if you check with the San Francisco Police, there have been 17 documented incidents of cyclists careening with either cars or pedestrians on that stretch of road."
"Zero number of cars impacting either cyclists or pedestrians," said Kindland. "Clearly, cars aren't the problem. It's uncontrolled cyclists that are the problem."
We'll follow up with SFPD to see if there's any such data to back up that claim, but I've never heard it elsewhere. A 2013 SF Chronicle article described the path as a "free-for-all," based on testimony from two neighbors, but mentioned no such data on crashes or "careens," as Kindland called them.
As the article noted, the Department of Public Works proposed striping separate lanes for walking and biking after a recent re-paving, but "community input" caused planners to leave the pavement un-striped except for the parking spaces and "shared" driving lane.
Even though the pathway parking spaces sit adjacent to just 91 of the 350-odd total slips in the Marina basin, and parking space occupancy ranges between 40 and 68 percent, boat owners insist that the spots are not only essential but that their $10,000 boat slip rentals entitle them to parking at their doorsteps.
"To even limit parking there, which is part of the Marina from my perspective, is wrong," Kindland. "We're the ones paying for that space, we need it to service our boats, some of our members are 70, 80, 90 years old. They can't cart equipment a quarter-mile to their vessels."
The parking removal is set to happen in the spring.
Aaron was the editor of Streetsblog San Francisco from January 2012 until October 2015. He joined Streetsblog in 2010 after studying rhetoric and political communication at SF State University and spending a semester in Denmark.
Stay in touch
Sign up for our free newsletter