Bicycling
Parking-Protected Bike Lanes Partially Back in Oakland's Telegraph Ave Plan
7:23 PM PST on November 26, 2014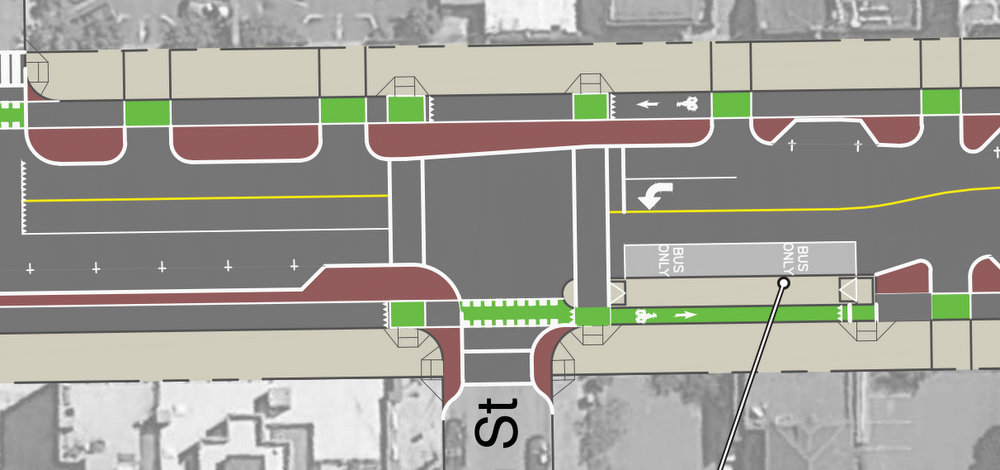 If all goes according to plan, Oakland could get its first parking-protected bike lanes on Telegraph Avenue next spring.
The final draft of the Telegraph plan was released this week, and previously-dropped parking-protected bike lanes were re-introduced in downtown Oakland, between 20th and 29th streets. Buffered bike lanes are planned on the block south of 20th and between 29th and 41st streets.
The Telegraph plan would remove a traffic lane in both directions between 19th and 41st streets, which should calm traffic while creating room for protected bike lanes and shorten pedestrian crossings. The plan includes transit boarding islands and the some relocated bus stops, as well as the removal of on-street parking between 55th and Aileen Streets under the Highway 24 overpass. Removing parking there would provide bike lanes connect to the 55th Street bicycle route.
The Telegraph plan was revised after the latest round of public meetings held in September, where safe streets advocates blasted planners' move to drop the originally proposed parking-protected bike lanes.
However, planners still punted on protected bike lanes for the busy and complex middle section of Telegraph, between 41st and 52nd in the Temescal neighborhood. At the busy intersection with Telegraph and 51st, car traffic comes off the freeway and double turn lanes enter northbound Telegraph. The section also includes an oblique intersection at Shattuck Avenue.
Oakland planners insist that removing a traffic lane would result in gridlock and say they haven't been able to find a way to divide up the road space in that area that satisfies everyone (a rare outcome). Public comments at the various meetings they held have been divided, with bike advocates pushing for bike lanes, car-centric business owners fighting to preserve car parking. AC Transit is also looking to ensure its buses can move through efficiently.
Instead of safe bike lanes, planners had proposed only sharrows for the Temescal section -- marked symbols that insist that people on bikes mix with motor traffic. Bike advocates at the meetings vehemently objected to adding sharrows as a substitute, and no consensus was found for any of the other options. Removing car parking or traffic lanes to create room for safe bike lanes was not seriously considered. So instead of stenciling in sharrows and calling the street "complete," the planners opted to work on the easy parts first, and then return to look at the Temescal section later.
Once protected bike lanes are put in along part of Telegraph, people may see that a road diet doesn't automatically result in gridlock. In the meantime, the Temescal section will remain a problem for anyone unwilling to brave the gap to reach the protected bike lanes.
If approved by the city council, the first phase of improvements is scheduled as part of Oakland's plan to re-pave Telegraph in 2015. That includes the parking-protected bicycle lanes, as they can be laid out with relatively inexpensive materials like paint and soft-hit posts until funding can be identified to implement the full plan.
The plan will next be reviewed at:
A special meeting of the Oakland Bicycle and Pedestrian Advisory Commission on Monday, December 1, at 5:30 p.m. at Oakland City Hall, Hearing Room 3.
A meeting of the Oakland Public Works Committee on Tuesday, December 2, at 11:30 a.m. at Oakland City Hall, Sgt. Mark Dunakin Room, 1st Floor.
If the Public Works Committee approves its resolution to remove traffic lanes and install bike lanes, the item will go to:
The Oakland City Council on Tuesday, December 9, at 5:30 pm (Oakland City Hall, Council Chambers, 3rd Floor)
Streetsblog will not be publishing on Thursday or Friday. Happy Thanksgiving, and we'll see you on Monday. 
Streetsblog California editor Melanie Curry has been thinking about transportation, and how to improve conditions for bicyclists, since her early days commuting by bike to UCLA long ago. She was Managing Editor at the East Bay Express, and edited Access Magazine for the University of California Transportation Center. She also earned her Masters in City Planning from UC Berkeley.
Stay in touch
Sign up for our free newsletter