Pedestrian Infrastructure
SFMTA's Tom Maguire Promises Reforms to Streamline Safe Street Fixes
6:30 PM PST on December 16, 2014
Tom Maguire, the SFMTA's new Sustainable Streets Director, said he's working on reforms that will fast-track implementation of numerous street safety fixes that will help SF accomplish Vision Zero.
Maguire, who started at the SFMTA two months ago after serving in an executive role in New York City's Department of Transportation, told the supervisors' Vision Zero Committee last week that he's taking on the 10 "primary challenges" [PDF] that delay small infrastructure projects. The primary challenges were identified in last year's SF 2040 Transportation Plan.
Street safety advocates have long pushed for the SFMTA, and other agencies, to cut the red tape and lack of coordination that result in the painstakingly slow roll-out of pedestrian and bike safety measures.
"I certainly walked into a situation here where project delivery was the primary challenge," Maguire told the committee. As a veteran of NYC DOT, where safety projects seemingly appeared overnight under former DOT Commissioner Janette Sadik-Khan, Maguire is expected to both bring a fresh perspective and improve the SFMTA's tempo.
While SFMTA officials haven't set specific targets that would measure progress on bureaucratic reforms, their current goal is to implement safety fixes on at least 13 miles in each of next two years. Walk SF Executive Director Nicole Schneider pointed out that that falls well short of the 18 mile goal (targeted to "high-injury" streets) requested by the Vision Zero Coalition of advocates at a recent rally. However, it does best the SF Pedestrian Strategy adopted last year, which calls for fixes on five high-injury miles per year.
Tim Papandreou, SFMTA's director of strategic planning and policy, said a goal of 13 miles annually -- not necessarily along high-injury corridors -- seems to be a realistic expectation. "At least there's one bar that we can cross, and say 'we did that,' " said Papandreou. "Anything above that would be great."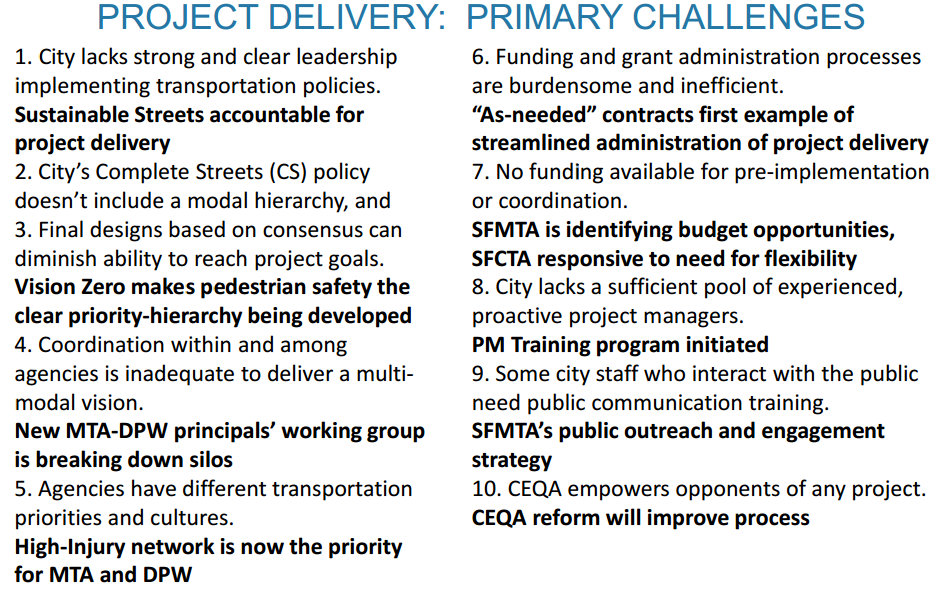 Of the items on Maguire's list of ten SFMTA reforms [PDF], he specifically promised to streamline the contractor bidding process. Bundling smaller safety projects together into fewer, larger contracts, he said, will attract more bidders and reduce delays for each component.
Maguire also said the "lack of a modal hierarchy" -- #2 on the city's list of "challenges to small project delivery" -- was fixed when Vision Zero named pedestrian safety the top priority. He also said he established a "principal-level working group," a bureaucratic think tank, to help the SFMTA and Department of Public Works to "knock down barriers" on high-priority safety projects.
Supervisor Scott Wiener asked Maguire how agencies are working out disagreements and turf wars that have held up, or watered down, street safety projects. As an example, he pointed to SF Fire Department officials' insistence on wider roads for fire trucks, sticking to their narrow interpretation of state fire codes. "You have to work very hard to try to achieve consensus, but not at the cost of a good project," said Wiener.
Maguire said he would resolve such issues by going out to examine the streets' real constraints together with various agencies' engineers. Real constraints, rather than specific code interpretations, should be the focus, he said. "The abstract and the reality can be really quite different," said Maguire.
The number one "challenge to project delivery" listed was that the "City lacks strong and clear leadership implementing transportation policies."
To that, Maguire said, "I personally feel, and my staff collectively feels at the Sustainable Streets Division at the MTA, that we are the ones accountable for delivering Vision Zero."
Aaron was the editor of Streetsblog San Francisco from January 2012 until October 2015. He joined Streetsblog in 2010 after studying rhetoric and political communication at SF State University and spending a semester in Denmark.
Stay in touch
Sign up for our free newsletter