Bicycling
Alameda's Second Parking-Protected Bikeway Takes Shape on Shoreline Drive
6:19 PM PST on February 17, 2015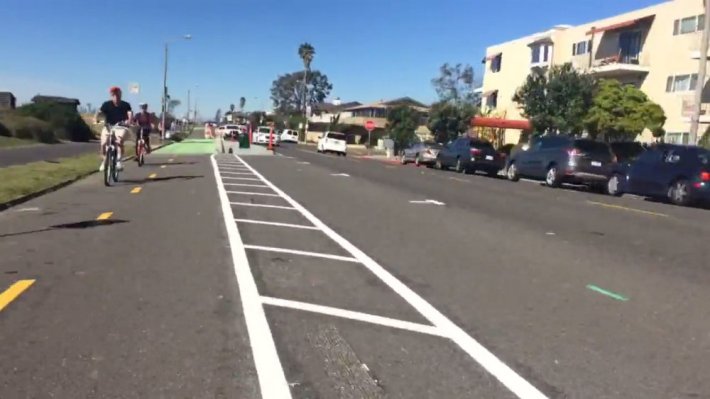 The East Bay's island city of Alameda has laid down its second parking-protected bikeway along Shoreline Drive.
The paint has barely dried on the 1.8-mile, two-way bikeway, but Alamedans are already using it. The city is adding finishing touches before a ribbon cutting set for March 7. Bike East Bay Education Coordinator Robert Prinz, a former Streetsblog intern, captured the below time lapse video showing a roll down the bikeway.
It's one of only a handful of parking-protected bikeways in the Bay Area, and the first to be installed since SF's John F. Kennedy Drive in Golden Gate Park was striped in 2012.
"We really think of this as our first complete street," said Lucy Gigli of Bike Walk Alameda. "There's vehicle travel, there's wonderful bike lanes now, and the path and sidewalk are so much more comfortable for people walking."
Like other parking-protected bikeways in cities like New York, the Shoreline project uses paint and concrete islands, with a car parking lane between the bikeway and the motor traffic lanes. A buffer zone allows for room to safely open car doors. The curbside bikeway runs along Alameda's beach and next to a major shopping center (surrounded, unfortunately, by a giant parking lot). 
In addition to making the street comfortable to bike on for people of all ages and abilities, the road diet shortened the distance for people to cross the road on foot. Gigli said the redesign already seems to have calmed car traffic. Also included were bus boarding islands, which separate bus passengers from bike traffic. Similar boarding areas have recently been installed along other bus routes in Alameda.
Because this stretch of Shoreline lacks cross streets, planners didn't have to grapple with designing a safe way for drivers to turn across the bikeway. Gigli said that simplicity made the street "somewhat of a low-hanging fruit" for a protected bikeway design.
Alameda's 1999 plans for Shoreline originally called for conventional, unprotected bike lanes. Safe streets advocates pushed the city several years ago to draw up a safer design, Gigli said.
Of course, the process of planning and winning support for a still-novel parking-protected bikeway design on Shoreline bikeway didn't come without opposition. Naysayers made many of the same complaints heard about SF's JFK -- that it would be too confusing, that the lanes would be too narrow for cars, and that some people didn't want to have to share the bikeway with slower-moving children.
"There are very few negatives to this project," said Gigli, "unless you consider driving at the speed limit a negative."
As for how to park on the new Shoreline design, drivers also seem to have quickly gotten the idea, unlike the confusion after the installation of the JFK bikeway. Drivers on JFK still sometimes encroach on the bike lanes, but drivers on Shoreline so far have been seen parking correctly. Gigli pointed out that Alameda used parking "T" markings to denote parking spaces, which could be more intuitive than JFK's solid lane stripes.
Gigli said city planners held several community meetings to plan Shoreline "that really allowed the community to talk and talk, and allowed us as biking and walking advocates to explain what these new things, these protected bike lanes would do." By the last meeting, "every single community table said [they wanted] protected bike lanes."
Alameda is moving ahead with more protected bike lanes, with both two-way designs and one-way designs. The city has launched community planning processes to redesign Clement Avenue and to convert a defunct railway into a crosstown protected biking and walking path.
Alameda, where kids can regularly be seen bicycling in the streets, installed its first parking-protected bikeway in 2008 on Fernside Boulevard along Lincoln Middle School. It leads to the Bay Farm bridge, the only drawbridge exclusively for biking and walking in the U.S.
Parking-protected bikeways with similar designs are also planned on Oakland's Telegraph Avenue, SF's 13th Street, Second Street, Bay Street, and other streets in the Bay Area.
I'd be remiss if I didn't mention that my wife and I  just moved to Alameda. I'm still car-free and in the city most days, and Streetsblog SF's coverage will continue to focus on SF.
Aaron was the editor of Streetsblog San Francisco from January 2012 until October 2015. He joined Streetsblog in 2010 after studying rhetoric and political communication at SF State University and spending a semester in Denmark.
Stay in touch
Sign up for our free newsletter