Bicycle Commuting
Better Bike Parking Options Can Alleviate Crowding On-Board Caltrain
4:30 PM PDT on April 9, 2015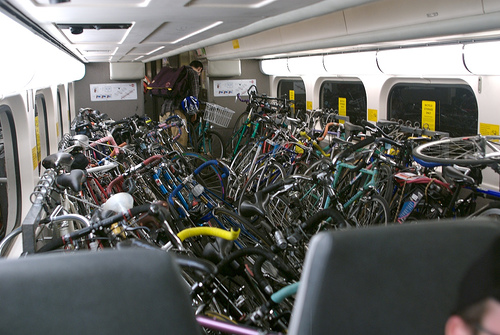 Facing a continuing surge of nearly 5,000 additional weekday passengers each year, Caltrain is looking into better bike parking to alleviate overcrowding on the trains while improving access to its stations. The agency was awarded a $150,000 state grant in early April to write a bicycle parking management plan that aims to prioritize the next phase of bike improvements at stations.
Current bike parking facilities include standard bike racks at 29 stations, bike lockers that can only be rented out by a single person at 26 stations, shared bike lockers at 10 stations, and indoor bike parking areas at three stations, including attended bike parking at San Francisco's Fourth and King Station. The addition of more bike parking has lagged behind demand, with the number of passengers with bikes more than doubling from 2010 to 2015. Caltrain now logs over 6,000 bike boardings on an average weekday, accounting for between 11 and 13 percent of the agency's total weekday ridership, which has grown by 60 percent in the same five-year period.
In a survey Caltrain conducted last year [PDF], 49 percent of passengers who bring a bike on-board said they would consider using "secure bike parking in a self-serve locker," 39 percent would consider "convenient bike sharing kiosks," and 47 percent would consider "a shuttle or other means of transit."
Last December, Caltrain's Bike Plan Implementation Strategy [PDF] reported "mixed progress" on bike parking improvements since 2008, citing inadequate funds and the ad-hoc nature of the many small city-led projects that are completed only as grant money and staff time become available. The new plan recommends investing $2 million in 500 new electronic bike lockers at Caltrain's nine busiest stations, and $1 million on various access improvements, including new ramps and stairs at a few stations.
Standard bike racks are installed at all stations, but many commuters are wary of locking their bikes outside all day long and risking theft. Key-operated bike lockers that can only be reserved for one person for months at a time cost $33 for six months. Except at Redwood City and San Jose, not every bike locker gets used at stations with all-day service. In 2013 the agency found that bike locker utilization system-wide is roughly 50 percent.
"Imagine if you had to permanently reserve a specific space to park a car at a Caltrain station, and only you could ever park in that one space," said Friends of Caltrain Director Adina Levin. "Secure bike parking has to be more convenient than this or commuters just won't use it."
Shared electronic bike lockers, most of which are rented by commuters for five cents per hour using BikeLink, a pre-paid transit card similar to Clipper, don't restrict customers to using a specific locker. They also take up less space than key-operated lockers because each locker can be used by many customers. To date, electronic bike lockers have been installed at only five stations between San Francisco and San Jose (Millbrae, San Mateo, Hayward Park, Hillsdale, and Sunnyvale, none of which are among the agency's top five busiest stations for bike commuters).
Caltrain will decide how much space to allocated to seats, bikes, luggage, and bathrooms on its new electric trains before this summer, when it will award the contract to build them to one of six pre-qualified firms. The trains are expected to be running by 2021.
Local bike advocacy groups representing San Francisco, San Mateo, and Santa Clara counties urged Caltrain in December [PDF] to provide enough space for 20 percent of passengers to bring a bike on board the electric trains. The groups also requested that Caltrain study the relative costs of various first-and-last-mile connections available, including better bike parking, bike-share, and bus and shuttle service, and to set goals for increasing non-automotive access to Caltrain's stations.
Andrew Boone covers the Livable Streets Movements for Streetsblog in San Mateo and Santa Clara counties. Andrew's claim to fame is once having bicycled more than 12,000 miles of smiles in one year. nauboone@gmail.com
Stay in touch
Sign up for our free newsletter