Bicycling
SFMTA Approves 2nd Street Protected Bike Lane Redesign, Ponders Car Bans
5:34 PM PDT on August 19, 2015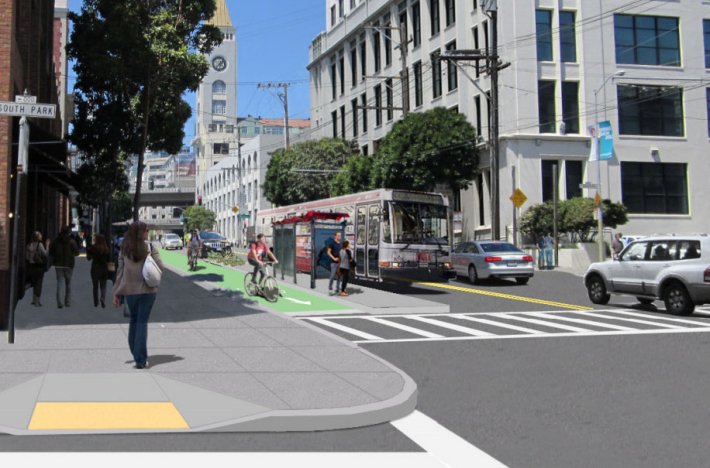 The SFMTA Board of Directors yesterday unanimously approved a redesign of Second Street which will remove traffic lanes and add safety upgrades like raised, protected bike lanes and sidewalk extensions. After years of delay, SFMTA Board members and some attendees at the meeting said it may not go far enough, and that the agency should consider car restrictions to prevent private autos from clogging the street.
The redesign [PDF] will remove two of Second Street's four car traffic lanes and bring one of the city's first routes with raised bike lanes protected from motor traffic by curbs and parked cars. Muni boarding islands will also be installed to allow buses to make stops in the traffic lanes and passengers to alight without conflicting with bike traffic.
The approval is "a resounding victory for safer SoMa streets," wrote SF Bicycle Coalition Business and Community Program Manager Paolo Cosulich-Schwartz, in a blog post. The SFBC submitted support letters from nearly 100 residents and a dozen businesses on the street, Cosulich-Schwartz told the SFMTA Board, noting that it's the only north-south bike route in that area of SoMa.
Walk SF's new policy and program manager, Cathy DeLuca, also lauded the plan. In addition to safer crossings (including removal of dangerous double-turn lanes at Harrison Street), and more room for pedestrians, she noted that the protected bike lanes will "make it easier for pedestrians and motorists to navigate" Second, which is "in the heart of such a fast-growing part of our community."
The redesign "will give the residents, employees, local business, and visitors who use Second Street the great street they deserve," Davi Lang, an aide for D6 Supervisor Jane Kim, told the SFMTA Board.
DeLuca noted that the plan for Second is the first street redesign to come out as part of the citywide Green Connections plan.
Second's redesign has been delayed for years. Most recently, completion was pushed back a year from its previous schedule, to fall of 2017, apparently due to delays in completing the environmental review. Before that, the year-long construction was scheduled to be finished by the end of this year.
The plan was upgraded from a much less ambitious proposal originally included in the 2009 SF Bike Plan, which would have only added painted bike lanes in the door zone. The planning process was re-thought when the original project was apparently forgotten after a communication breakdown between the SFMTA and Department of Public Works, which led the redesign. In the community design workshops that followed, starting in 2012, protected bike lanes and pedestrian safety upgrades emerged as the top priorities for neighbors.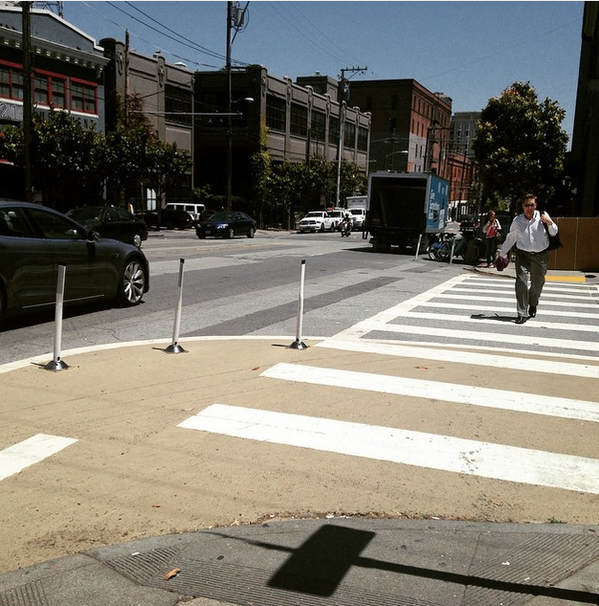 The SFMTA has already made some near-term upgrades this year such as painted safety zones, continental crosswalks, and green-backed sharrows.
The goal of the more ambitious redesign, city planners say, is to dissuade drivers from using Second as a shortcut to Highway 80. Once the street has only two car lanes, drivers are expected to adjust and stick to the designated nearby freeway routes: the wide, one-way streets like Third, Fourth, Harrison, and Howard that dominate SoMa.
Several taxi drivers at the hearing complained that they wouldn't be exempted from the bans on left turns and on right turns at red lights, which are intended to make intersections safer to cross and keep Muni buses moving.
SFMTA Board members, including Malcolm Heinicke, the SFMTA Board's most vocal proponent of getting private cars off of Market Street, said the redesign may not go far enough to keep cars from blocking buses and crosswalks on Second. It's "too in the middle," said Heinicke, who suggested banning private autos while still allowing taxis. City planners said car restrictions could be considered after the redesign is implemented.
Second Street neighbor Patrick Valentino also said the plan could go farther. "It's okay to have a street that isn't friendly to cars," he said.
Aaron was the editor of Streetsblog San Francisco from January 2012 until October 2015. He joined Streetsblog in 2010 after studying rhetoric and political communication at SF State University and spending a semester in Denmark.
Read More:
Stay in touch
Sign up for our free newsletter