Muni
Transit Volunteers Gear Up to Make Muni Better in 2016
4:37 PM PST on January 6, 2016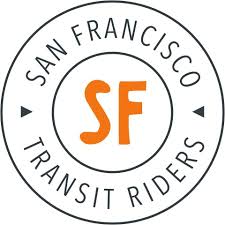 Amazingly, it was only 2010 when a bunch of regular Muni riders, fed up with unreliable, dirty, and overcrowded trains and buses, got together to form the San Francisco Transit Riders Union (SFTRU). But it now has an impressive list of accomplishments and is striving for more, according to Andy Bosselman, a spokesman and volunteer.
Streetsblog caught up with Bosselman at a coffee shop on Sansome off Market Street. The middle-aged founder of a skin care company is typical of advocates working with the group—years ago he took a side interest in urban planning and was blown away by the simple accomplishments he saw in cities such as Portland, Montreal, and Paris. "Montreal created protected bike lanes with the kind of cheap concrete barriers you see at the end of parking spots," he said, wondering why such simple improvements are so hard to come by in San Francisco.
The group is chaired by Thea Selby, Principal of Next Steps Marketing. She is Vice President of the Board of Trustees of the City College of San Francisco and a member of the California High Speed Rail Board. Peter Straus, who heads up SFTRU's transportation task force, is called the "Head Transit Ninja" by Bosselman. But its overall board and membership is as diverse as Muni's riders.
One focus of SFTRU is the Van Ness BRT, which will run two miles from Mission Street to Lombard. As Bosselman explained, the project will reserve a lane for buses to increase speed, reliability, and capacity. It also requires removing some older trees that are "at the end of their lives and diseased." Local residents, not familiar with the project, objected to removing the trees. SFTRU helped get the message out that new trees will be planted, resulting in a net gain. And it pushed to assure the BRT plan uses center lanes, instead of slower, curbside lanes.
In June of 2015, the group launched its 22-day Muni Challenge, which pressed politicians to use Muni themselves and document their rides with photographs and Twitter posts. Each day of the challenge represented one of the 22 years since the voters passed 1993's Proposition AA, which required city officials to ride Muni several times a week, something most have not done.
"If you're going to be making decisions about transit, you really need to know what it's actually like. Not what it's like in theory, but what it's actually like," said Christof Spieler of the Houston Metro's board of directors in an Atlantic article called "Why the People in Charge of Transit Systems Should Be Required to Actually Ride Transit."
It seems obvious: if our leaders ride transit, they see its faults, and are in a better position to correct them. And, not surprisingly, the politicians who ride transit the most are most active in improving Muni. And those who don't, well, aren't.
Bosselman hopes that by continuing to pressure politicians to ride, they'll see and hopefully fix more of Muni's faults, such as "three N-Judahs in a row, outbound," he explained. "Why can't they switch those trains to different lines so they're not bunching?"
So what's next for SFTRU's volunteer transit ninjas?
"We're trying to figure out what to focus on in 2016," he said. "Will we do something similar to the Muni challenge? Or are we going to choose a different campaign?" One thing's for sure, they want to improve fundraising and reach out to a broader coalition, he explained.
And they want to hear from you. What are your thoughts on where Muni can improve? Comment below. Or if you're a transit geek, volunteer, said Bosselman. Even if you're not a transit geek and just want to see Muni get faster and be more reliable, "we want you too."
Stay in touch
Sign up for our free newsletter