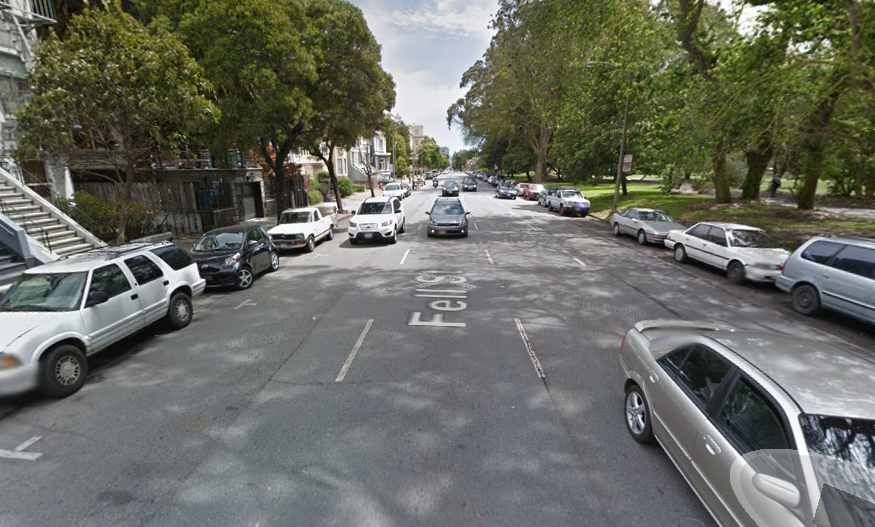 There's a survey out from the Panhandle Residents Organization (PRO|SF) asking local residents whether they would like parking-protected bike lanes added to Fell and Oak along the length of the Panhandle.
The survey is in response to a preliminary study done by SFMTA in August. From the SFMTA's report:
Protected bicycle facilities parallel to the Panhandle have potential to provide additional capacity for travel by bicycle between San Francisco's eastern and western neighborhoods, but would come with trade-offs in terms of on-street parking supply and/or vehicle travel delay on Oak Street.

The SFMTA study indicates that the project would cost between $1.6 million and $3.9 million, depending on the choice of road treatments. As Streetsblog readers surely know, the Panhandle currently has a pedestrian path and a mixed-use bike path, but conflicts among fast-moving cyclists, joggers, leisurely bikers, walkers, and tourists are problematic.
Whether or not this project will get done, of course, depends in large part on the support of the local community. The North of Panhandle Neighborhood Association (NOPNA) did a survey of its residents this past summer. And here's what they found: "After two months of gathering input, 700 plus responses came back with more than 70 percent of the respondents supporting a protected bike lane," wrote Tim Hickey, in the NOPNA newsletter. "This strong support will be very helpful in showing city officials and leaders that there is a demand for this street improvement."
So why is PRO|SF doing a new survey? Tricia Stauber, community coordinator for the group, told Hoodline that it is "...to gather information regarding neighbors' thoughts and ideas about how they feel about having three lanes of traffic instead of four going from Baker to Shrader streets."
To clarify, sources close to the community groups told Streetsblog that PRO|SF is trying to gather information to make a case for keeping Fell and Oak as they are--with four traffic lanes and two parking lanes. That may be why the new poll is geared towards residents on the Panhandle, some of whom are vocally opposed to bikes lanes.
Catherine Orland, District 9 representative to the Bicycle Advisory Committee, found and shared the PRO|SF survey link on the San Francisco Bike Ride Crew Facebook page, which brought it to Streetsblog's attention. To her, everybody in San Francisco uses Golden Gate Park, the Panhandle, and the streets around it and everyone has a right to chime in on any survey purporting to represent the wishes of San Francisco residents. "The Panhandle is a community good. People from the Richmond, to the Sunset--all people who commute through there either by bike or by car... their voices need to be represented as well," she told Streetsblog.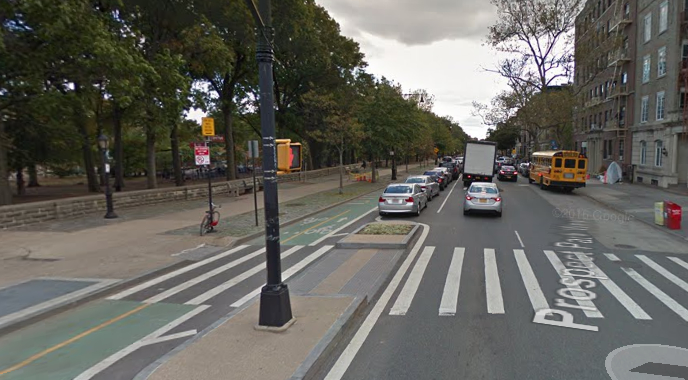 "San Francisco's population is growing more rapidly than our infrastructure and cycling is increasing rapidly as a method of transportation, according to the SFMTA. The mixed use path is adequate, for now, for commuters, pedestrians and more leisurely cyclists, but the path is getting more crowded as the population grows," wrote Melyssa Mendoza, Bicycle Advisory Committee representative for District Five, in an email to Streetsblog. "We believe our community members deserve the type of infrastructure that we know for certain calms traffic and creates safer spaces for all.  We believe our communities deserve livable streets. The Panhandle bike lane is one method to achieve these livable streets."
Orland said she'd like to see the park remain a tranquil place where tourists and joggers and bicyclists can interact slowly and comfortably, whether walking, jogging, biking at a slow to moderate pace, or having a picnic. Protected bike lanes on Fell and Oak would be more for the mass of bicycle commuters just trying to get between home and work, she said.
What do you think? Do you think the existing paths in the Panhandle are sufficient? Post below. And take the survey.
Stay in touch
Sign up for our free newsletter