Pedestrian Safety
SPUR Talk: Location Data and the Future of the City
4:30 PM PST on January 18, 2017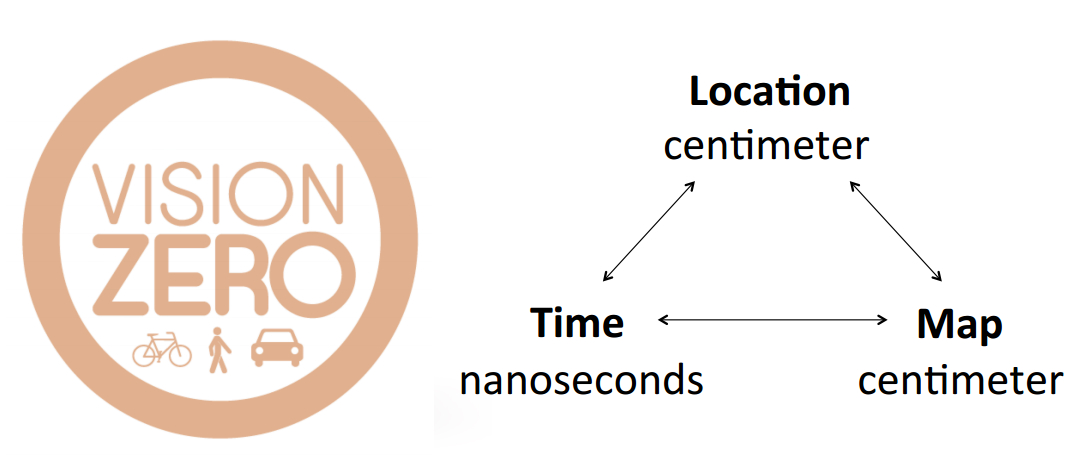 Yesterday afternoon, at a presentation at the SF Bay Area Planning and Urban Research Association's (SPUR) downtown San Francisco center, Rob Hranac of Swift Navigation and Andreas Viglakis of Mapbox discussed how developments in mapping and location technology will enhance safety, bring about truly autonomous cars, and improve our understanding of demographics and the urban environment.
Autonomous cars are coming. But if they're going to be truly safe, the computers inside the car need to know exactly where they are--to the centimeter and to the nanosecond, explained Hranac. "That's our mission--to enable autonomous vehicles," he said.
But how can that be accomplished? As any smart phone user knows, current GPS data is accurate--to a point. Buildings, which can cause signals from positioning satellites to bounce, or atmospheric interference, can throw GPS mapping off--sometimes as  much as several meters. "You need the ability to have a map that the autonomous car can follow precisely. If you have a few meters of error in a GPS solution--the lanes are only 12 feet wide! So we really focus on 10-centimeter accuracy," he explained.
Before getting into the details of how that can be accomplished, Hranac did a brief overview of the history of navigation. "In the Sixteenth Century, people used celestial navigation," he explained. "You could figure out where you were within a nautical mile, which was an incredible achievement." Navigating by the stars was the best way people knew to get around, until the 1950s, when countries started setting up ground-based radio beacons.  "Then radio beacons were placed on satellites...and in the mid 1990s you started GPS," he said. "That got us to tens of meters of accuracy, now with cell phones you can get within a few meters of accuracy." By measuring the distance from satellites, a GPS device calculates your position on the earth.
Swift is looking to get more precise and accurate data by accessing and combining information from more satellites. But there are other challenges. For example, as Hranac explained, weather in the ionosphere--the layer of the earth's atmosphere that runs from about 50 to 600 miles up--can cause subtle interference with satellite signals. "Ionospheric weather never mattered to humans, until now," he explained. But base stations are being developed that can measure the conditions of the ionosphere and help GPS compensate for patterns that might be slowing the signals from the satellites and giving anomalous data.
One of the advantages to having this centimeter-accurate data is it enables cars to follow the road in bad weather. Imagine a road on a rainy day (easy to do today). Autonomous cars with visual sensors--or human drivers for that matter--might find it difficult to follow lane markings. But with truly accurate GPS data, the car would be able to stay in the lane lines without any visual references. And that could be key to safety, especially if it keeps cars out of bike lanes, oncoming traffic, or pedestrian crossings. As Hranac explained, this hyper-accurate GPS data would supplement lasers and other sensors based on the car itself.
Mapbox's Viglakis, meanwhile, talked about his company's mapping technology. He began his presentation showing maps of the United States with markings not based on state boundaries, but on tree species, or voting patterns, or people's favorite sports teams. Or even what words people prefer geographically. "One survey just asked, what's the first word that comes into your head if you hear Coke--'pop' or 'soda?'"
Viglakis explained that this same technology allows new ways of looking at safety and the built environment. "We worked on the Vision Zero project. We wanted to show that if you take data of crashes and fatal crashes and combine it with a routing platform, you can provide safer routes," said Viglakis. "And it can help the city figure out what intersections to work on first; which intersection to fix first."
That kind of data, said Viglakis, can also be used for transit planning. "Working with Melbourne, we built visualizations of their growth so they could plan infrastructure. It tells them where people are moving to and from."
While the focus of Hranac's presentation was on autonomous cars, Streetsblog couldn't help but wonder if data from both companies could be combined to help with speed enforcement right now. Big Brother/"Eye in the Sky" implications aside for the moment, couldn't truly accurate GPS data also be used to nail speeders and reckless and/or drunk drivers by giving police a real-time map of where they are in the city? Rather than setting up speed traps and monitoring random locations, SFPD could then get on the radio and send motorcycles to intercept speeders and other reckless drivers all over the city, much the way fighter jets are scrambled and sent to intercept enemy aircraft from a central control point. That might be an easier and more effective system to set up than today's Automatic Speed Enforcement, which requires a network of ground-based cameras.
Of course, the longer term implication--or perhaps inevitability is the right word--is the development of truly safe autonomous cars and delivery vehicles which are just better at following the rules and avoiding collisions with pedestrians, cyclists and other cars. Streetsblog, however, has to caution that even the best safety technology could backfire if it gets cities again designing for cars instead of people.
Either way, Swift and Mapbox's technology have many interesting implications for the safe-streets movement.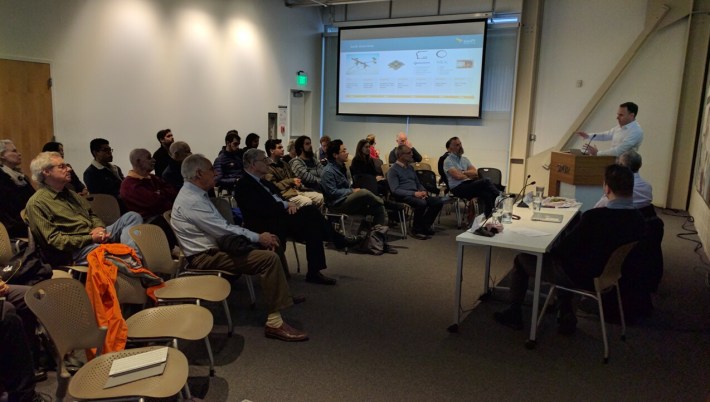 For more events like these, visit SPUR's events page.
Stay in touch
Sign up for our free newsletter