Muni
Pedestrian Hit at Ocean/Phelan Loop
4:18 PM PST on February 2, 2017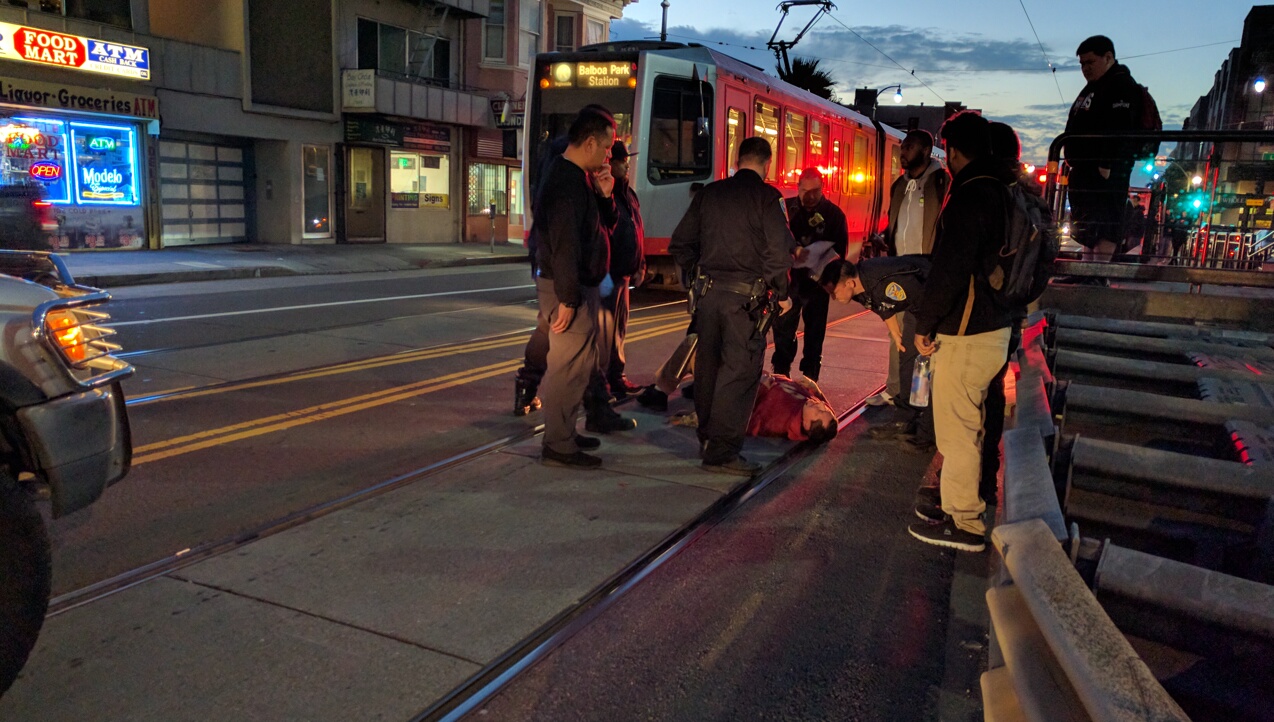 Yesterday evening around six I was waiting on the Ocean and Lee K-Ingleside inbound Muni platform, looking east, when I saw a man dash across Ocean from the direction of the Phelan loop. He was struck by an SUV, propelled some five feet into the air, and landed on the streetcar tracks about a car's length from the point of impact.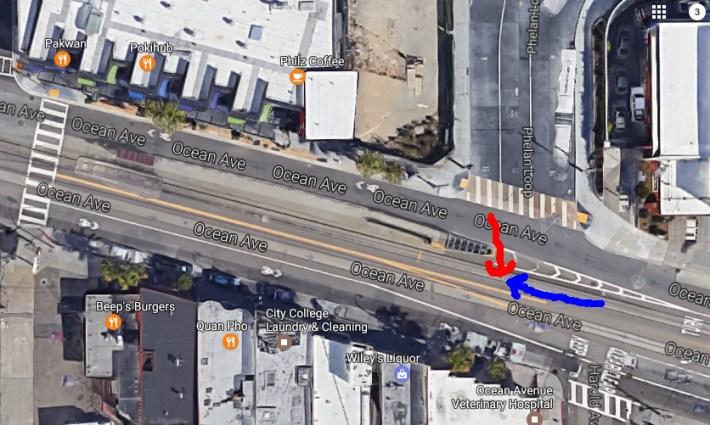 I was on the opposite end of the platform from the incident, so I made my way towards it. A handful of people came over and someone was calling 911. Thankfully, the SUV had stopped and was preventing more traffic--or a train--from running over the man, who was on the ground on his back.
It occurred to me that we were catty corner from a fire station. I had to shout and wave my hands up and down to get traffic to stop in the next lane so I could run over to the fire house. I rang the bell and got first responders to the scene. An SFPD cruiser was parked in the Phelan loop, so the firemen flagged them down too. An ambulance was there no more than a minute later.
A police officer interviewed me and asked if I had an unobstructed view of the incident. I said I did, but given the darkness, the distance, and the oncoming headlights, I couldn't see details. But I did see that the man seemed to run in front of the car, he was hit, and he flew into the air from the impact.
Of course, since he didn't die, and it was a humdrum crash, it got no attention in the regular press.
So what can be learned from yet another injury on one of San Francisco's most notorious streets? For starters, it reinforces the imperative of getting this street and its intersections fixed. "Ocean Ave is a known high-injury corridor--one of the twelve percent of streets that account for over seventy percent of severe and fatal injuries," explained Nicole Ferrara, Executive Director of Walk San Francisco. Ferrara also stressed the importance of implementing Automatic Speed Enforcement, since cars can be seen speeding on Ocean and other dangerous streets so often.
Fortunately for last night's victim, speed did not seem to be a factor in this case. The EMTs said the injuries were "not life threatening," although they were not permitted to go into more detail. The victim was transported away by ambulance.
But that doesn't mean there aren't things that should be corrected about this intersection. I wasn't able to talk with the victim, but it wasn't too hard to figure out what happened here. There are no marked crosswalks from the corners of the Phelan Loop to cross Ocean. It's also very confusing to figure out how to get to the K-Ingleside station. I went back to the area today and watched the intersection in action. It took no time at all to witness a pedestrian doing exactly the same thing as the man who got hit the night before--trying to get across the street at the eastern end of the boarding island, where there's no obvious place to cross Ocean.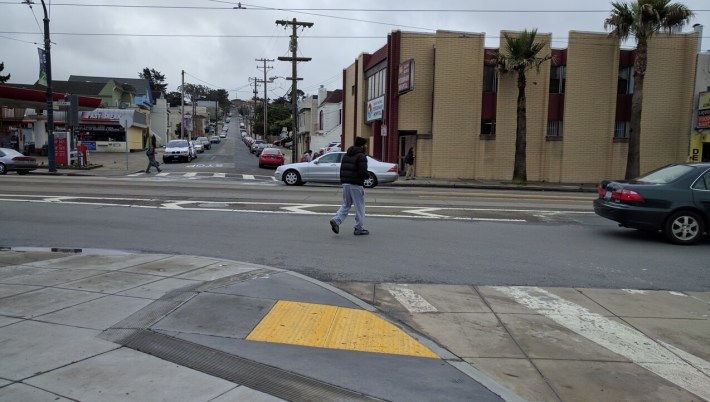 SFMTA needs to look at redesigning this intersection and, to be frank, several others along Ocean. I reached out to them to find out if any such plans are in the works and will update this post when I hear back.
As to the driver, I was too far away to see if he was on the phone or distracted in some other way. But he is to blame for one thing and I couldn't help but call him on it: "Why do you need this?" I said, pointing to his grill protector. "Need what?" He said. "This, this this!" I said, pointing directly at it. He didn't answer. "You know, whatever injuries that man has, they're worse because of this grill protector. These are deadly for pedestrians and cyclists."
His answer: "I bought it online. They would have said something."
I think most people can figure out that putting a big steel grate on the front of your car is not going to help if you hit a person. From an article in Mother Jones: "The force of the collision is concentrated on the relatively small area of the grill's bars, meaning a relatively minor accident can have drastic consequences."
I've tried to make the point that we're all responsible for street safety. In last month's fatal crash in Cow Hollow, the vehicle's jacked-up suspension seemed to play a factor--in fact, may have been the factor that led to the driver not seeing a woman in the crosswalk and running her over. In that instance, Andy Gillin of GJEL Accident Attorneys said that dangerous car modifications can expose drivers and even the shops that install them to liability. Calls are out to find out the legality of killer grills. But if they aren't liable, they should be. I have no objection to people adding fancy hub caps, paint, tail fins or whatever other bling they want to their cars--if they make sure what they're doing is safe.
What about the man who got hit? Didn't he have a responsibility to be more careful and to look both ways before dashing across the street? From what Ferrara explained after looking at the diagram of the crash, the man had the legal right to cross there. The DMV manual confirms that one can cross at any intersection unless it's specifically banned, whether or not there's a painted crosswalk. Maybe he was confused about how to get to the Muni platform. Maybe he's from out of town and didn't realize cars drive along the tracks and he thought he was running out of the path of the SUV? But whatever he may have done that makes him culpable for his own injuries, there's no doubt that he has already been more than adequately punished for it.
Either way, this crash was one of way too many on this corridor. And unlike the Cow Hollow crash, nobody can claim this as an odd-ball incident. SFMTA needs to figure out how to make this area safe.
Stay in touch
Sign up for our free newsletter