Bicycle Infrastructure
Bike Coalition Says 'No Way' as City Backs off Protected Bike Lanes on Turk
5:23 PM PDT on April 3, 2017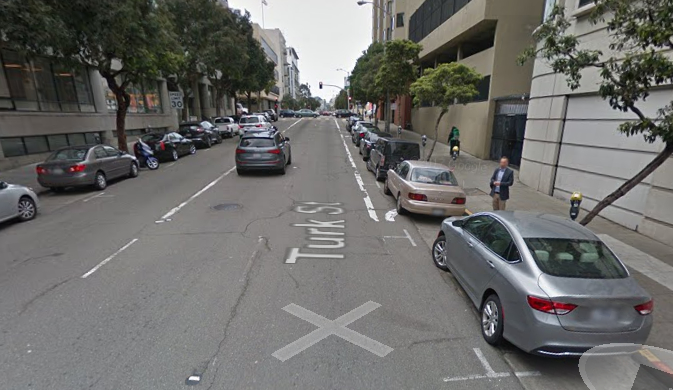 The San Francisco Bicycle Coalition (SFBC), for the first time ever, is opposing a bike lane.
Protected bike lanes are the proven standard for making streets safer for cyclists of all ages and abilities. However, once again, the city has backed off a protected bike lane project, this time on Turk through the Tenderloin. SFMTA made the announcement of the new paint-only proposal for a door-zone bike lane on Turk at Friday's engineering hearing at City Hall.
No surprise, the SFBC is livid. And this time, they've drawn the line:
On Friday, your San Francisco Bicycle Coalition joined Sup. Jane Kim and local residents in unanimously opposing the SFMTA's plans to build an unprotected, paint-only bike lane on Turk Street. The San Francisco Bicycle Coalition's opposition to the SFMTA's deficient proposal for Turk Street marks the first time we have opposed a bike lane in our 46-year history.
The explanation that SFMTA has given for the change is opposition from the San Francisco Fire Department, which, ostensibly, is concerned that protected bike lanes will interfere with ladder trucks. That should already raise skepticism, since there are parking-protected bike lanes all over the world, including just across the Bay on Telegraph in Oakland. Fire departments have managed to deal with them.
For more background, former Streetsblog SF editor Bryan Goebel did an in-depth analysis of the back and forth about Turk and upper Market's bike lanes between the fire department and SFMTA in his blog, Human Streets. Put simply, because of the tall buildings on Turk and the overhead wire for Turk's trolley buses, the fire department says with a parking protected bike lane its ladder trucks would not have sufficient clearances to get to high windows.
The result: "SFMTA staff have proposed a road diet and buffered bikeway on Turk as a near-term safety improvement that can be installed quickly," said Ben Jose, a spokesman for SFMTA.
Streetsblog has reached out to the SF Fire Department to ask more questions and will update this post accordingly.
SFMTA's original plans for Turk call for a road diet which, among other things, reduced the number of travel lanes and added a parking-protected bike lane, as in the diagram below: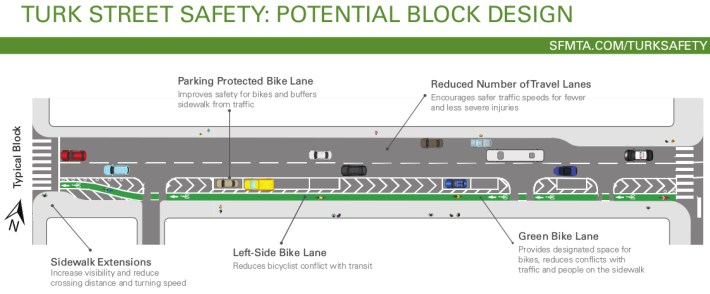 It should be noted that if the bike lane is protected by a second curb or planters or bollards instead of a wide row of parked cars, fire trucks get the same or better access and clearances than they have now.
In other words, maybe this has more to do with preserving parking on both sides of the street than it does with fire access.
"We haven't been able to come up with a protected bike lane design that works for everyone," said  Luis Montoya, SFMTA's Planner for Livable Streets, in his statements at Friday's hearing.
"Rampant double-parking in the unprotected Golden Gate Avenue bike lane has proven that the SFMTA did not do enough to protect my neighbors who bike,"  said Mary Kay Chin, SFBC Board Member, Bicycle Advisory Committee Member (District 6), during her public testimony to the engineering hearing on Friday. "Now the City wants to repeat that dangerous mistake on Turk Street...they're asking for City approval of a watered down, unprotected bike lane, placing all of us in danger, once again."
Jane Kim, the Supervisor for the District, who sits on the engineering committee, is pushing SFMTA to keep the protected bike lanes in this current plan. One idea is to satisfy the fire department by eliminating parking in front of tall buildings. "The fire chief did agree yesterday to do an on-sight walk with our Tenderloin residents and the Bike Coalition to identify which buildings the fire department is concerned about accessing," said Kim. "We'd really like to see a protected bike lane in the Tenderloin and we're worried about the precedent that we'd set by just having a buffered bike lane."
Streetsblog hopes that the fire department also considers the direct upshot of having a protected bike lane, since other cities, such as New York and Vancouver, have found they improve response times. "For our downtown protected bike lanes, we designed them to be wide enough for a fire truck," explained Lon LaClaire, who manages Strategic Transportation Planning for the city of Vancouver, Canada, in an earlier article for Streetsblog. He said the bike lane doubles as an emergency access. "A bike can jump onto the sidewalk to let an ambulance pass—a car can't do that. So the lane is a life saver."
Either way, it would be irresponsible, given all the carnage on our streets, for the SFMTA to walk away from its commitments--even in the "short term"--to keep all road users safe. "Following the death of two women biking on one night, Mayor Ed Lee issued an August 2016 Executive Directive requiring 'that all infrastructure implemented on the City-designated high-injury network be the highest achievable quality, including Class IV protected bicycle lanes,'" said Charles Deffarges, SFBC Community Organizer, also at the hearing. "A paint-only bike lane along Turk will not only be a danger to San Franciscans but will go against the city's commitments to smart design and safe streets...Our City leadership can not continue to gut protected bike lane projects in the face of their obligations to safety on Turk or any other Street."
Be sure to make your opinions known to the SFMTA. Email Ed Reiskin (ed.reiskin AT sfmta.com) and the SFMTA board (MTABoard AT sfmta.com). The SFBC asks that emails are cc'd to Community Organizer Charles (charles AT sfbike.org).
Stay in touch
Sign up for our free newsletter