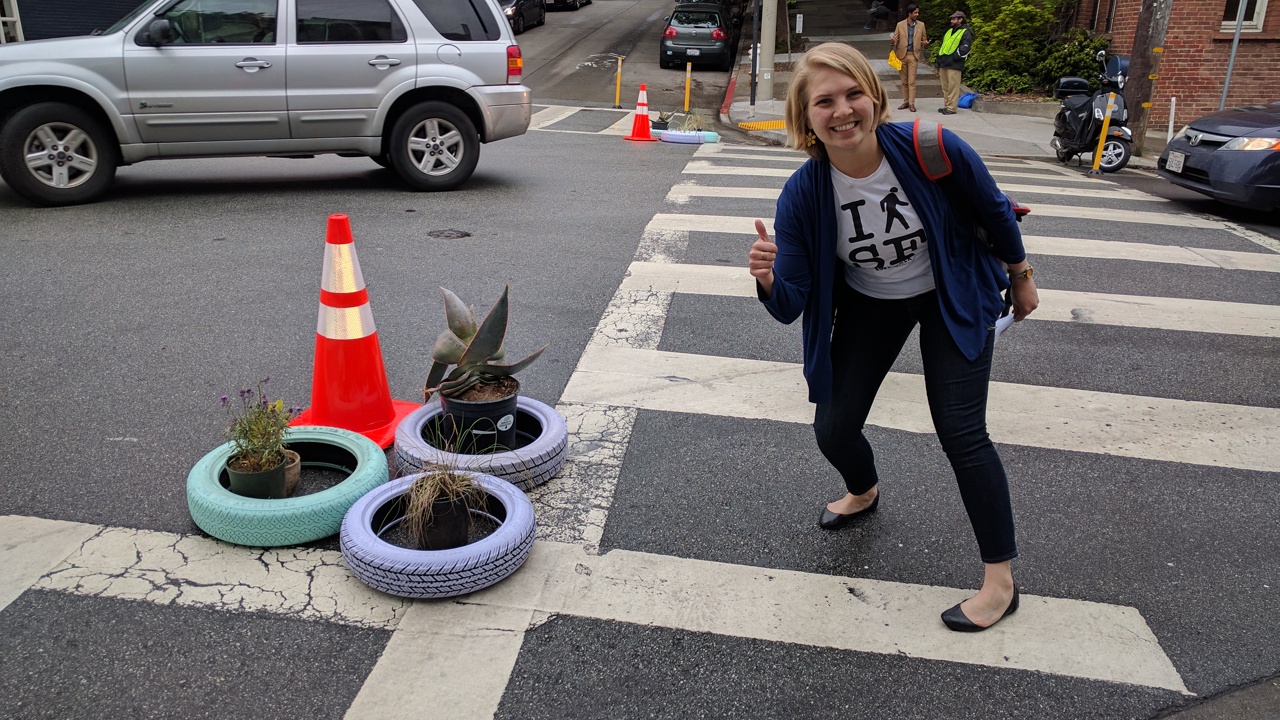 Walk to Work day started badly this morning--very badly. A volunteer--the name withheld for privacy--was hit by a car somewhere on the way to the event, which started at Market and Duboce. "This is insane," said Cathy Deluca, incoming acting director of Walk San Francisco. "People should be able to walk the streets of San Francisco without putting their lives at risk."
Reports are this latest victim of San Francisco's dangerous streets was taken to the hospital with non-life threatening injuries. But, of course, it highlighted the urgency for improving our streets. Hailey Van Vorhis--it was her friend who was hit by the car--was there early handing out schwag and helping to recruit new members. Why did she volunteer her time to stand in a cold morning drizzle for Walk San Francisco? "I want to help make walking safer and encourage people to do it."
"If we're going to reach our goal of achieving Vision Zero, we need a more walkable city," said Tom Maguire, Director of SFMTA's Sustainable Streets Division, who partcipated in the walk. "We need to change a culture of speeding into a culture of safety."
"25 percent of trips in San Francisco are walking," said Nicole Ferrara, who wraps up her tenure at Walk SF's helm after next week. "But really, it's 100 percent of trips that start and finish with walking." Ferrara, who is going to Oakland's new Department of Transportation, outlined things to notice during the Walk to Work Day event, which went from Market and Duboce to City Hall, with stops in Hayes Valley and on Page Street to see different street treatments and hear from speakers.
At Page and Buchanan, at the corner of Koshland Community Park, Josie Ahrens pointed out blue chalk around the crosswalks, indicating that they will get a raised-crosswalk treatment. With treatments such as this, plus traffic diverters, the hope is that Page will one day become a quiet street where "...pedestrians, cyclists and kids can co-exist," explained Casey Hildreth, Project Manager at SFMTA for the Page Street Green Connection Project. As seen in the lead photo with Ahrens, there was also some "tactical urbanism" on Page, in the form of quick treatments to make the street more interesting and inviting. The safe hit posts, she mentioned, were borrowed from SFMTrA, the guerrilla group that puts down non-official posts to help make our street safer.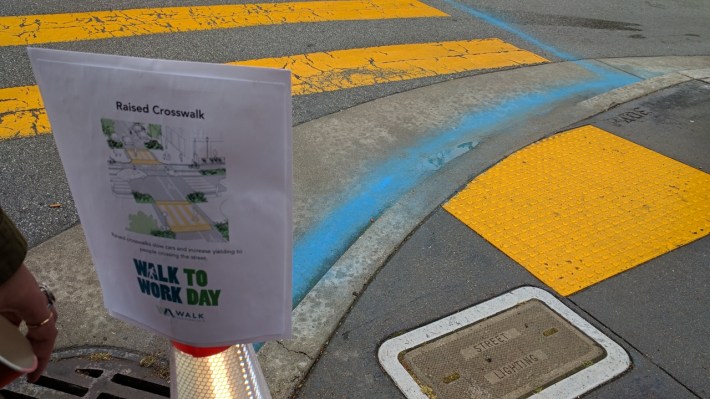 The group then stopped on Octavia, in Hayes Valley, where this week a section of roadway is closed to automobiles. "The sign says 'road closed,'" said McGuire, "but the street is open--open to people and bikes."
"Urban centers are getting denser and we have to reduce the number of vehicles," said George Gascón, San Francisco's District Attorney, during the stop on Octavia. "We need more people on bikes and mass transit and we do that by making it safer."
The event finished up with speeches in front of City Hall.
"I walked from my office," joked Mayor Ed Lee, who did not participate in the walk, but came to the concluding ceremony. "I did not take the elevator."
Mayor Lee got a few polite chuckles, but no big laughs--perhaps that's not a surprise given the serious nature of Walk SF's work or the fact that one of the volunteers was presumably still in the hospital from a collision that morning. He talked about supporting Assemblyman David Chiu's "Safe Streets Act"/AB-342, legislation which would allow San Francisco to deploy Automatic Speed Enforcement (ASE) cameras. The legislation has been very challenging, said Chiu, but he vowed to keep pushing it, since cities in other parts of the world have used ASE to cut down speeding and save lives. "Every 18 hours someone is struck in San Francisco," said Chiu. "The bill will take the steps we need to see a vision of no fatalities on the streets of San Francisco."
Supervisor Jane Kim talked about how nearly all the constituents in her district have either been hit by a car, or know someone who has. She saw progress, though--in 2016, there were 16 pedestrians killed in collisions, versus 20 in 2015. But that, she said, is still unacceptable. "Each death was 100 percent preventable."
All the politicians and advocates, meanwhile, praised the work of Ferrara and wished her luck on her new job in Oakland.
"People don't choose to live in San Francisco because they love to drive," said Ferrara, at the walk's conclusion on the steps of City Hall. "They live in San Francisco because they love to walk...we can become the most walkable city in America."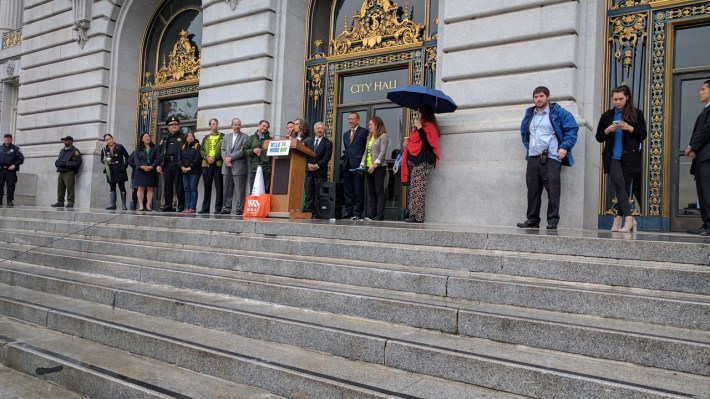 Stay in touch
Sign up for our free newsletter