Muni
Another Exit Interview: Nicole Ferrara and Walk San Francisco
3:50 PM PDT on April 13, 2017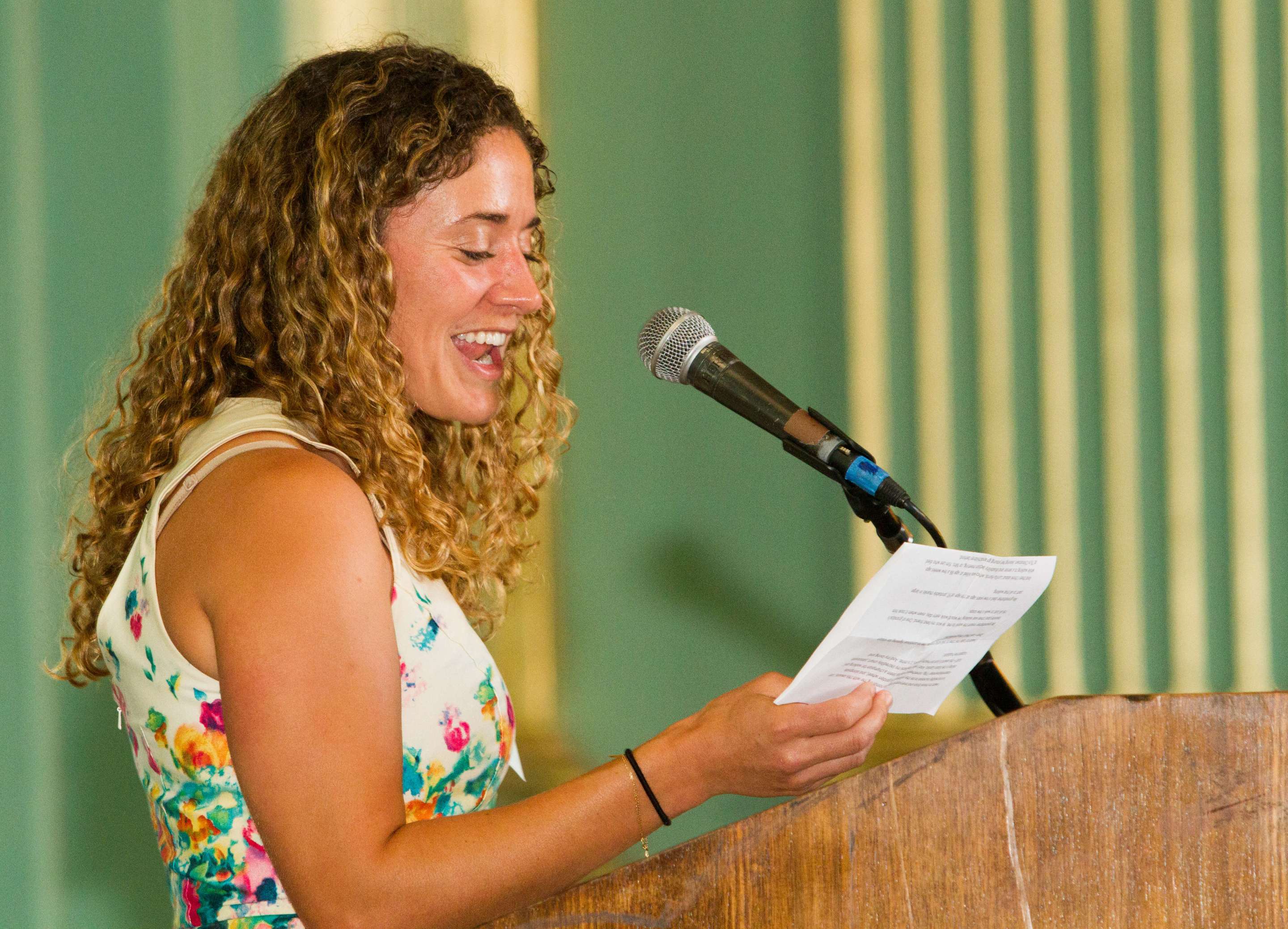 Tomorrow is Nicole Ferrara's last day at the helm of Walk San Francisco, where she's been since 2013. During her tenure, the group has fought hard for better and safer walking in the city of San Francisco. Ferrara and other advocates with Walk SF have been an ever-present force behind getting boarding islands for the L-Taraval, and adding turning restrictions and other safety measures on Market.
The group has also sponsored a bill that would allow Automatic Speed Enforcement legislation to tackle S.F.'s notorious speeding problem. But this shouldn't really be news to Streetsblog readers, who are among the biggest fans of her work; in fact, they elected Walk SF as the most "Bad-Ass Advocacy Group of 2016" in this year's Streetsie Awards.
So what's next for Ferrara? She will be heading over to Oakland's new Department of Transportation to help make that city's streets more pedestrian friendly.
It seems as if everybody's moving around when it comes to Bay Area transportation.
Yesterday, Streetsblog reported on Jeff Tumlin's exit interview from the Oakland DOT, which he helped establish. The OakDOT is bringing on Ryan Russo as its first full-time director, and the San Francisco Transit Riders is welcoming its first executive director, Rachel Hyden. Please post below if we've missed anyone!
Ferrara, no surprise, is incredibly busy right now with the transition--but between several emails and a few phone calls, Streetsblog was able to cobble together this short exit interview with one of S.F.'s best-known advocates as she gets ready to make the transition to Oakland, and from advocacy to government.
***
Streetsblog: Exit interviews are about what went right--and what went wrong--during an employee's tenure. So let's start with the easy one: what went right during your term as director of Walk SF?
Nicole Ferrara: So many things! The launch of Vision Zero, a collaboration led by Walk SF and SFBC, which also created the Vision Zero Coalition that's still going strong today, and is holding the city accountable to swiftly and equitably implement Vision Zero. The City responding and agreeing to this audacious goal, without really much hesitation. And most recently, the establishment of the San Francisco Bay Area Families for Safe Streets, which won the introduction of AB 342 [the automated speed-enforcement bill], led by Assembly member David Chiu, and which is fighting hand in hand with the assemblymember's office to move the bill through the state legislature.
Streetsblog: Good. And what has gone wrong during your tenure?
Ferrara: Oh, I try not to dwell on this. I don't think I have anything I most wish I'd take back...I don't feel like we made any huge mistakes.
Streetsblog: Let me rephrase--is there a specific project where you wish you'd accomplished more?
Ferrara: I don't think I have any huge ones... but the Taraval. We didn't get some basic safety treatments, that was really disappointing.
Streetsblog: Such as not getting boarding islands at all Muni stops?
Ferrara: Right. We tried hard, we worked hard, and we didn't succeed in having boarding islands as a basic treatment. We also wanted basic pedestrian safety treatments that didn't get integrated. We wanted them to improve intersection treatments around libraries, schools, and parks all around the corridors with bulb-outs, flashing beacons, and other safety improvements. But that didn't get any traction from SFMTA.
Streetsblog: Disappointing. Speaking of which, I know we've both been frustrated by San Francisco's penchant for "compromise"--watering down projects to satisfy one constituency or another. In some cases, this has resulted in injuries--and I can think of one case where someone may have been killed because of an SFMTA compromise on turning restrictions. How can we "compromise" without getting people hurt--or can we?
Ferrara: I don't think we can compromise without risking more injured, so we should be building the strongest projects as politically and geometrically feasible. That's our role as advocates—to demand that projects are strong as they should be and that we aren't wavering to politics. That's always our goal.
Streetsblog: On a day-to-day basis, what was your biggest challenge when you walked into the office at Walk SF?
Ferrara: Figuring out what to prioritize! There's so much need and so much more than one can do in a small nonprofit. You want to be responsiveness to your members, partners and the city, but in reality, you can't do it all!
Streetsblog: What advice do you have for your successor at Walk SF?
Ferrara: Always rely on data and facts. There's a lot of pressure to succumb to politics, but the second you do, you lose your credibility.
Streetsblog: So: Oakland?
Ferrara: I am extremely excited by OakDOT's goals, and they are already quite clear: equity, safety, vibrant and sustainable infrastructure, and a responsible, trustworthy government. These are values I share, and I am inspired by the leadership in Oakland. My goal is follow the guidance of policymakers and the public in creating the safest streets possible for everyone who walks and wheelchair rolls.
Streetsblog: So when do you start?
Ferrara: April 24. I don't have a title yet, but I will be leading Oakland's effort to develop a Vision Zero policy and program.
Streetsblog: Great. I know this is a crazy busy time for you--thanks for doing this interview.
Cathy DeLuca, Walk SF Policy and Program Director, will become Walk SF's interim ED while a search is held for a permanent replacement.
This interview was edited.
Stay in touch
Sign up for our free newsletter