High-Speed Rail
Did Some Political Pork Give a Boost to High-Speed Rail?
4:42 PM PDT on April 17, 2017
It took a bunch of compromises, but Governor Brown passed his $52 billion transportation bill, which included a gas tax increase. To make the political math work, Brown had to get the vote of one Republican. That Republican was Anthony Canella from Ceres, who was promised $500 million in local spending.
$400 million of that is for extending the Altamont Commuter Express (ACE) rail service, which runs via the Altamont Pass between Stockton and San Jose, to Ceres and Merced.
It was classic political blackmail. But while Canella was busy leveraging his vote to bring home the pork, without realizing it he may have greatly accelerated the California High-Speed Rail (HSR) project--if the California High Speed Rail Authority (CaHSRA) is clever enough to exploit the opportunity.
As Streetsblog readers are probably aware, HSR is currently under construction between Bakersfield and Merced. After that, work will begin on building across the Pacheco Pass to reach San Jose. From San Jose to San Francisco, HSR trains would share tracks with Caltrain under the so-called "blended approach."
The CaHSRA had determined that Bakersfield to San Francisco is a long enough distance to start running bullet trains, while California awaits construction of the last and most difficult link, the southern end from Bakersfield to Los Angeles.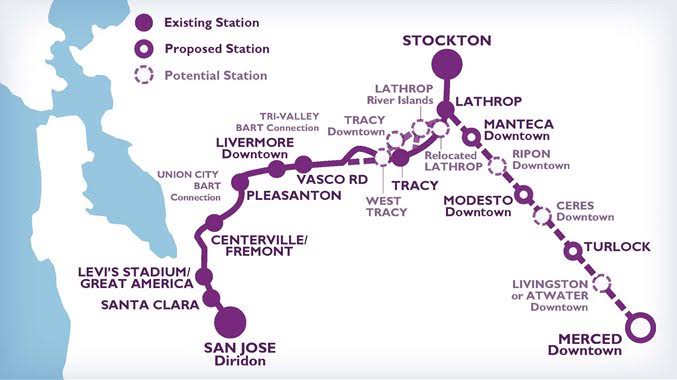 Meanwhile, the California Republican delegation to congress, in a bid to stop HSR's plan, wrote a letter to Transportation Secretary Elaine Chao urging her to jam up $647 million in federal funds for Caltrain electrification, which she did. The Republicans did this because they think that without electrification, HSR trains can't operate north of San Jose, and that will kill the project.
But the fact is that electrification, while desirable, isn't always necessary for HSR. Trains all over the world alternate between diesel and electric power. Most notably in the US, this is done in New Haven, Connecticut and Washington, DC as through Amtrak trains leave and enter the electrified Northeast Corridor. And New Jersey Transit and Montreal's commuter trains operate "dual-mode" trains that can run off an on-board diesel generator or draw power from overhead electrical wires, albeit with less power and acceleration when running in diesel mode. In Europe, sometimes bullet trains will run, towed by a diesel, onto non-electrified tracks. It's even been tried in California, as seen in the lead photo of a demonstration run with a German-built HSR train, towed behind a conventional Amtrak diesel locomotive.
That means that when ACE goes to Merced, it will be possible to run a High-speed train from Bakersfield to Merced on electric power, at over 200 mph. Then, by coupling with a diesel locomotive, the train could run at conventional speeds and use ACE tracks to get from Merced to San Jose. From there it could continue to San Francisco on the Caltrain corridor, regardless of whether it is electrified.
In other words, by using this new ACE extension, you could offer a medium speed, one-seat ride from Bakersfield, Fresno and the other cities of the Central Valley to Downtown San Francisco. It wouldn't require any transfers and it would save hours off the current trip, making it competitive with driving.
The CaHSRA calls its plan to mix commuter and intercity rail at the project's "bookends" with HSR its blended plan. Adding ACE to the blending would be a natural extension of that concept--call it the blended plan on steroids. And by the way, the Altamont pass was seriously considered for the primary route to get HSR to the Bay Area, so there's no reason it couldn't be used as an interim service until the faster and more direct Pacheco tracks are built.
Now that a state appeals court has upheld the state's carbon cap-and-trade program, funding looks more secure for HSR. But it's still going to be a long slog to getting a fully built-out service. But the CaHSRA thinks it can get the first phase of HSR, from Bakersfield to Merced, finished as early as 2019 with existing funds. That means that with ACE's extension, which uses existing tracks, it will be possible to get some interim service all the way from Bakersfield to San Francisco right away, but only if Sacramento and the Authority get to work on figuring out the operational details now. By working with the funding picture in hand, and exploiting the ability of HSR to slow down and run on conventional tracks under diesel power, the Bay Area and the Central Valley can enjoy vastly improved rail service much sooner than anyone imagined possible.
All thanks to an anti-HSR Republican from the little town of Ceres.
Dennis Lytton is a rail transportation expert and advocate based in Albany, CA
Stay in touch
Sign up for our free newsletter