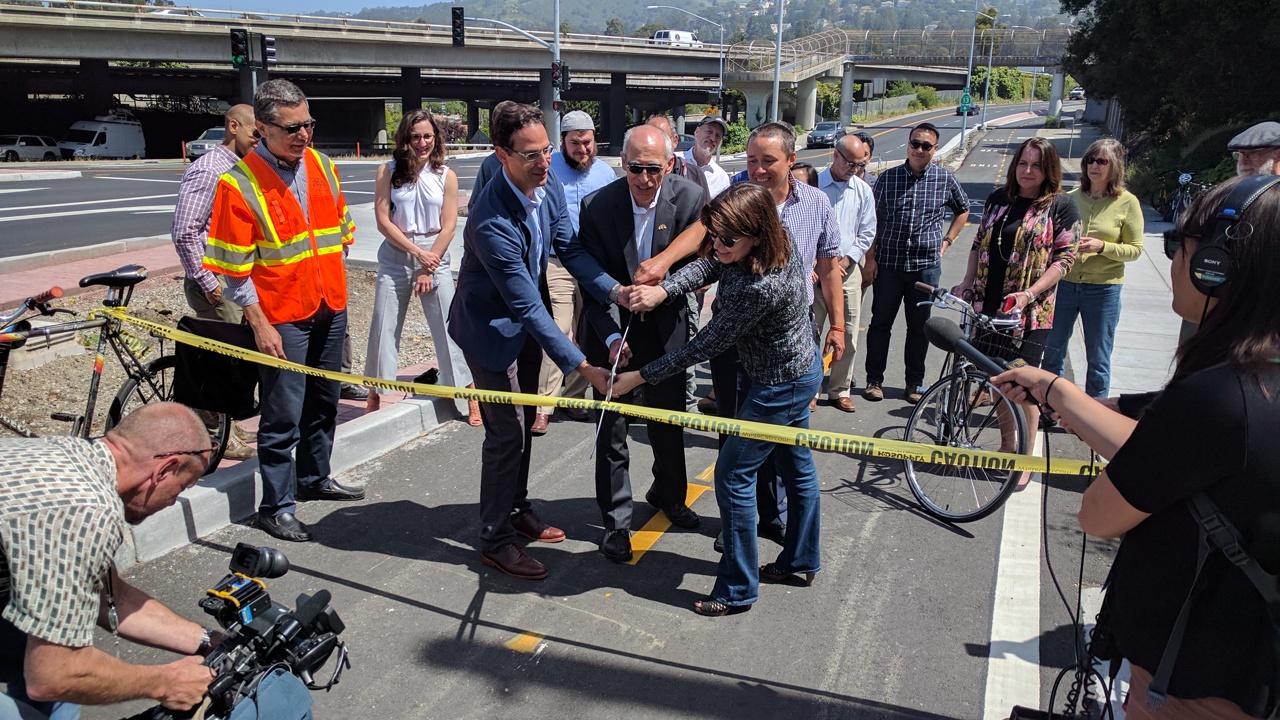 Some twenty advocates, planners and officials attended a ribbon cutting ceremony this morning for the opening of Oakland's first concrete, fully protected cycletrack bike lane. The lane runs along upper Broadway between Keith Ave and Brookside Drive, next to SR 24. "This is a great way to spend my third hour on my first day on the job," said Ryan Russo, Oakland's new DOT chief, during the brief ribbon-cutting ceremony. Russo, as Streetsblog readers are probably aware, came from New York's DOT to head up Oakland's new department. "This is emblematic of what Mayor Libby Schaaf and the community has decided it wants to do."
To be clear, this is not Oakland's first on-street "protected" bike lane--that would be on Telegraph, which has a parking-protected bike lane. That lane uses paint and plastic bollards to re-position the parking lanes, so the parked cars act as physical protection. This new lane actually has a physical buffer and concrete divider.
"This is such an exciting day for us," said Renee Rivera, executive director of Bike East Bay. "This intersection used to be pretty hairy for bikes, pedestrians, and even cars...this is now an exemplary example of a complete street."
This cycle track, meanwhile, was funded through the city's settlement agreement with Caltrans over the fourth bore of the Caldecott Tunnel. The lawsuit against Caltrans called for $8 million to be allocated for traffic safety improvements around the Broadway/Tunnel Road area to help reduce traffic safety impacts from the expansion of the Caldecott Tunnel from three bores to four, according to a posting on Bike East Bay's website.
From Streetsblog's perspective, this new Broadway cycletrack is the type of infrastructure that will ultimately make cycling truly safe for riders of all ages and abilities. Anywhere where cyclists have to share roadspace with fast-moving traffic there needs to be hefty curbs and buffers, as pictured below, to make sure a split-second of inattention from a motorist doesn't result in cyclists or pedestrians getting maimed or killed. Only when this kind of infrastructure become commonplace will the Bay Area achieve the mode-share it desires.
Much of the bike lane is at the height of the sidewalk, instead of the street. That means drainage and debris shouldn't accumulate there. Additionally, there's a very wide buffered area between cars and cyclists, all of which makes the ride feel calm and safe.
That said, the entire project runs only .2 miles. Nonetheless it's an important potential bike connection for cyclists heading to downtown Oakland or the BART station at Rockridge, not to mention College Preparatory High School. More importantly perhaps, it's an example of what top-flight cycle tracks look like. Not paint and bollards, but the real deal.
If Streetsblog were to nitpick: there are driveways that cut across the bike lanes to reach the residences along the street. These driveways should probably have rumble strips or speed bumps to make sure motorists don't make a fast dash out of or into a driveway. This is especially important on a two-way cycletrack, where motorists might momentarily forget that a bike could be coming from either direction. Perhaps some kind of sensor and signalization is needed.
Also, and this is just a sign of a new project, as readers will see in the last photo, the "no parking zone" at the Brookside end doesn't extend far enough, and motorists--perhaps innocently, perhaps not--were parked in the bike lane where it transitions back to a typical striped lane along the parked cars. On the Keith end of the lane, it's a little awkward to get from the cycle track back out into the mixed-flow part of the street.
But Streetsblog spoke with several of the Oakland engineers and officials, and it's clear these problems are being worked on. The important thing is this project sets a new standard--which Oakland, San Francisco and the other cities of the Bay Area will have to live up to from now on. It's a fitting milepost for this year's bike-to-work month.
More photos below.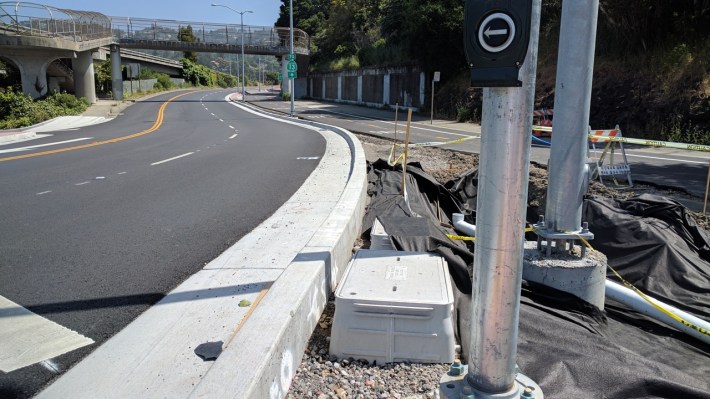 Stay in touch
Sign up for our free newsletter