Bicycle Infrastructure
Parking–Not Bike Advocates–Trumped Fire Department Concerns on Upper Market
3:05 PM PDT on May 9, 2017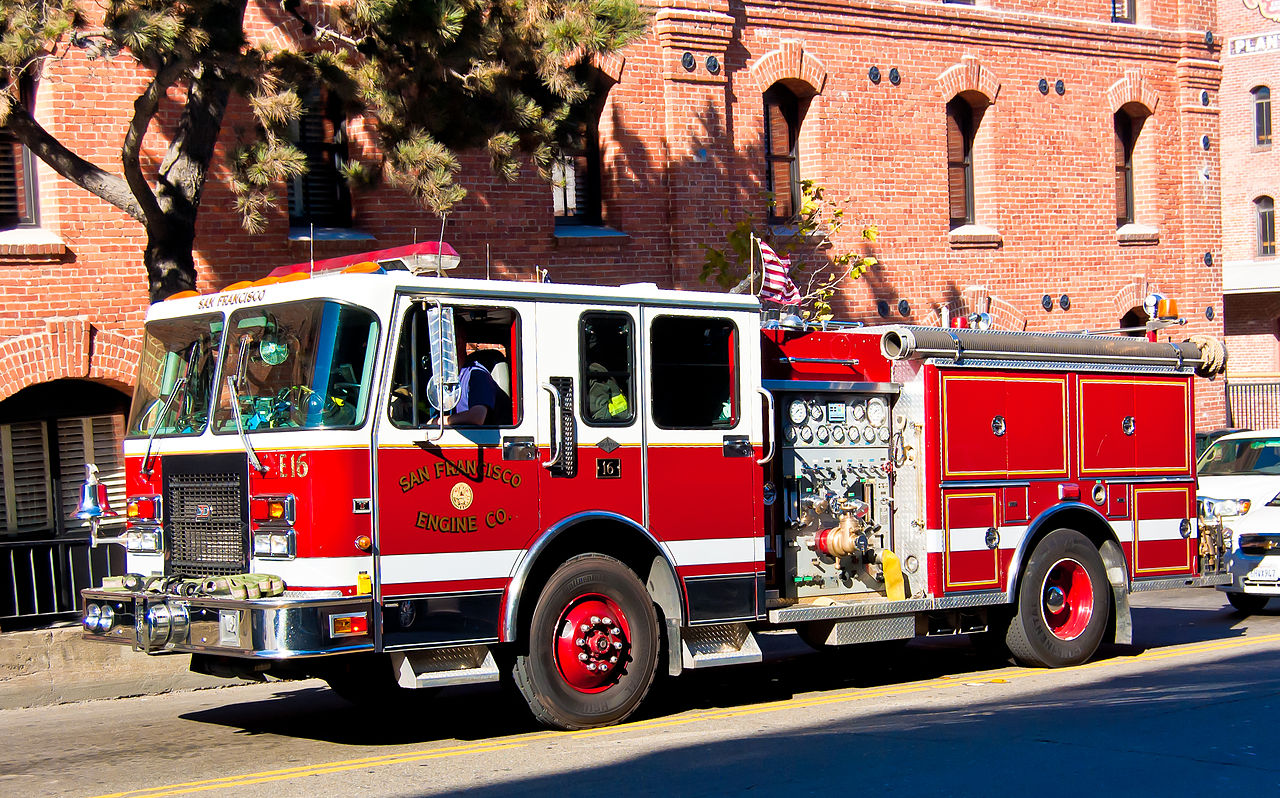 It was celebrated as a victory for safety by cycling and walking advocates when the SFMTA voted last week to approve plans to add safety enhancements on Upper Market, including parking-protected bike lanes.
But not, apparently, by San Francisco Chronicle columnists Phillip Matier and Andrew Ross. "Bikes win, Fire Department loses in Market Street redo" was the headline of their column over the weekend. The piece started with:
Score a big victory for the politically potent San Francisco Bicycle Coalition, which won approval the other day for protected bike lanes along several blocks of upper Market Street — despite a Fire Department protest that the reconfiguration will interfere with ladder trucks in an emergency.
They concluded with:
Mayor Ed Lee himself signaled his support for the biking crowd last year when he issued a directive pledging support for protective bike lanes in the city, and calling for at least 13 miles of additional bike lanes and related infrastructure annually. Safe for bikes, perhaps, but maybe less so for anyone needing help in an emergency.
Perhaps it's necessary to review what this project, and others in the pursuit of Vision Zero, are really all about. From the SFMTA's fact sheet: "From July 2011 to June 2016 there were 174 traffic collisions on Market from Octavia to Castro. Out of this total, 22 collisions involved a pedestrian, 51 involved a bicyclist, and 71 percent resulted in an injury. The Upper Market Street Safety Project is an effort to increase safety and comfort for everyone on Upper Market Street between Octavia Boulevard and Castro Street."
Anything that reduces the frequency of those crashes on Upper Market means fewer calls the fire department has to respond to in the first place. "Fire Chief Joanne Hayes-White warned that the design comprised the safety of local residents. You know what compromises their safety more? The current design that doesn't protect people biking and walking," said Cathy DeLuca, Interim Executive Director of Walk San Francisco. "Those are the people suffering regular injuries on Market Street. And they deserve safe streets."
And, by the way, here's some perspective on the types of calls the fire department has to deal with on Upper Market, in the form of a Tweet from bike safety advocate Kyle Grochmal (hint, it's not so much about putting out fires).
Still, to counter the argument along these lines allows Matier & Ross to misframe the issue. The fire department's concern was to make sure they could still maneuver ladder trucks on Market to access upper floors of buildings.
Bikes don't block ladders or ladder trucks. Neither do bike lanes.
Parked cars and trucks get in the way of ladder trucks.
In fact, Matier & Ross explain this in the very same column "...the parking lane will be right in the spot where a ladder truck would normally pull up to an emergency scene." Again, the bike lane is not the issue. The parking is the issue.
"As the SFMTA staff detailed at the hearing, they accommodated SFFD concerns by making significant modifications to project designs," said Chris Cassidy, spokesman for the San Francisco Bicycle Coalition. "We're also grateful to our members who shared their perspectives and to the SFMTA Board for having the moral compass to vote for data-backed safety improvements serving everyone who lives, walks, bikes, or drives along this stretch."
A curbside bike lane, free of parked cars, helps the fire department by giving them even more room to maneuver. If there's still an issue for the SFFD, it's with the parked cars. If the city really wants to maximize safety, forget a parking protected bike lane. Let's get rid of the parking lane altogether and put in a concrete divider to protect cyclists, making sure that divider is mountable by ladder trucks and other emergency vehicles.
Maybe some day. But for now, let's fix the Chronicle's headline. It should read: "Parking wins, Fire Department loses in Market Street redo."
Stay in touch
Sign up for our free newsletter