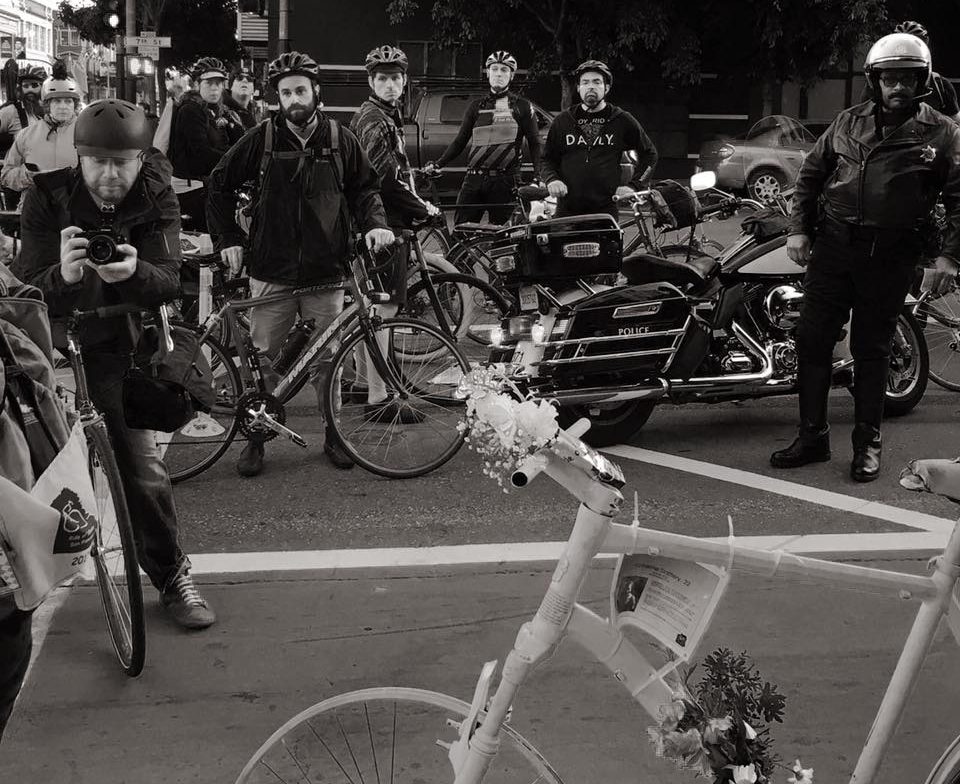 Robert Clark's son Gashaw, 25, died in a bike crash three weeks ago. Gashaw was riding through the large intersection at Third Street and Mission Bay Boulevard, when he collided with a car. "There were over 600 people at his memorial," said Clark, fighting through tears as he spoke to about 40 people in the Sports Basement grotto on Bryant Street in San Francisco yesterday evening, just prior to this year's 'Ride of Silence.' "He was the best kid ever."
The Ride of Silence takes place the third Wednesday in May all over the world to honor those killed or injured while cycling. Gashaw's father was one of several friends and family members of the fallen who spoke to the crowd to try and share--and perhaps purge--some of the terrible pain caused by our unsafe streets.
Sadly, Gashaw was just the latest of a long-list of cyclist to die on San Francisco streets.
"It was May 23, 2013...a police officer came to my door to tell me my son was killed for doing nothing more than riding his bike to get to work," recalled Julie Mitchell. Her 21-year-old son Dylan was run over by a garbage truck in the Mission. "Not a day goes by that I don't grieve my son's death."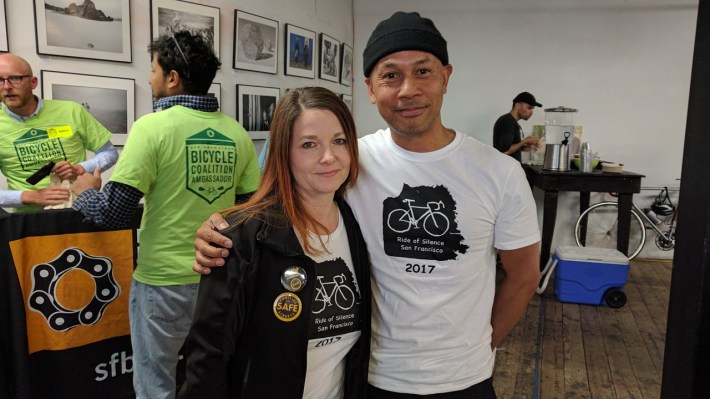 But Mitchell, as with most of the people in the room, is also working to bring something positive to that grief. She started the advocacy group San Francisco Bay Area Families for Safe Streets, which is pushing for Vision Zero, safer streets, and Automatic Speed Enforcement (ASE), which would allow San Francisco to install cameras and a system that automatically issues tickets to motorists when they break the speed limit.
Unfortunately, Supervisor Norman Yee, the only politician who came to the meeting, had some sad news about that effort. "I just came back from a Vision Zero conference in New York City," he told the group. "It was depressing to go there because we didn't get the state legislation we needed for speed cameras--speed cameras really do work." He was referring to recent legislation to start a pilot ASE program in San Francisco that was pulled by its sponsors because of lack of support.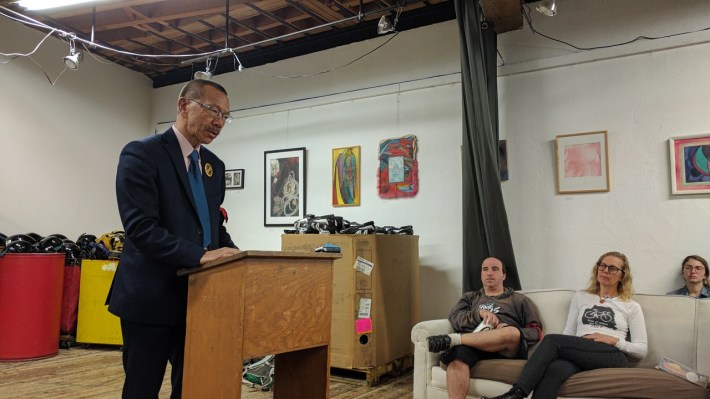 Yee was there to build support for future attempts at ASE legislation and to get help with the Department of Public Works, to get them to stop removing memorial ghost bikes. "We got a one-year moratorium [on their removal]," he said. "But I want to make that permanent. We need DPW to create the regulations to do that." The San Francisco Bicycle Coalition's Brian Wiedenmeier also spoke, reinforcing the call for protected bike lanes on all major streets. "This work is incredibly important."
The Ride of Silence is also about helping the injured overcome psychological scars. Emilie Schattman was hit while riding her bike on Fulton near Scott. "I was in the bike lane going up hill when I was rear ended," she said, fighting back tears. "The driver then crashed into a parked car. She wasn't looking. She had no license...but she was only charged with a misdemeanor." Schattman, meanwhile, suffered a fractured skull and a fractured spine, among other injuries. "I want to bike again, but I'm too scared."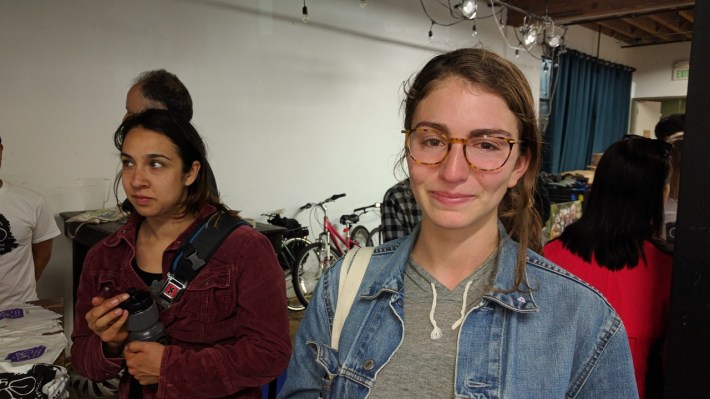 The meeting wrapped up at seven and the ride started out for a tour of sites where cyclists have been killed in San Francisco. Sadly, there are now so many that event-organizer Devon Warner has had to abbreviate the ride and focus on downtown and near-downtown locations only. She plans to do a longer one this Sunday at 10 a.m., starting at Goettingen and Woolsey in Portola. Warner asked people to watch the Ride of Silence Facebook page for more details.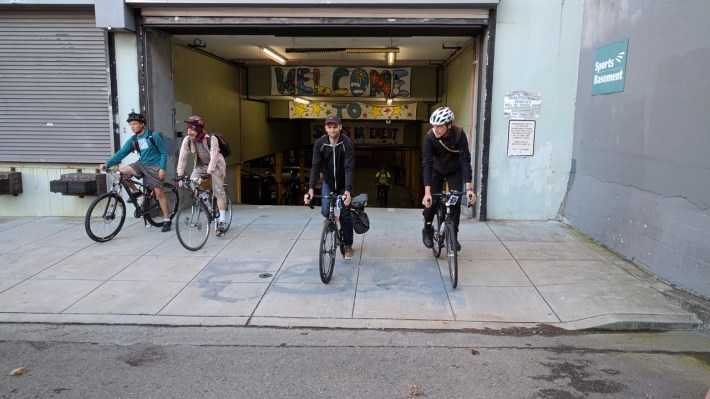 One of the first stops for the ride was at the ghost bike shrine for Gashaw Clark at Third and Mission Bay Boulevard, which required the group to navigate the excessively wide and fast streets of Mission Bay, crossing the Caltrain tracks under I-280. This normally stressful ride felt safe thanks to the San Francisco Police Department, which provided a motorcycle escort to stop traffic and guard the ride from impatient motorists. Cyclists, meanwhile, stopped to hand out "Ride of Silence" flyers to looky-loos, as part of the effort to increase awareness.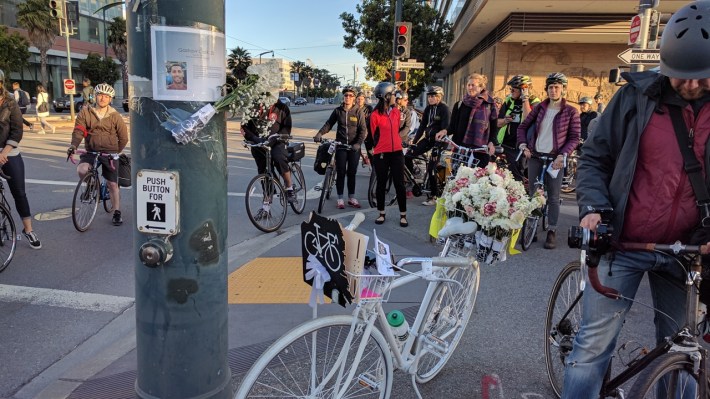 The ride then proceeded to several other locations. Ghost bikes were placed. Candles were lit. Flowers were set down. And the organizers of the event taped photographs of the victims above the ghost bikes.
The ride made its way up the newly built protected bike lane on 7th street, near where Kate Slattery was killed. It was good to see, nearly a year after her death, that some concrete road improvements had been made for safety. And yet, it is disheartening to realize that someone had to die to get those simple improvements made.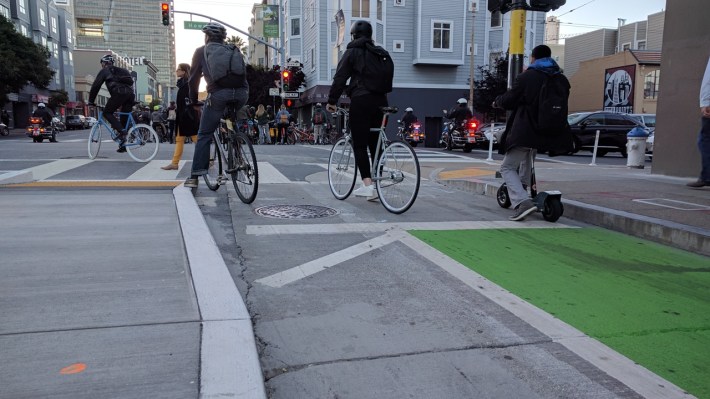 The ride continued to locations on Market Street and elsewhere, and made a longer stop at City Hall, where two ghost bikes were placed, along with more flowers and candles. "This is for two cyclists killed up the block from here," said Warner, crouched over the ghost bikes of Sarah Tucker and Tanya Sisak. "But really, this one, in front of City Hall, is for every fallen cyclist."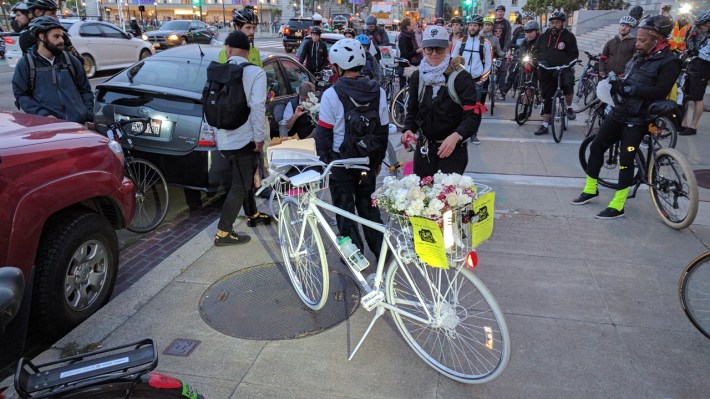 The ride then continued to sites at Market and Octavia, and to Dylan Mitchell's ghost bike at 16th and Van Ness. Even after the ride moved on, his mother and father stood on the sidewalk, silently looking at his ghost bike and photo.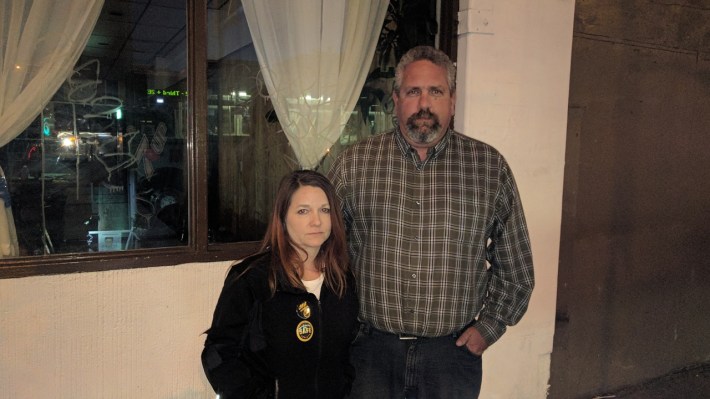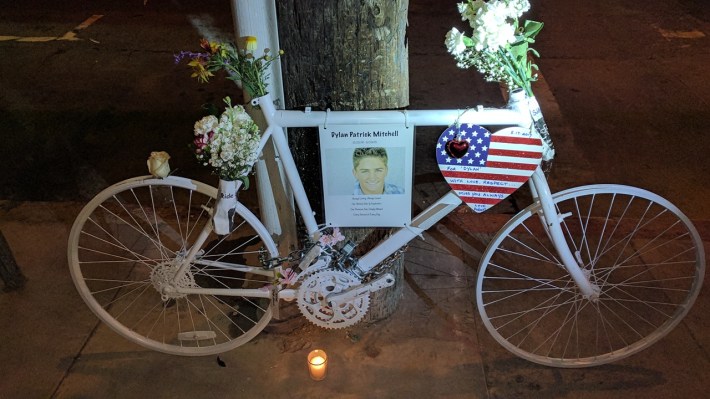 The ride concluded, sometime after nine, at Division and Bryant, at the ghost-bike location where Cheng Jin Lai was killed in 2013. Warner thanked everyone for riding and, along with a handful of other ride organizers, she headed off for a well-earned drink at Benders Bar and Grill.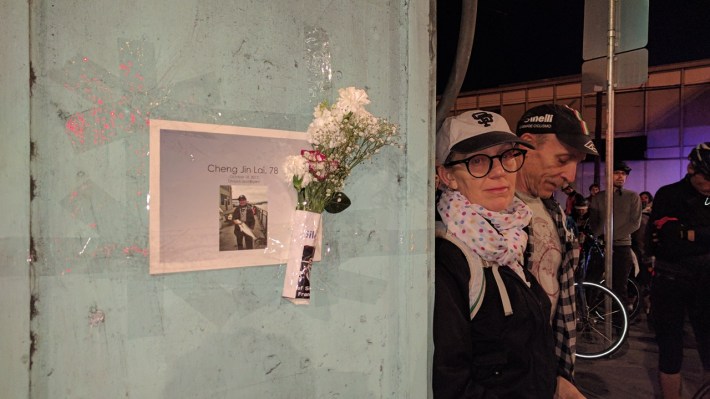 The Ride of Silence is an important time to remember what the entire safe-streets movement is about--stopping the completely unnecessarily bloodshed our society endures thanks to bad policies and bad engineering. Perhaps Wiedenmeier, who was visibly shaken after meeting with some of the families, said it best before the ride, back in the Grotto: "There's not a day that goes by that I don't think of DJ, or Kate, or Heather, or Dylan...or too many others who didn't get where they were going. I don't want to have to remember another name. I don't want to make room for another name in my head. I am proud to ride with all of you."
Advocate Patrick Traughber maintains a list of all those killed while riding bikes on the Streets of San Francisco.
For more about Gashaw Clark, check out Human Street's profile.
Stay in touch
Sign up for our free newsletter