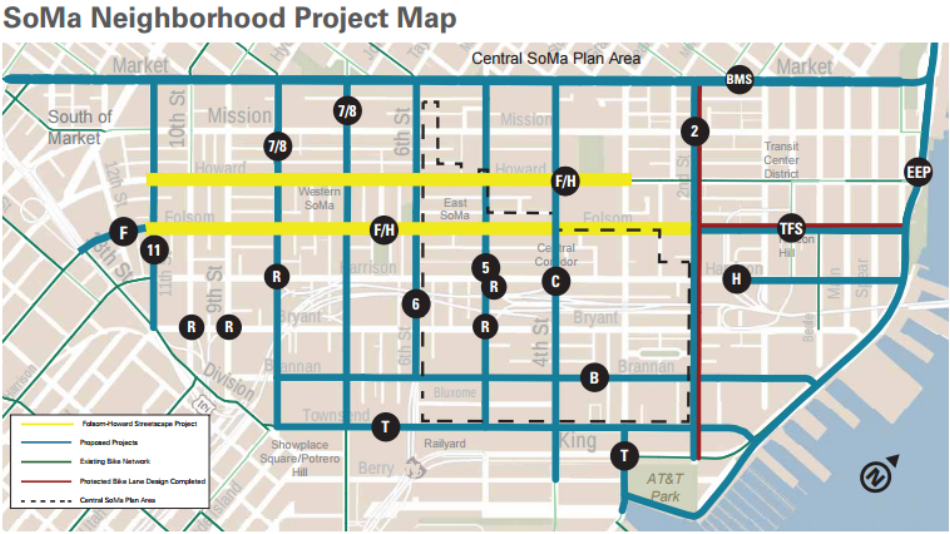 There are now four design options for a San Francisco Municipal Transportation Agency (SFMTA)'s project to add parking-protected bike lanes, possible transit lanes, and wider sidewalks on Howard and Folsom Streets in the South of Market neighborhood (SoMa). Deciding what design concept is best--and which elements of each plan are good and bad--was the topic discussed by the San Francisco Bicycle Coalition's (SFBC) 15-member SoMa committee on Thursday evening at the Public Architecture firm on Folsom Street.
"All four of these designs are pretty darned good. All four have pretty good protected bike lanes; physically separated bike lanes and that was the top priority," said Charles Deffarges, community organizer for the San Francisco Bicycle Coalition (SFBC) and leader of the SoMa committee. "We can steer these in the direction we want to see for people who ride in SF."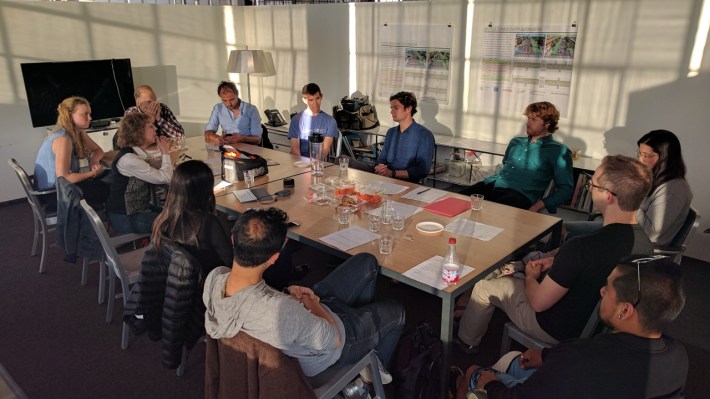 As Streetsblog readers will recall, work has been underway for some time to make SoMa's streets safer for all users. The SFMTA has had a series of meetings to get feedback on Folsom and Howard. SoMa also hosts San Francisco's only protected intersection. And, of course, 7th, 8th and 13th recently got parking-protected bike lanes. The SoMa committee of the Bike Coalition has been instrumental in steering these projects by getting people out to SFMTA's meetings and building consensus for certain design elements, such as protected bike lanes.
Deffarges chose the conference room of Public Architecture for this latest meeting, rather than SFBC's Market Street office, because it allowed the members to walk to the windows and look down at the intersection of Folsom and 8th. Below, one could see the new parking-protected bike lane on 8th, and the older buffered bike lane on Folsom that is slated for a redesign.
He put posters on the walls of the conference room, representing the four proposed designs. The members of the committee discussed and scored elements of each one.
The alternatives are:
The Wide Sidewalks Alternative. This one has a one-way bike lane on Folsom and a one-way bike lane on Howard
The Bicycle Connectivity Alternative. This one has a two-way bike lane on one side of both Folsom and Howard
The Transit Focused Alternative. It has a red-striped bus lane on Folsom and one-way bike lanes on both.
The Two-Way Traffic Alternative. This design converts both streets to two-way traffic. It has bike lanes on both sides of Folsom but no bike lanes on Howard
Go to SFMTA's PDF to see all the four conceptual alternatives for yourself. But here are the two that generated the most conversation among the SFBC's SoMa committee, the #2 Bicycle Connectivity scheme, and #4 Two-Way Traffic Alternative:


"Howard will become a stepchild if you only do bike lanes on Folsom," said Helen Block, who commutes by bike and transit through SoMa, of option #4. That said, many in the group favored this option because the conversion to two-way streets, they argued, will create a better sense of neighborhood, rather than the one-way streets acting as giant highways for bridge traffic. "If the goal is to create a better place and a better neighborhood, the two-way traffic alternative gets at that," said Mark Sloothaak, a member of the committee who comes from Amsterdam.
Others said the Bicycle Connectivity option might be more feasible--and better for bikes, since cyclists could use either street in either direction. "I'm concerned about bridge access for cars if both are two way streets," said another member of the committee.
Still others found fault in all the designs, and wanted to see them all improved. For Tom Schroeder, deciding on safe designs really hits home. Eight years ago he was right hooked by a car. "I have ten screws in my jaw," he said. "The intersections are the most dangerous part--the bike lane should go all the way through the intersection." Schroeder, who has relatives in Denmark, said in that country the bike lane always continues across the intersection.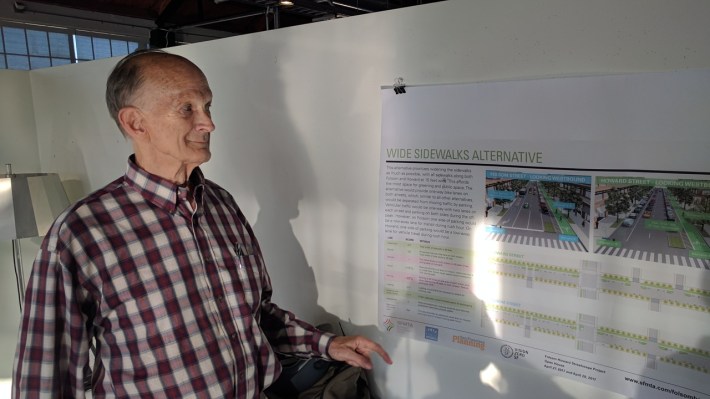 From Streetsblog perspective, creating a sense of community and making the streets safer are both paramount. That's why the two-way traffic alternative seems best, but it should be amended to include bike lanes on both sides of Howard, not just Folsom (and yes, that means giving up street parking or a car-travel lane). If the city is to achieve Vision Zero, it's not acceptable to leave Howard bereft of protected bike lanes. And Schroeder is right in saying that the bike lanes need to cross the intersections and, in fact, should be protected with phased signalling; the car-and-bike mixing zones depicted in the drawings have to go. Sloothaak and Moses Nakamura made the point that parking-protected bike lanes in themselves are insufficient, saying there must be a curb to physically prevent cars from entering the bike lane--that's especially true if the parking lane has to be converted to a travel lane to make more room.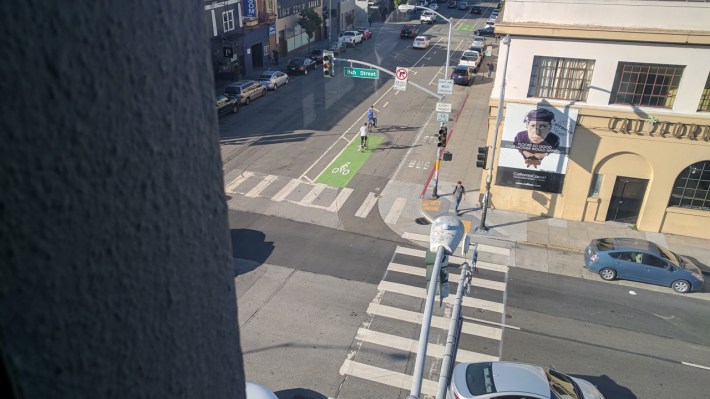 Meanwhile, Deffarges explained that there are two timelines for the project. One will look at fast fixes that can be made, such as those recently completed on 7th and 8th, as early as the end of this year. The other is much longer, and will involve the more comprehensive designs now under discussion. Those long-term changes won't get fully designed until 2018-2019 and won't be built until some time between 2020-2023.
Where do you stand on the SoMa options? Be sure to let us know in the comments section. And let your voice be heard by the city by answering SFMTA's questionnaire on Folsom and Howard.
Stay in touch
Sign up for our free newsletter