Bicycle Infrastructure
If Ride-Hails are the Future, Why so Much Parking at One Oak?
4:00 PM PDT on June 14, 2017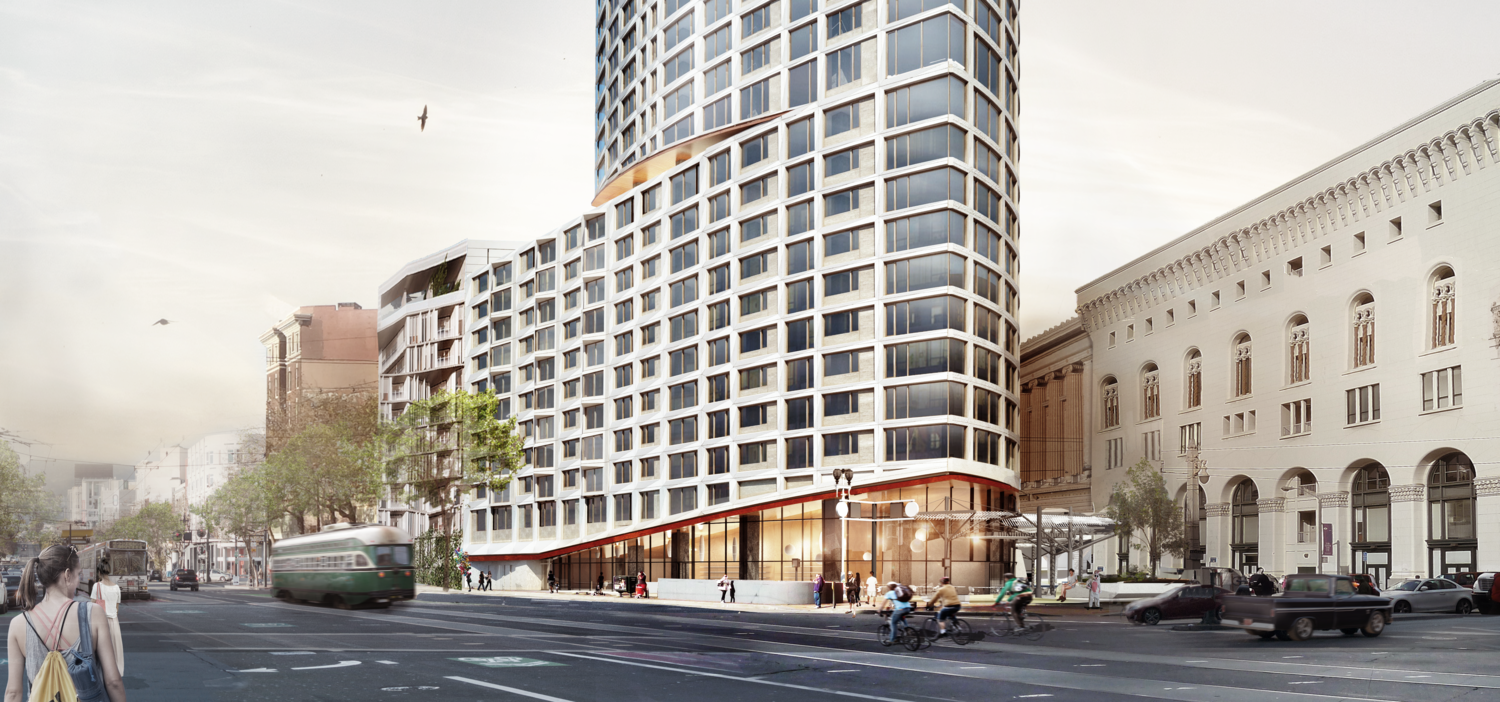 The San Francisco County Transportation Authority (CTA) released the results yesterday of what it calls "the first comprehensive estimate of the volume, frequency and coverage of ride-hailing trips by Uber and Lyft in San Francisco."
Some highlights from the CTA report:
On a typical weekday, Transportation Network Companies (TNCs) make more than 170,000 vehicle trips within San Francisco, approximately 12 times the number of taxi trips, representing 15 precent of all intra-San Francisco vehicle trips.
TNC trips are concentrated in the densest and most congested parts of San Francisco, including the downtown and northeastern core of the city. At peak periods, TNCs are estimated to comprise 20-26 percent of vehicle trips in Downtown areas and the South of Market. At the other end of the range, TNCs comprise 2-4 percent of peak vehicle trips in the southern and western part of the city.
TNCs drive approximately 570,000 vehicle miles within San Francisco on a typical weekday. This accounts for 20 percent of all local daily vehicle miles traveled (VMT) and includes both in-service and out-of-service mileage. Taken over total weekday VMT, which includes regional trips, local TNC trips account for an estimated 6.5 precent of total weekday vehicle miles traveled.
The burden that ride-hail services place on street infrastructure has lead Supervisor Jane Kim to urge Uber to agree to an impact fee to provide resources to help reduce congestion. "Ride-sharing companies are logging more than a half million vehicle miles on our streets every day. This is having an effect on our quality of life as well as creating serious public safety concerns--no one wants the ambulance that might save their life to be stuck in a traffic jam," said Kim in a written statement about the study.
The CTA has posted the results of the study, in interactive form, on its web page.
Streetsblog, of course, supports the idea of ride-shares paying a fee, if that money will go to providing better public transit, protected bike infrastructure, wider sidewalks, and safer streets.
The CTA study puts numbers on something any resident of San Francisco knows from looking at the street during peak periods--Uber and Lyft contribute mightily to traffic. But perhaps there's a silver lining to this data--it also confirms there will be less and less need for privately owned automobiles in the San Francisco Bay Area and this perennial obsession with parking is, and perhaps always was, wrong headed.
Which brings us to the One Oak project, part of the overall "Hub" development plan, that will put a 300-unit, 40-story condominium tower at the intersection of Oak and Market. It's supposed to be a model for urban development, stressing mixed-use and a walkable, bikeable community. But the SF Planning Department specifies that it will have 0.45 parking spaces per dwelling unit.
That's 135 parking spots--which shows a weird disconnect between transportation trends, the stated goals of city planners, and the actual planning and development that continues in the Bay Area.
"It should be zero parking," said Jason Henderson, Professor in Geography & Environment at SF State, author of Street Fight: The Politics of Mobility in San Francisco, co-author of Low Car(Bon) Communities: Inspiring Car-Free and Car-Lite Urban Futures, and occasional Streetsblog contributor.
One Oak will be above the Van Ness Muni station, which is served by all of Muni's subway lines. The Van Ness Bus Rapid Transit is under construction. The F-Market and Warves goes right by here too. And it's a short walk to BART's Civic Center Station. There are also plans for extending and improving the bollard-protected bike lanes. If there were ever a location to go with zero residential parking, "this is where you do it," said Henderson.
"You can generate a lot of trips, or you can generate relatively few trips even for the same size project," said Tom Radulovich, Executive Director of Livable City, in testimony given last week to the SF Planning Commission. "The amount of parking in a project is the most significant...lever for dealing with automobile congestion." Radulovich made the point that efforts to provide bike parking, transit passes, and other policies to reduce vehicle miles traveled are undermined when projects provide abundant car parking.
From Streetsblog's perspective, it's okay to do some social engineering here. Developments such as One Oak should be specifically geared to attract people who want to live in a city, with all the benefits and sacrifices that requires--sorry, maybe you can't have a backyard, you can't have as much space and maybe, just maybe, you can't take up room with a privately owned car. One point of the TNC study is that even in cases where Muni and/or a bike isn't going to get you where you need to go, there will always be an Uber or a Lyft at far less cost than owning a private automobile. In other words, far-flung suburbs, with their wide streets and attached garages, practically force people to own a car; urban centers should be designed with opposite priorities.
Besides, if we have a housing crisis, why are we wasting so much space and money on private car parking spots that we already know aren't needed? Developers are candid that parking greatly increases the cost of housing, and yet it continues to end up part of new projects, apparently even in locations where it's hard to argue that it's necessary.
Henderson, meanwhile, wants the project to select pick-up and drop-off locations for TNCs that will not interfere with Mid-Market Street's bike lanes. And, as part of mitigation for the project, he wants to see better bike infrastructure all around the area, including wide, curb-protected bike lanes and intersections."They need a wide cycle track to carry 20 percent mode share by bike," said Henderson, who calls this stretch of Market "a jugular for cycling."
Either way, when one looks at the Hub plan, the city's declared goals for reducing VMT, and the results of this CTA study on ride-hails, it's kind of hard to reconcile 135 more parking spaces at Market and Van Ness.
The planning hearing to certify One Oak, meanwhile, is scheduled for tomorrow, Thursday, June 15, at 12:00 p.m. at the Commission Chambers, Room 400, City Hall, 1 Dr. Carlton B. Goodlett Place, San Francisco.
Stay in touch
Sign up for our free newsletter