Transit
Riding in a Coffin to a Funeral
3:18 PM PST on November 21, 2017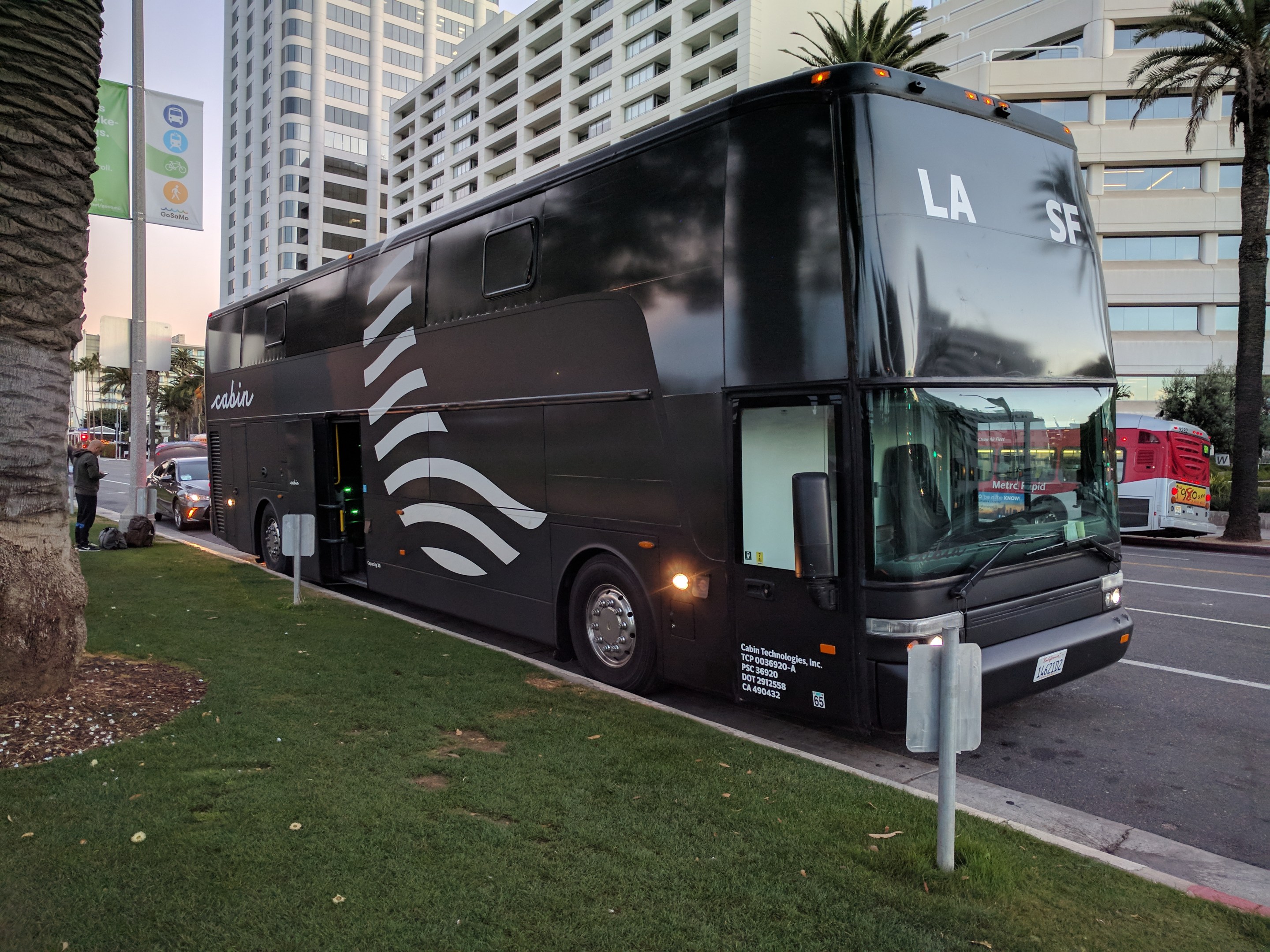 Note: GJEL Accident Attorneys regularly sponsors coverage on Streetsblog San Francisco and Streetsblog California. Unless noted in the story, GJEL Accident Attorneys is not consulted for the content or editorial direction of the sponsored content.
The week before last, a dear family friend and neighbor of my mother's died of a heart attack in San Diego. One can't plan ahead for a trip to a funeral; without an advanced purchase, air fares from Oakland to San Diego are around $200 each way. I don't own a car. And Amtrak is just too slow, thanks to California's circa 1860s rail infrastructure.
Then there's the bus. I poked around and found that the 'Cabin' overnight bus had a berth available (Cabin's launch was reported on by every tech publication out there, but basically it's a bus with beds instead of seats). I'd been curious about it for some time and the price was only $85 for a Tuesday night trip. I figured I'd give it a whirl. It would get me to Santa Monica at seven the next morning. I could bike over to the Exposition Light Rail line, go to Union Station in downtown Los Angeles, and take Amtrak the rest of the way.
Not ideal, as I would arrive after the ceremony, but it would get me there in time to give my mother some much needed hugs and support. And I had an old bike I wanted to leave at my mom's place anyway.
First complication: no information on the Cabin web page about taking a bike. I emailed the company and they told me I could bring it, but they don't advertise that fact because the bus doesn't have any bike racks; bikes are just shoved in with the suitcases (see photo below). Since there's limited space, they don't want to encourage too many people to bring bikes by advertising that they'll accept them, and they haven't yet figured out a bike reservation policy. They should really have something on the web page that says "please email us to make sure there is space if you want to bring a bike."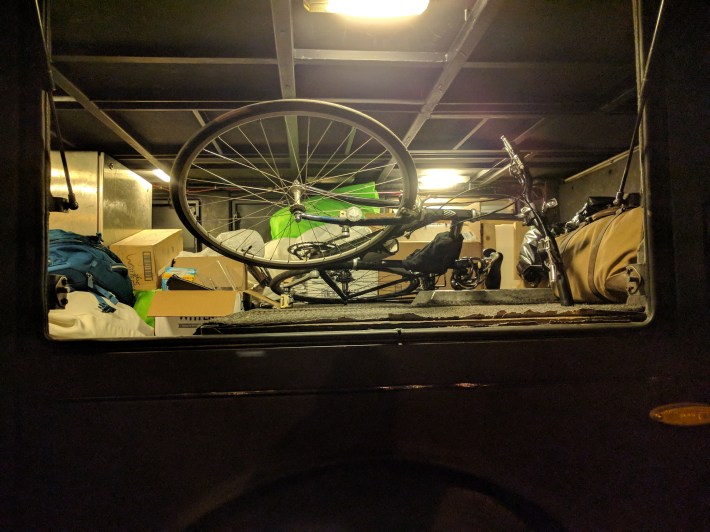 A few hours later, I arrived at the departure spot, a parking lot across from Pier 30 in San Francisco. I loaded my bike and got on the bus just before the 11 p.m. departure. At six the next morning (we got in an hour early), I stumbled, blearily, out of the bus and looked out at Santa Monica beach, disoriented, exhausted, and probably a bit smelly. I rode my bike to the nearest 24-hour Fitness, took a shower, and then stopped at a coffee shop with my laptop to check in with my mom and the other California editors of Streetsblog, before getting on an LA Metro train for the ride to Union Station and my connection to San Diego.
Here are my first impressions of the bus, from an email to the Streetsblog crew--and it still seems like the best way to describe the experience:
So taking the Cabin/Sleep Bus is kind of like trying to sleep in a dryer on spin cycle. Or maybe an eight hour low-intensity earthquake is a better metaphor? But here I am. I guess I slept for a little bit, but it was hardly productive sleep. I can't imagine ever doing it again.
The bus was only half full, so I think the "novelty" has worn off and people are realizing a bus does not good sleep make. I've done overnights on trains and boats, and I wouldn't say I slept well, but I slept. This was just a night of lying on my back in a coffin staring at the lid while we flew through high-altitude turbulence for eight hours. But the tea was good.
I was a little shocked at how awful it was, because most reviews are so darned cheery. And I really wanted to like it, as I travel between Northern and Southern California about ten times a year. The current options suck and I'd long dreamed of a better choice than airport security lines, a long drive or bus ride that takes up most of the day, or an even longer Amtrak trip.
I think there is a market for overnight travel between LA and SF. I'm sure if Amtrak ran a sleeper train, as they did until 1983, it would sell out fast, given the inherently smoother and more stable ride of steel-wheels-on-rails. Cabin's bus suffered from vibrations, swaying, and a loud incessant throbbing from the diesel engine. Trains have their engines in the locomotive which, of course, is a completely separate structure from the passenger cars--that isolates passengers from engine rumble. I've taken overnight trains in the U.S. and Europe, and it's a nice experience, with a place to change and wash up and sometimes there's even a shower. Wouldn't it be nice if Amtrak, or even a freight operator, contracted with Cabin to run well-designed rail sleeper cars? Trains are bigger and more expensive to operate, but they also carry far more people than a bus. One can only dream that some day there will be a night train again.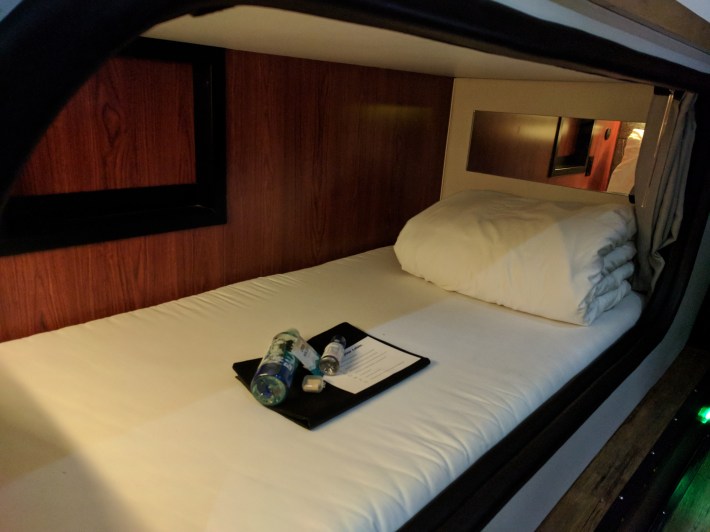 And now, a note about safety. As Cabin's founders point out, buses are safer than cars by several multiples--so if safety is a concern, take this before driving.
But there are two levels to safety--avoidance and survival. And when it comes to crash survival, I found a few things about the Cabin bus deeply disturbing. Get onto any train or bus, sit down, and look at the window and ceiling. There are always clearly marked--usually in bright red--emergency escape hatches and handles. On the Cabin bus, I was shocked that my sleeping pod didn't even have a window, let alone an emergency escape exit. There were also no lighted escape routes. Apparently, there are emergency exits (you can see the markings in photos taken in other reviews), but I couldn't find them when I was actually on the bus. I don't care if it's a train, plane or a bus, if you run a vehicle long enough at some point there will be a crash--and I shudder to think what's going to happen to people, disoriented, injured, and terrified, all tripping and bumping into each other in the dark, scrambling down the narrow stair case from the buses's upper level that contains the majority of the berths.
Other reviewers have talked about the nice mattress and linens, and I agree they are top-notch. In conclusion, the Cabin bus should be useful to that small subset of people who sleep so hard that they literally won't wake up for anything up to and including a powerful earthquake. Apparently, some of my colleagues doing reviews of Cabin fit into that category (or are they popping some kind of illicit sleep aid and just not mentioning it in the story? If so, please have your dealer contact me directly).
Bottom line, coming back to the Bay Area, I paid $200 and took a plane.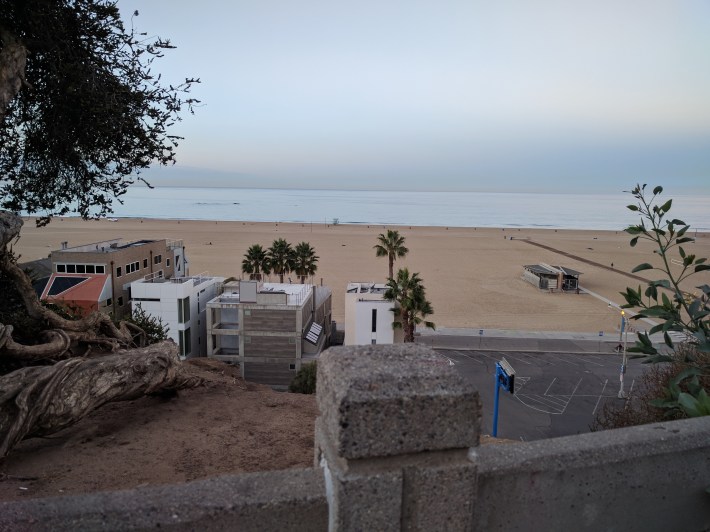 Stay in touch
Sign up for our free newsletter