BART
New BART Train Goes into Service–but a Glitch Arises
3:53 PM PST on January 23, 2018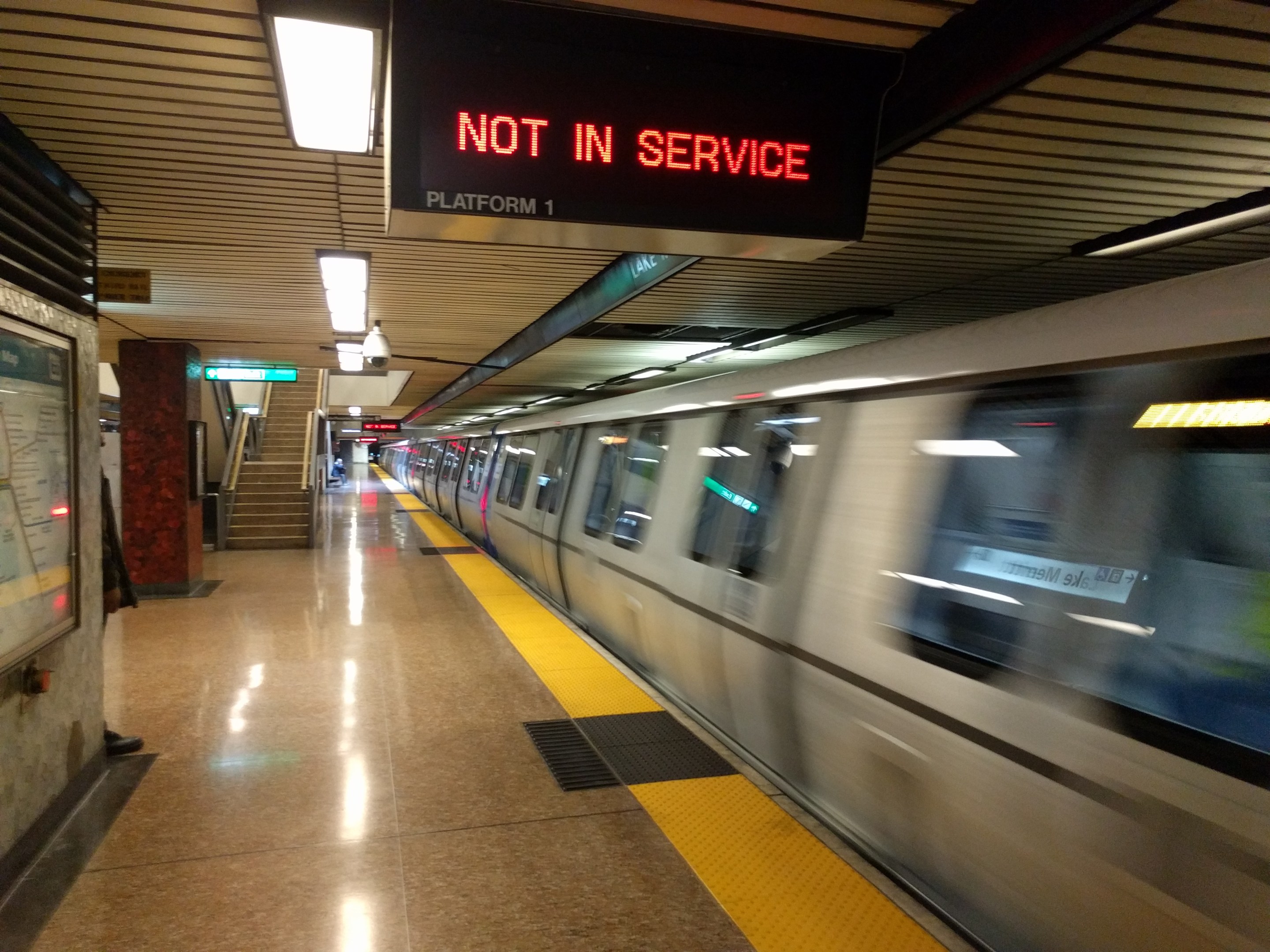 Note: GJEL Accident Attorneys regularly sponsors coverage on Streetsblog San Francisco and Streetsblog California. Unless noted in the story, GJEL Accident Attorneys is not consulted for the content or editorial direction of the sponsored content.
After a ribbon cutting and celebration on Friday, it seems BART's "Fleet of the Future" has, once again, experienced a glitch. Fox 2 KTVU reported yesterday that two cars were removed from the train (BART had one complete, 10-car 'pilot train' in revenue service). Fox linked the recent problem to ongoing issues with the manufacturer, Bombardier. And NBC Bay Area, citing unnamed sources, said the train cars had a problem with their brakes, which came on unexpectedly Friday.
BART, however, is denying that the accounts are fully accurate.
"The NBC Bay Area story is incorrect but we are not going into a lot of specifics other than to say it was a minor issue," wrote BART spokesman Jim Allison in an email to Streetsblog. In an email sent yesterday, Allision also said that:
Two of the 10 cars are undergoing maintenance today. This is not unexpected – we had projected that about seven out of the 10 new cars would be available for passenger service on any given day for the initial period of passenger service due to several factors: with any new machine of considerable complexity, issues will occur that will require attention; some of the cars are due for preventative maintenance (lubrication, changing filters, etc.) because they've already logged more than 75,000 miles of testing; our train operators and technicians face a learning curve in terms of how to deal with minor maintenance issues. Bringing a car into the yard for detailed analysis after an issue occurs serves the long-term goal of having a safe and reliable new fleet.
Allison added that the bottom line is that BART is "... confident the fact that two cars are undergoing maintenance today does not extrapolate into a larger, systemic problem. The pilot cars have passed all our tests and all of the California Public Utility Commission's tests."
Streetsblog rode the train from Lake Merritt to Hayward this afternoon and spoke with a BART technician on board about the reported brake issue (the technician withheld his name so he could speak freely). It remains unclear why the train was stopping unexpectedly Friday, but two cars were going into 'fail-safe' mode. That means the problem is probably not with the brakes per se, as NBC reported. On any properly designed modern train, the brakes are designed to come on automatically if any crucial system isn't receiving the electrical signals it's supposed to receive. Thus, if anything goes wrong, it's supposed to 'fail safe' by stopping the train (at least in theory). It may, indeed, be a minor glitch; this kind of thing happens with the old fleet all the time. But it's impossible to say until BART knows exactly what went wrong.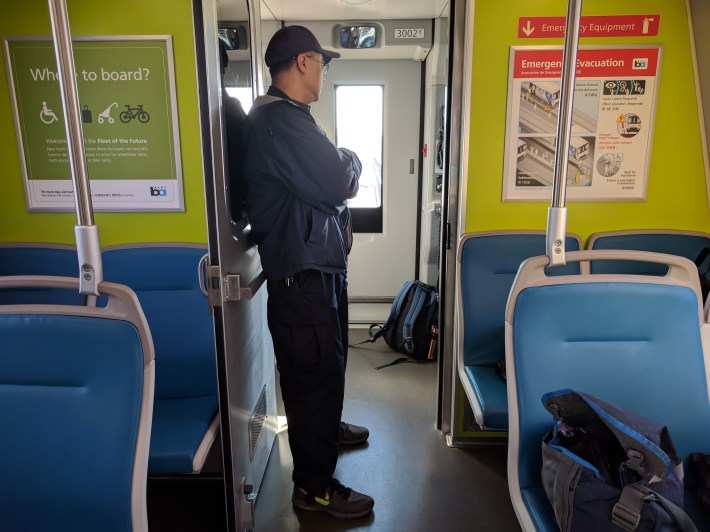 So, technical glitches aside, what do passengers think about the new cars? Tae Tolbert, who was taking BART from Lake Merritt to Coliseum, just said "wow!" when the shiny new train pulled into the station. "When did they get new trains?"
She had mostly praise for the rail cars. "I like the openness, I like the board," she said, motioning towards the computer display by the door that shows the location of the train on a map of the system.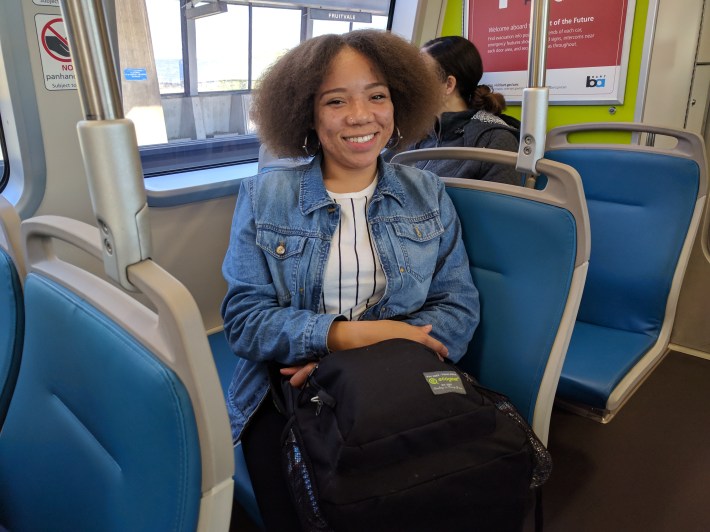 She was a little concerned about the thin padding on the seats. "I don't think these will be very durable."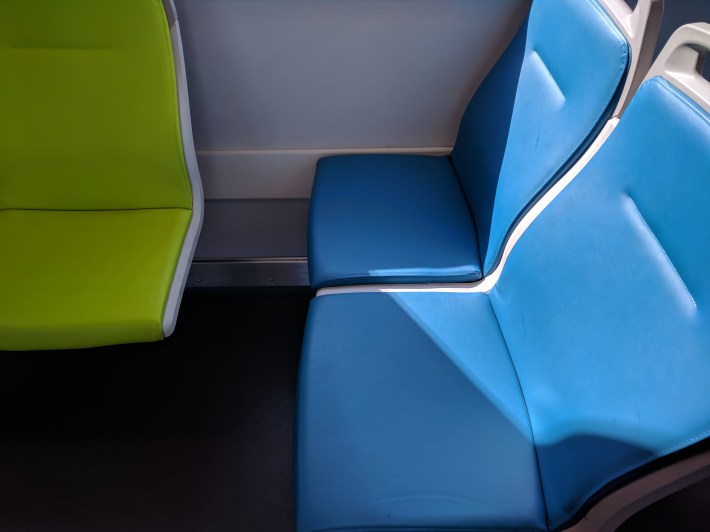 Tolbert was also excited about the additional handholds. "Those are good for people who are short."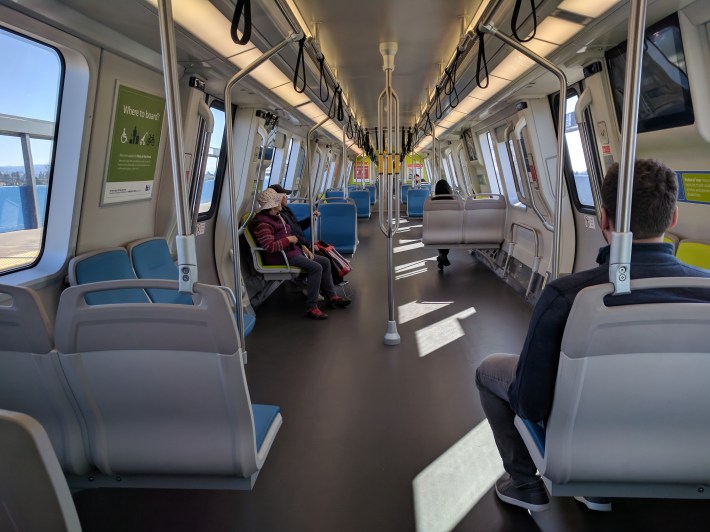 "It's a lot more open, cleaner--and I love the interactive screen," said Angie Nelson, who was on her way to Dublin. "It shows people where they are in different languages. This is friendly for tourists." Unlike Tolbert, she had nothing but praise for the seats. "They are comfortable and ergonomic. And I like the vibe of the blue and green contrast." She added that the noise and dirt of the legacy cars deter her from taking BART to San Francisco.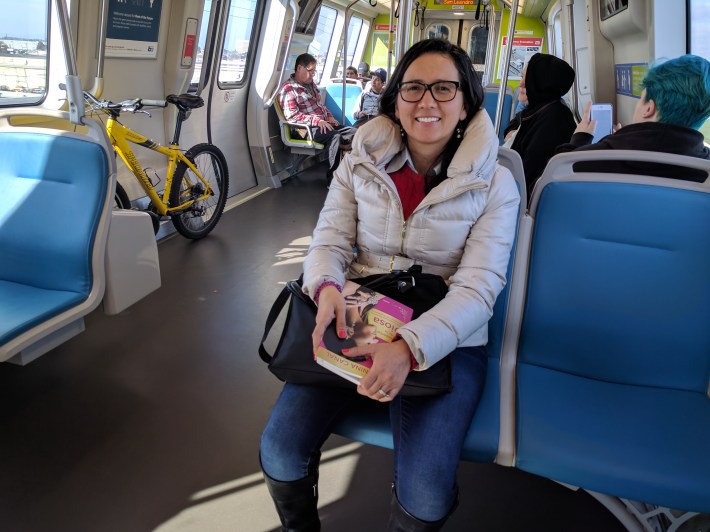 "I'm a big fan," said Eric Hagen, who was amazed that he could be understood without shouting over the noise of the train. "It's a much quieter ride...you can really hear." He added that the biggest plus of the new cars was cleanliness. He wondered how much better the old cars would be if given more thorough cleanings.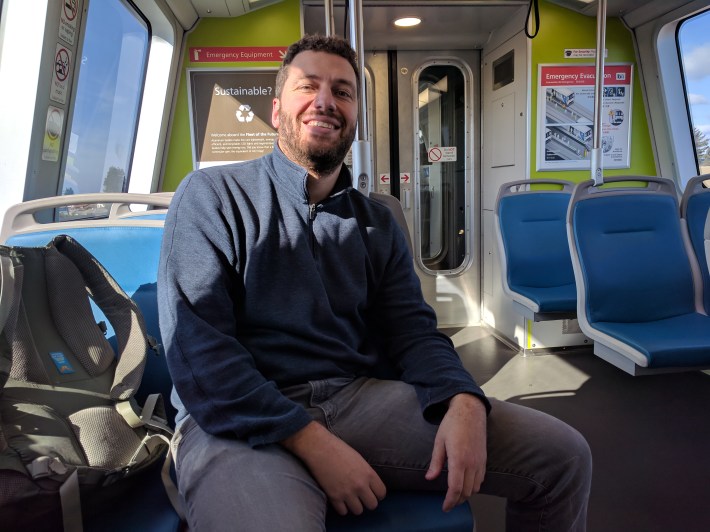 "It looks clean and fresh," said Sydney Jackson, another passenger on her way to Coliseum. "Like a breath of fresh air."
BART, meanwhile, has two new train consists currently on the tracks. Both are running between Richmond and Fremont/Warm Springs. The passenger-carrying 'pilot train,' seen below, was featured in the press. It started carrying riders on Friday. The other, seen in the lead image, is not yet certified to carry passengers and is testing only.
"The trains will run on the Richmond to Warm Springs/South Fremont line during non-peak hours Monday-Friday (9am-3pm and 8pm until Midnight) and on weekends," said Allison. The trains will not go to San Francisco because BART does not yet have the confidence to risk a breakdown in the Transbay tunnel.
When will that change? "We don't have a deadline for that other than when we think it's ready."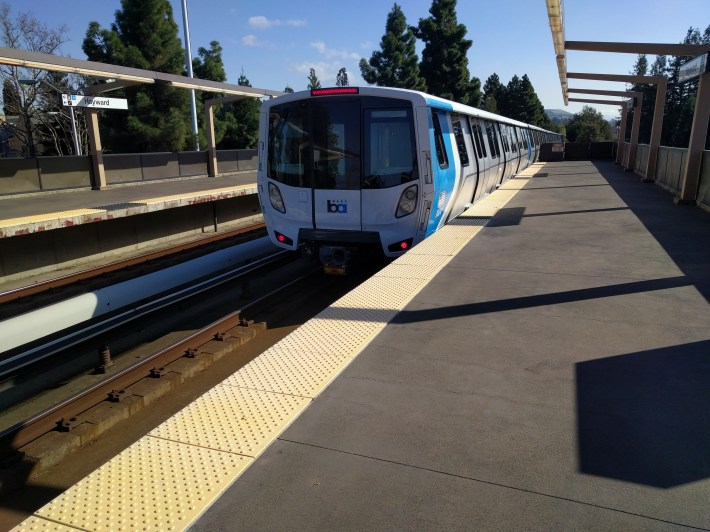 Stay in touch
Sign up for our free newsletter