Bicycle Infrastructure
Bicycle Coalition Readies Valencia Protected Bike Lane Push
2:31 PM PDT on March 19, 2018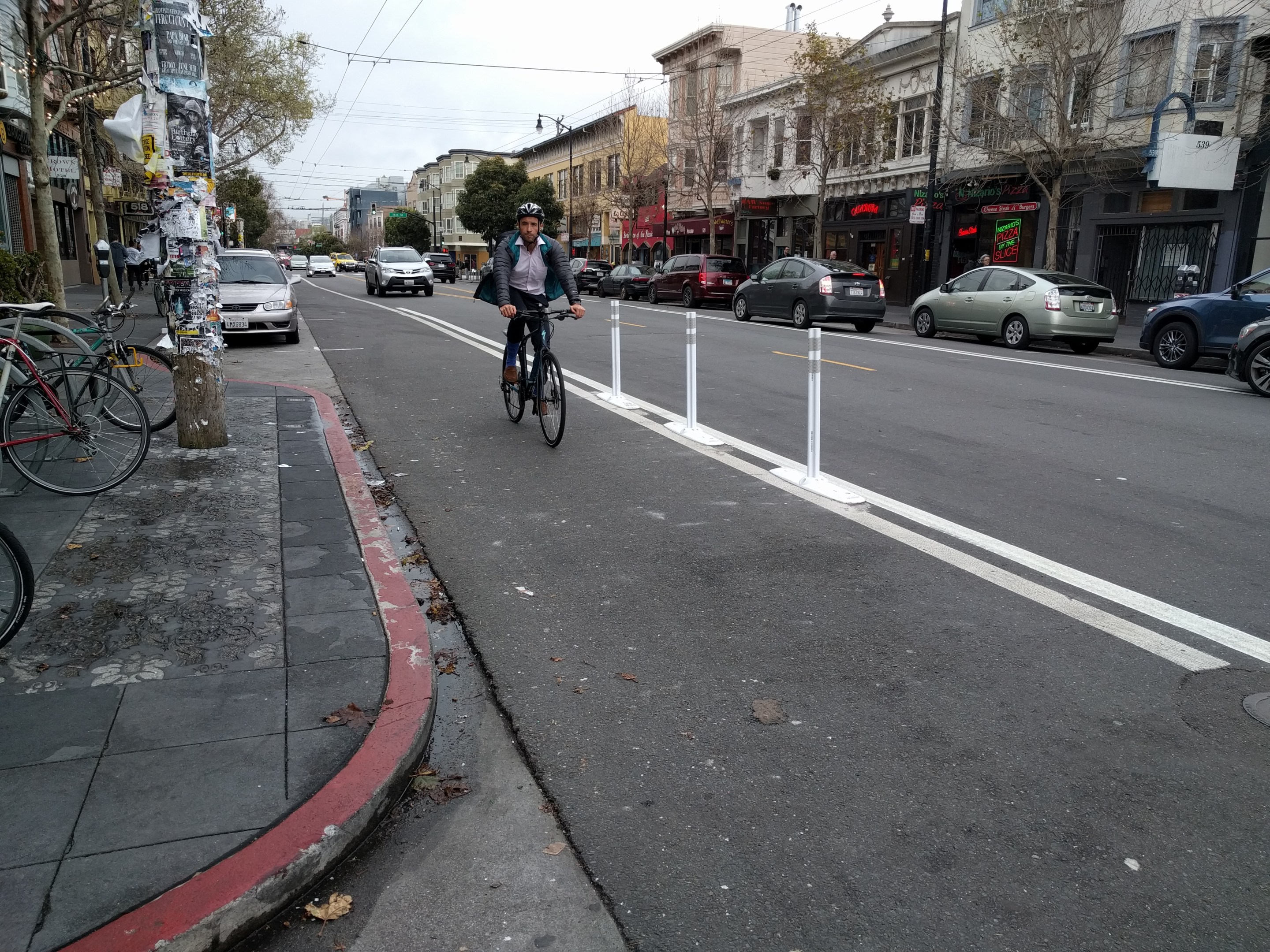 Note: GJEL Accident Attorneys regularly sponsors coverage on Streetsblog San Francisco and Streetsblog California. Unless noted in the story, GJEL Accident Attorneys is not consulted for the content or editorial direction of the sponsored content.
Advocates for better bike infrastructure on Valencia got a pleasant surprise last week--SFMTA installed some safe-hit posts in front of parklets, on a few short stretches between 15th and 19th. As reported (and very well put) by Mission Local, the street is now a "smidgen safer."
This was the first concrete step (okay, plastic) of a funded Valencia project--in November, the San Francisco County Transportation Authority approved $145,000 for the 'Valencia Street Bikeway Implementation Plan' to fix the bike lanes. This was in response to protests, publicity, data-gathering efforts, and a whole lot of people reaching out to elected officials and speaking at board meetings at SF City Hall.
The San Francisco Bicycle Coalition is seizing the moment and mounting a major advocacy effort to influence the designs and make sure they result in a safe, bike-and-ped-friendly street.
Kristen Leckie, a community organizer hired in February by the SFBC (welcome Kristen!) led a meeting Thursday evening, attended by some 35 volunteers and coalition members, to develop an advocacy strategy for the project. This falls into the SFBC's model of organizing around particularly troublesome streets or neighborhoods and keeping the pressure up on city bureaucrats and elected officials; this is how they got protected bike lanes in SoMa.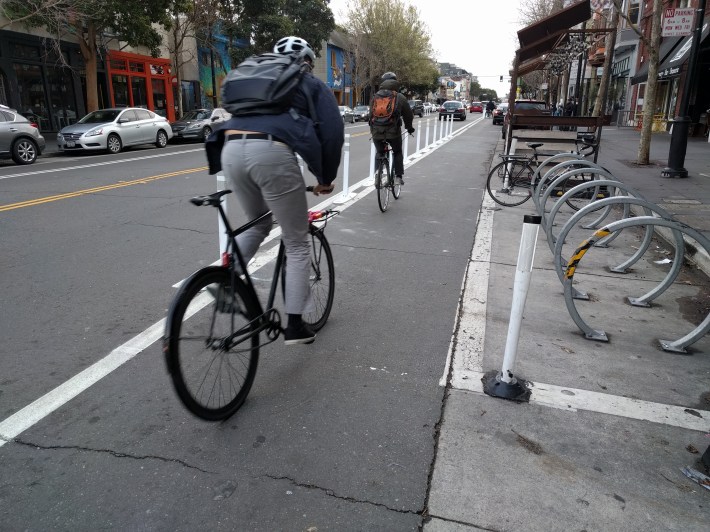 As with past efforts, the SFBC asked its volunteers to brainstorm a long-term vision for Valencia and decide  who to reach out to, such as business owners, politicians, and other advocates. "Who do we need to connect with to get a really great project that serves everyone?" asked Leckie of the group.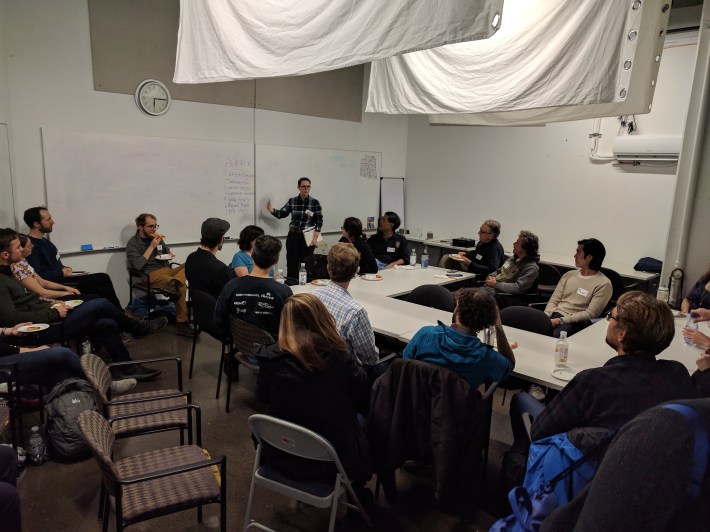 Dani, a volunteer in the group, said she'd like to see something similar to what's planned for Market Street, with sidewalk level, protected bike lanes. Jeremy Pollock, another SFBC member (and Streetsblog contributor), wants to take things further, and envisions a completely car-free Valencia. Mia, another volunteer at the meeting, rides Valencia daily as part of her commute. Her boyfriend, she said, was riding a bike on Valencia when he was hit by a car making an illegal u-turn (fortunately, he was okay). "I'd just like to see bigger bike lanes, like they have in Portland."

But the most obvious solution may be to extend the existing parking-protected bike lane (on Valencia south of Cesar Chavez) up the entire length of the street.
For now, cars still have to cross the bike lane to reach the curb to park on most of Valencia, so there's no way to physically protect the bike lanes until that fundamentally flawed design gets fixed. But next to the parkletts it's a different matter, since cars can't park there anyway, which is why SFMTA decided to take this early step and put in plastic posts at these handful of locations.
With project funding now in place, things are moving quickly. SFMTA will hold community design workshops this summer and expects to have plans drawn up, ready for implementation, by Fall.
What's your vision for Valencia? Do you want to see a street where cars are banned and only paratransit and delivery trucks can enter? Or are protected bike lanes satisfactory? Post your pictures and observations.
A few more pics below: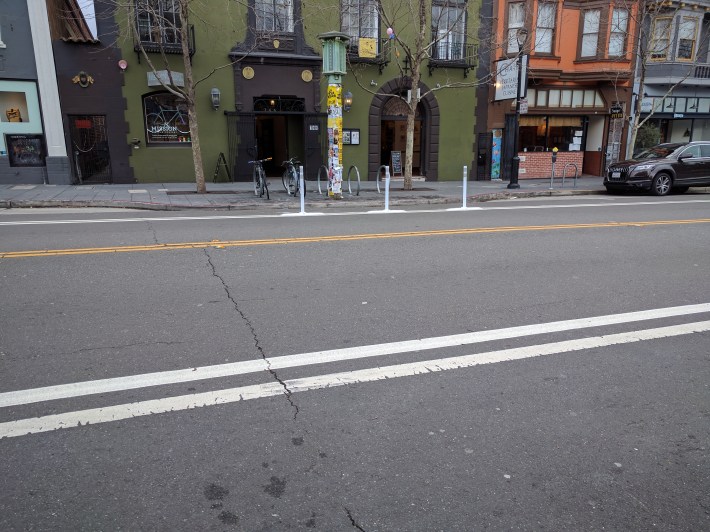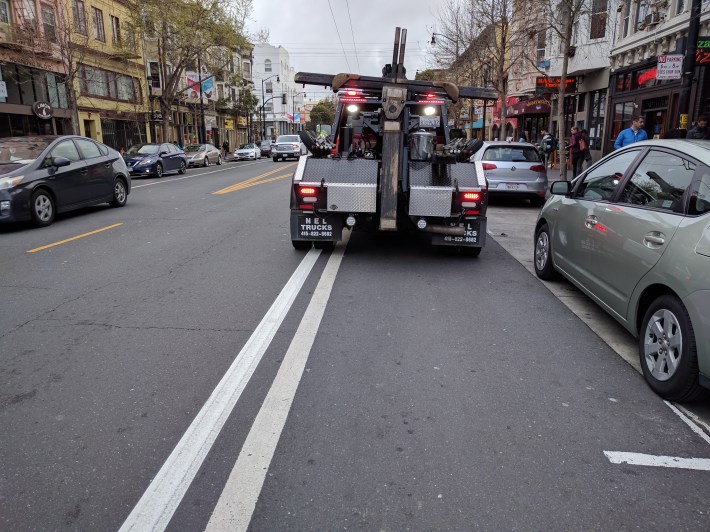 Stay in touch
Sign up for our free newsletter