Balboa Park
Streetsblog Q&A with BART Board Candidate Janice Li
4:28 PM PDT on July 23, 2018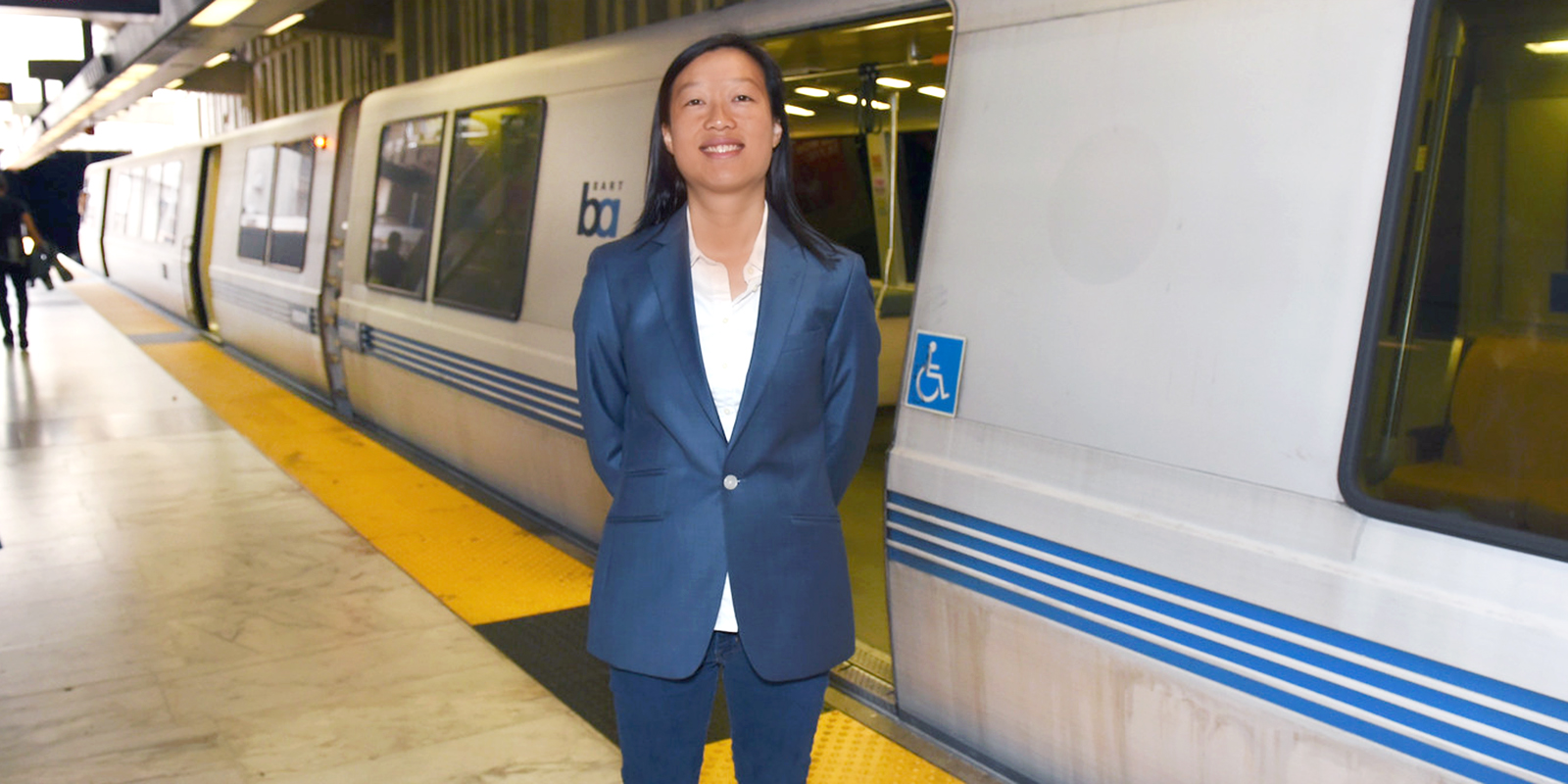 Note: GJEL Accident Attorneys regularly sponsors coverage on Streetsblog San Francisco and Streetsblog California. Unless noted in the story, GJEL Accident Attorneys is not consulted for the content or editorial direction of the sponsored content.
Late last week, Janice Li, Advocacy Director for the San Francisco Bicycle Coalition, stopped by City Hall to pull papers and officially begin her campaign for the District 8 seat of the BART Board. District 8, located entirely in San Francisco, includes Balboa Park, Montgomery, and Embarcadero Stations. Li has gotten off to a strong start, with endorsements from Assemblyman Phil Ting, Supervisor Jane Kim, and BART Board Director Bevan Dufty, among others. If she wins, she'll be taking over the seat vacated by Nick Josefowitz, who is currently running for the San Francisco Board of Supervisors.
Prior to working at the SFBC, Li did community work with People United for Sustainable Housing, a Buffalo, NY-based advocacy group that mobilizes the local community to create strong neighborhoods through affordable housing, local hiring, and 'people power.' Since moving to San Francisco, in addition to her Bicycle Coalition work, Janice volunteers with the Chinese Progressive Association's Youth MOJO program and she is also serving as chair of the Port of San Francisco's Waterfront Working Group, where she has overseen a 33-member committee. She has led dozens of campaigns to build safe-street infrastructure across San Francisco, increase critical transportation funding, and establish transit-first policies that encourage active transportation and public transit. She has also served on the BART Bond Citizen Advisory Committee, which developed the framework for expenditures and oversight of the $3.5 billion modernization and safety bond measure that passed in 2016.
Streetsblog caught up with Li at the Ferry Building over the weekend, right across from the Embarcadero BART station, one of the stations she would represent, and one of the most crowded in the system, to find out what the experienced advocate hopes to bring to District 8.
***
Streetsblog: So what can a bike advocate bring to the table for BART?
Janice Li: I don't necessarily see myself as a bike advocate first and foremost. When I started at the San Francisco Bicycle Coalition, I had no professional planning experience. But I was brought on as someone who has done really deep community-based work, who has done membership development, and someone who has established leadership capacity at a nonprofit organization. My roots are community-based work, in marginalized communities in the West End of Buffalo. One of my first tasks was making inroads into Chinatown and other Chinese Communities in SF. There are so many things that are really important to me before I even get on a bike.
SB: Okay, so what does a community organizer bring to the table for BART?
JL: I'm well versed in understanding transportation policies. But with BART and Muni, I don't need to explain to anyone Muni's funding issues and the lack of train cars, and the lack of transit priority over cars. People already understand how crunched Muni is because they feel it when they're crushed against the wall. You don't need to explain to any BART rider that BART is breaking down. BART workers don't have enough resources to maintain the stations. We see that. We see what's happening.
SB: Speaking of which, I take BART all the time, but given the choice I took the ferry here, in part because roughly every third time or so that I take BART something gross or disturbing happens—from seeing or smelling urine, to aggressive begging, to the time I watched a guy shooting up drugs across from me...
JL: A broader issue is we now have different modes of transportation: ferry, Caltrain, and a lot of private and privatized transportation. You can pay for the privilege not to see that. It's problematic because then you get different tiers of transportation... you don't want to deal with the smell of piss, [then you] go catch a Lyft, or get on your Chariot. That's problematic because they're pulling money away from public transit. I strongly believe that public transit is a public resource. Now you have BART competing with the Google shuttle--guess who's going to win?
SB: The shuttle.
JL: Right. BART's not going to win.
SB: But it doesn't have to be that way.
JL: I was inspired by Hillary Ronen and Bevan Dufty cleaning the 16th and Mission station every week. Not because I thought Hillary and Bevan are great janitors, but they met every single BART worker and learned what the worker experience is.
SB: So that will be your approach? To follow Ronen and Dufty's example and get into the trenches--
JL: That will help me understand the resources that are needed. Maybe it's something physical or design, or something else that needs to be changed. Right now, I don't know what those things are--I'm not the one cleaning up the piss every day. In BART District 8 is Embarcadero, Montgomery, Balboa--they are the biggest in terms or ridership, so cleaning those stations--no offense to Glen Park or Colma, you're great too--but let's think about putting more resources at the busiest stations.
SB: So is this primarily about resource allocation?
JL: I feel like it's hard for me to just be like 'I know all the ills.' But past directors weren't always on the ground seeing what was happening at the stations. So the state of stations not feeling safe or getting cleaned became an okay status quo. I think when Nick Josefowitz and Beven Dufty joined the BART board they pushed a lot of buttons, saying this may be your status quo, but this is an untenable status quo. I want to keep pushing 'this is NOT okay.'
SB: Speaking of which, the elevator attendant program seems to be working. The elevators are cleaner and feel safer.
JL: I appreciate that BART is willing to pilot things.
SB: Actually, I'd imagine the elevator issue is a place where your bike advocacy experience comes in handy.
JL: A lot of the problems I hear from people who bike are very very similar to what I hear from people with disabilities. Take the fare gates--they're not wide enough and the wide, orange ones are only available at some locations. BART did a pilot about a year and a half ago--at Embarcadero they locked the swing gates. But that meant people with disabilities couldn't even get in, so obviously shutting down those gates had a huge impact on both people with bicycles and people in wheelchairs. So let's not do that, let's try to find ways to get wide fare gates. There's a lot of intersections for people with disabilities and people with bikes.
SB: Both have big problems actually getting up and down from stations and platforms.
JL: There's very little vertical circulation. There's circulation at each level, but if you're trying to get from street level to the mezzanine level, that circulation sucks if you're in a wheelchair or carrying a bike.
SB: Right. I have a back issue and often can't carry my bike up and down stairs. And people with disabilities have no choice but to deal with unreliable and dank, filthy elevators.
JL: If you have a bicycle, you either have to be strong enough to take the stairs, or you have to put it on the escalator where they're not actually allowed.
SB: People do. I do.
JL: It's not enforced. And then you try to take a bike on the elevators and there are people with wheelchairs.
SB: Right, so you're not going to muscle past someone in a wheelchair with your bike.
JL: BART has been talking about stair channels for years--
SB: . . . so you can roll your bike up and down the stairs with you.
JL: But we only have one at 16th. Until that gets fixed, I appreciate that the 'no bikes on the escalator' rule isn't often enforced, but perhaps we should institutionalize that bikes can use escalators.
SB: Until they get stair channels and elevators that work?
JL: I think the BART can retrofit with larger elevators, with the industrial loading types of elevators. But fare gates and vertical circulation are the things I hear as the biggest complaints. I'm not an elevator engineer. I have no idea why they break down all the time, but we need to find out what resources are needed, because it's really unacceptable to constantly see broken-down elevators and escalators.
SB: I was at the BART retreat a few months ago, and there was a moment I remember well. Some of the directors started to ask about driverless trains, which comes up from time to time, and Grace Crunican, general manager, seemed frustrated at being asked about it again--she pushed the directors to either instruct staff to do a driverless pilot, or stop asking about it. So the board kind of quieted down and still didn't really give any specific instructions.
JL: Are you asking me 'why isn't the board more decisive' or where I stand on driverless trains?
SB: Both.
JL: Why can't the Board be decisive--I have no idea, but I have attended BART board meetings. I know the majority of the directors and they know me. We'll be able to work together and I know the board dynamics and I'll be able to work with those folks immediately. I can step in with solid working relationships—and I'm an incredibly direct person. I would not let them say 'let's do another information item' or 'let's carry that item again.' I have no patience for that.
SB: Me neither. And on the driverless train question? I think Robert Raburn asked for a pilot between SFO and Millbrae years ago but nothing is happening.
JL: I'm unfamiliar with the technology or train operations. But I generally have a lot of concerns around autonomous technology. I would say what I would encourage BART to do is have a work plan for a more autonomous future.
SB: Fare and service integration?
JL: What I am pushing on is general integration across different agencies. I'm frustrated. Why can't you do this! Let's start with BART and Caltrain. Millbrae should be the hub, and it isn't because nobody is coordinating BART and Caltrain schedules, but they should be. You go there and you can wait 5 minutes or 25 minutes making a transfer.
SB: Or longer. Which makes people take the Google bus. And what about fare coordination?
JL: There should be political cover to prioritize fare integration. If left to their own devices, Grace Crunican and SFMTA director Ed Reiskin are not going to naturally integrate fares. That's why there should be more board-to-board communications. And I know the SFMTA board quite well. There needs to be director-level leadership. If only [sarcastically] we had a regional agency that is supposed to manage land use, transportation planning, coordination and had lots of money to fund these initiatives!
SB: The Metropolitan Transportation Commission (MTC).
JL: They receive so much federal funding and are the pass-through agency. But they have mostly been ineffectual. If I am elected to the BART board, I will find my way onto the MTC commission. But I think individual agencies need to take leadership and force integration if MTC won't.
SB: What would you do about the delays to the new fleet of BART cars?
JL: It's absurd. I have problems with public agencies, be it BART, or SFMTA, or Public Works, who think that delay is status quo so it's fine. We have to say 'we will hold you accountable,' and if they miss their timelines, 'why did you set that timeline in the first place,' and 'why are you okay with being wrong!'
SB: What does it mean to hold them accountable? Do you fire people for repeatedly missing deadlines?
JL: No, not at all. I know how you hold SFMTA accountable for bike projects, but there isn't quite the same advocacy base for transit. Bike advocates come together. MTC should be funding community-based advocacy.
SB: So advocates can push these timelines. Might the MTC write a check to the Transit Riders, for example?
JL: Perhaps. But Cheryl Brinkman is a great example of someone being an advocate while still being the board chair of SFMTA, and you see how she's able to use that to hold Ed Reiskin accountable. She gets it done.
SB: So you want to be to Grace what Cheryl is to Ed Reiskin?
JL: That's one model. I think Lateefah Simon pushes BART staff to do full investigations. Again, that's the way that BART directors can use their role and power of office to hold agencies accountable and they are great models.
SB: What do you think of the new fare inspection program?
JL: It's awful. They are wasting $62,000 a month to get pennies back. It's a wasteful use of public resources.
SB: Should they maybe beef up security on the fare gates and forget about patrolling the system?
JL: There aren't many things I go full socialist on, but public transit should be a right. I think in some rosy version of the future it should always be free. Housing is a human right and transit is a human right, because it is how we make a living--whether you're going to school, or you're going to a job, it is critical to someone's livelihood. So what if someone didn't pay their fare? I'm against any kind of funding into fare enforcement.
SB: So you would take down the barriers?
JL: I'm not saying BART should be free, but those enforcement programs need to end.
SB: I have more questions, but I know you've got to get to your next meeting.
JL: Yeah.
SB: Okay, thanks for your time.
This interview was edited.
Stay in touch
Sign up for our free newsletter