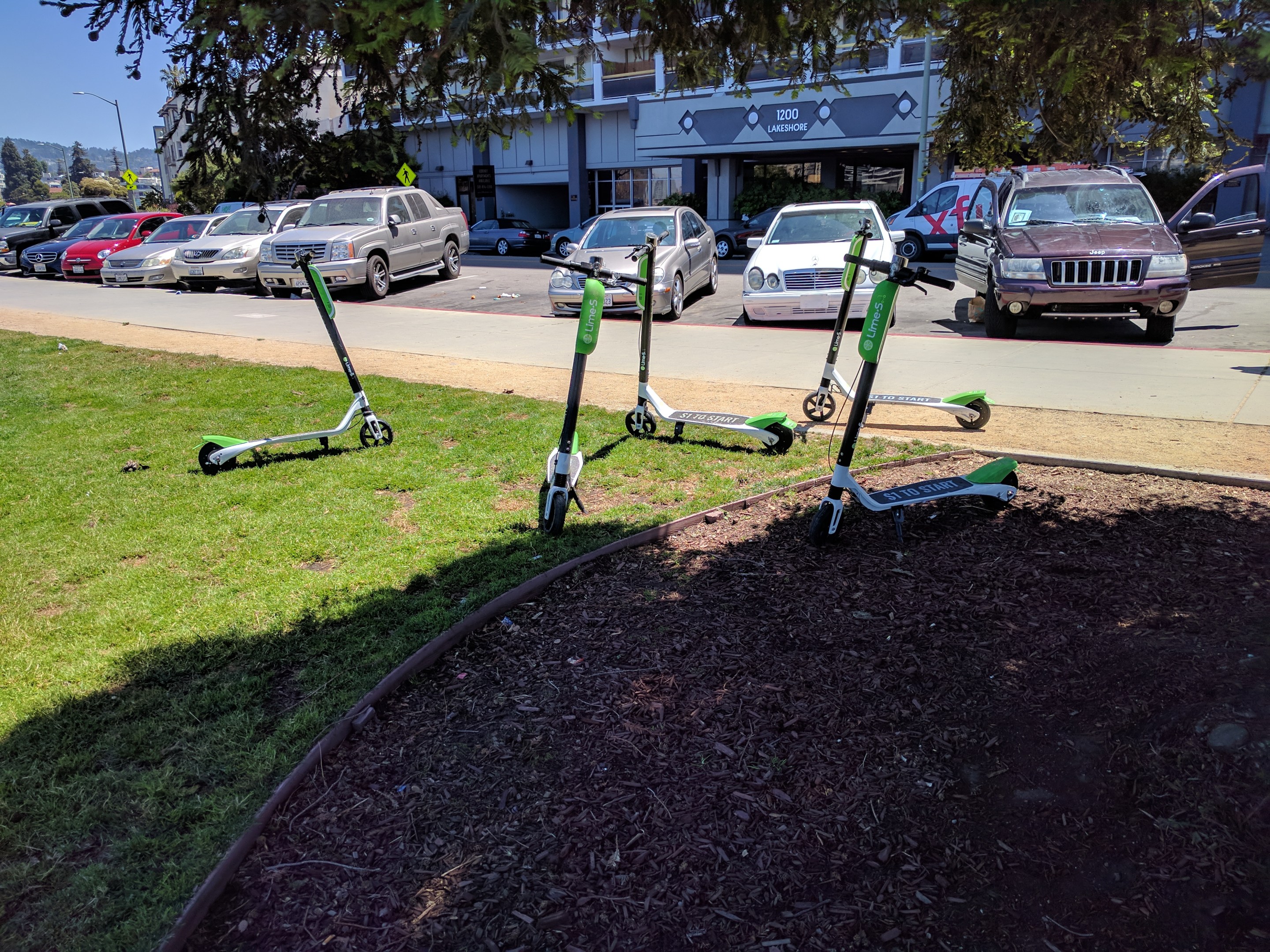 Note: GJEL Accident Attorneys regularly sponsors coverage on Streetsblog San Francisco and Streetsblog California. Unless noted in the story, GJEL Accident Attorneys is not consulted for the content or editorial direction of the sponsored content.
For nearly a half century, car companies--and their money interests--have pretty much dictated the designs of our streets. So do e-Scooters represent, potentially, a billion dollar industry counterweight for the re-engineering of streets to prioritize safety, cyclists, and scooter-riders?
Dave Campbell, Advocacy Director for Bike East Bay, seems to think that they do. At last night's "scooter summit" panel discussion in Oakland, Campbell pointed out that the government has repeatedly spent billions subsidizing airlines and cars but when it comes to bike lanes, somehow there's never any money. Maybe the money and riders in the scooter industry can change that.
"Any kind of human-sized mobility devices--that's going to build clout," he said. "In my opinion, the more scooters there are on the street, the safer streets will be for everybody." That, he said, could finally get city governments serious about building protected bike lanes. And wide ones at that, since scooters will use them too.
That's a controversial perspective--and one that's not too popular on the San Francisco side of the Bay, where scooters were banned back in June until a city permitting system could be put in place. After that ban, many of the scooters were moved to Oakland. But rather than kick them out, 'the town' is taking a more temperate view, allowing scooters to remain while it figures out legislation to regulate them.
"A key goal for Oakland is to reduce people's transportation costs," explained Kerby Olsen, the Oakland Department of Transportation shared-mobility coordinator, and another of the panelists. "50 percent of car trips are under three miles--that's right in the sweet spot of scooters. So they have the potential to divert car trips."
In the meantime, Oakland hasn't been fully spared from some of the annoyances that come with scooters--such as sidewalk riding and haphazard placement (although it's something that's hard to quantify). "The biggest issues are where to ride them and where to park them," said Cory Weinberg, reporter from the tech-journal The Information and emcee of the panel. "You're supposed to ride them in the street or the bike lane, supposed to park them on the sidewalk and not block curb ramps or driveways."
"A few months ago there were no scooters in Oakland and now there are thousands," said Olsen. "The place for them is the bike lane."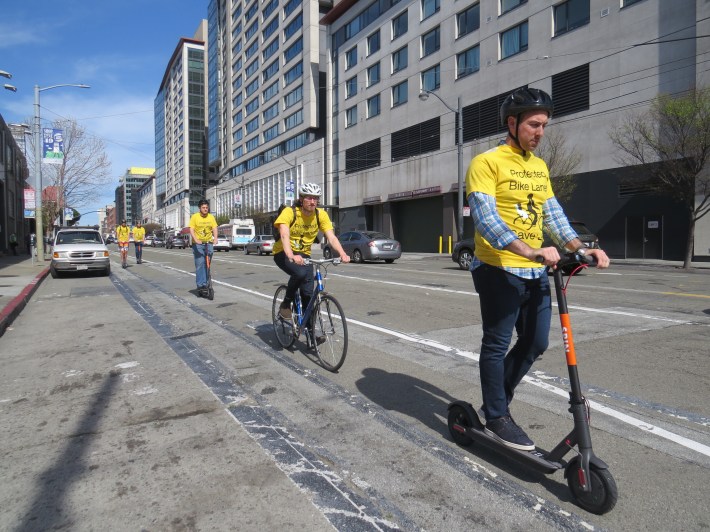 The panel also included two representatives from the scooter industry, Marlo Sandler of Bird and EV Ellington of Lime. And both companies seemed determined to avoid a repeat of the kind of backlash that happened in San Francisco and elsewhere. "When we started operating in Oakland about two months ago, we met with neighborhood groups and merchants associations, to identify where the deployments might be," said Sandler. "We have 'nests' where scooters are brought out to in the morning." She said hotels and shops often request nests so their guests and customers have a way to get around.
"We sponsored 'scooter crawls,' where you ride a scooter from different shops," explained Ellington. They do these with local advocacy groups. "We did a ride with the Scraper bikes... we're trying to be a part of the community."
Campbell pointed out that scooters allow people who might not otherwise ride a bike to reach businesses that are outside of commercial corridors, such as restaurants on San Pablo a few miles from downtown Oakland. "The number one challenge to putting in a bike lane is the loss of parking, but if scooters can help us get more business to businesses" that might make merchants more amenable to wide bike lanes that can handle scooters and bikes.
"People see chaos from the scooters," he added. "But as an advocate chaos does not necessarily equal bad. It can be good if it makes drivers slow down and pay attention a bit more.  Scooters have disrupted our streets way more than Critical Mass or gobs of bicyclists."
But might the reign of the scooter be too short lived to really make a difference? Weinberg brought up the book Dot.Con: The Real Story of Why the Internet Bubble Burst. The cover of that book features a Razor Scooter, to illustrate the ephemeral nature of tech trends.
Ellington pointed out that Razor actually survived the Dot.com bubble. "They are one of the applicants for a permit in San Francisco," she said.
Either way, "We're not going to figure this out by throttling it down like San Francisco did. Let's learn," said Campbell.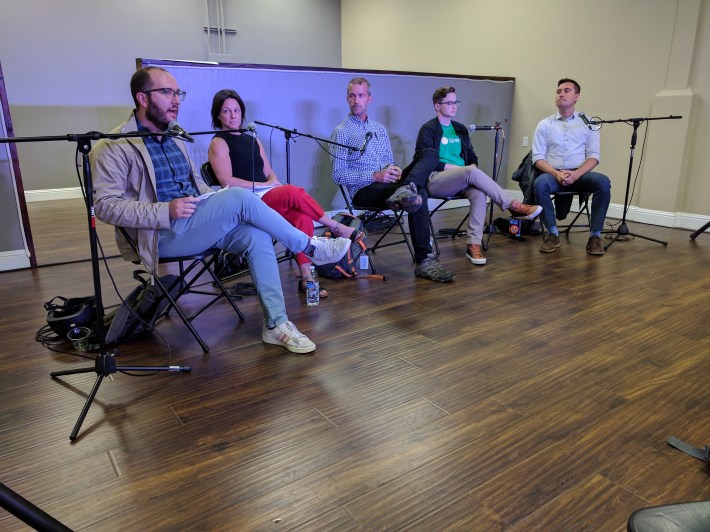 Stay in touch
Sign up for our free newsletter