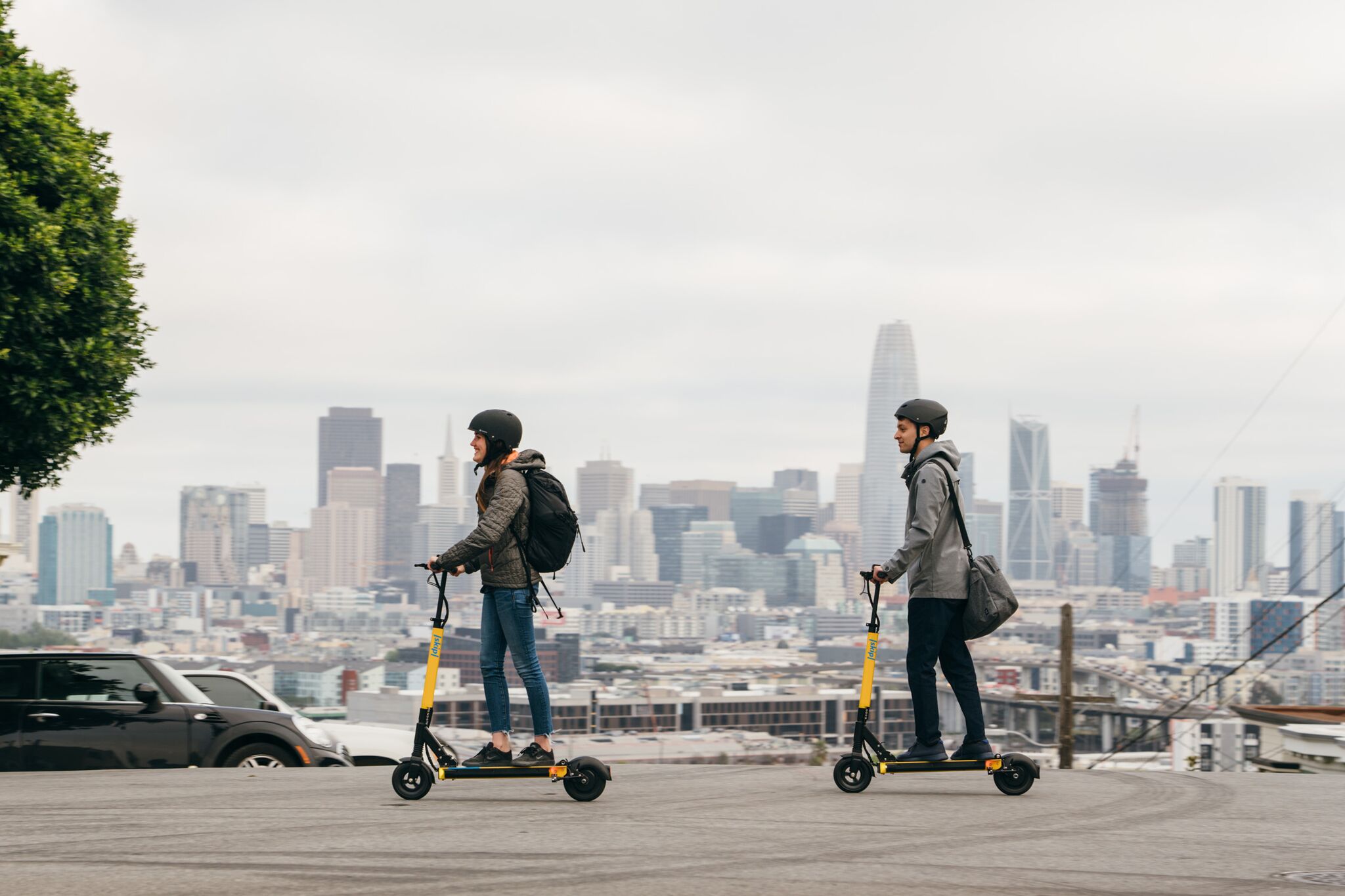 Note: GJEL Accident Attorneys regularly sponsors coverage on Streetsblog San Francisco and Streetsblog California. Unless noted in the story, GJEL Accident Attorneys is not consulted for the content or editorial direction of the sponsored content.
Scoot and Skip scooter will be awarded permits to operate in San Francisco as part of SFMTA's one-year powered scooter share pilot program, the city announced in a statement just before the Labor Day weekend.
From the release:
Both companies submitted strong proposals with detailed, unique and innovative approaches that demonstrated the highest level of commitment to solving known challenges and concerns, ranging from public safety and user education to equitable access and collaboration with the city and its diverse communities.

The SFMTA found that no other applications substantially exceeded the agency's standards for operating a shared scooter pilot program in San Francisco to the extent that Scoot and Skip did.
"While no application was flawless, we selected only the applicants with the strongest proposals for this one-year pilot program. Scoot and Skip demonstrated a high level of commitment to our city's values of prioritizing public safety, promoting equity, ensuring accountability and safeguarding our shared, public spaces," said SFMTA Director Ed Reiskin in the prepared statement.
The agency also states that it "intends to issue the permits to Scoot and Skip on October 15, 2018, which will allow a maximum of 625 scooters for each company in the first six months. Scoot and Skip may have the potential to increase their number of scooters in months seven to 12 to a cap of 2,500, at the SFMTA's sole discretion."
The selection process has been contentious. As the San Francisco Chronicle reported, some scooter applicants are complaining that the SFMTA downgraded their applications based on the behavior of their parent companies, such as Uber and Lyft. The SFMTA has reportedly received thirty sunshine record requests pertaining to the scooter selection process.
Scooter companies that were not selected haven't given up. "As Bird nears its goal of providing transportation to riders in 50 cities globally before the end of 2018, we will continue to work with San Francisco officials, partners, community organizations, and advocates in hopes of bringing Bird back to the City by the Bay," wrote Bird spokesperson Mackenzie Long in an email to Streetsblog.
SFMTA's statement pointed out some specific characteristics of Scoot and Skip scooters that were strong selling points. For example, Scoot's model employs swappable batteries so it isn't necessary to take the entire scooter off the street for recharging; that should help the city reduce the amount of vehicle miles traveled on San Francisco streets, since recharging can be done by someone swapping fresh batteries from a push cart, bicycle, and/or big backpack, instead of using a van or truck. This seems like a design that should be adopted by all scooter companies (and perhaps e-bike companies as well).
Skip's proposal also says they will "deploy ambassadors to approach users about safe behaviors and provide helmets, as well as offer in-person training sessions for users."
It was last April that the SFMTA passed a law banning scooter companies without a city permit, which they then set out to create. Scooters vanished from San Francisco when the ban took effect in early June. The popular mobility devices then appeared in droves in Oakland and other nearby cities, where they continue to operate--and in many cases are welcomed while regulatory strategies and policies are developed.
Meanwhile, state legislation that would remove the adult helmet requirement for scooter riders is awaiting the governor's signature. That bill would maintain the ban on sidewalk riding. Streetsblog's sister publication, Santa Monica Next, recently did this great breakdown of new regulations and the inconsistency with which cities have often focused on the "dangers" posed by scooters--while paying lip service to far more dangerous behaviors and environmental damage from automobiles.
Do you want to see Bird, Lime, and Spin (and perhaps others) return to San Francisco? Does this seem like a good start to the permit process or is the city paying way too much attention to scooters in the first place, when it should have higher priorities (such as fixing dangerous intersections)? Post your thoughts below.
Stay in touch
Sign up for our free newsletter