Muni
Transit Week Kickoff Marred by Broken Trains
4:05 PM PDT on September 24, 2018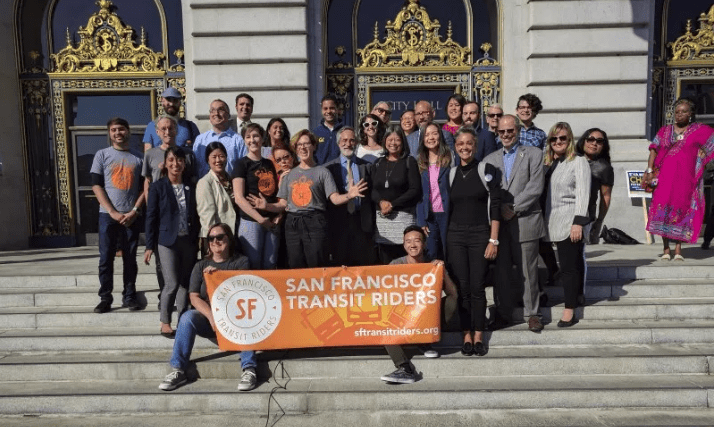 Note: GJEL Accident Attorneys regularly sponsors coverage on Streetsblog San Francisco and Streetsblog California. Unless noted in the story, GJEL Accident Attorneys is not consulted for the content or editorial direction of the sponsored content.
Train breakdowns marred the kickoff event to San Francisco's third annual 'Transit Week,' a celebration of all things Muni, held this morning by the San Francisco Transit Riders on the steps of City Hall. Many of the invited guests had problems just getting there.
"I thank BART for getting us to City Hall," said State Senator Scott Wiener at the event. Several politicians promised to ride transit this week, if they don't already, to experience first-hand what it's like on a daily basis. Wiener was with a contingent that was supposed to take the J-Church. But the J never came (see Wiener's tweet below) and they walked to BART. Wiener said it was still fun for him and his group, but breakdowns have "real life consequences" for people who depend on the train. "People end up late to work and school," he said. "We ask people to use transit and then we don't provide it."
Supervisor Katy Tang and her constituents also encountered problems with the L-Taraval. The San Francisco Bicycle Coalition's Janice Li tweeted about how they got off a struck train, walked a bit, and finally got into the city via West Portal and a K-Ingleside train.
Rachel Hyden, Executive Director of the San Francisco Transit Riders, was also delayed by problems on the L. "There are people who lose their jobs if they're late," she said at the ceremony. Like Wiener and others, she reminded advocates and lawmakers that when trains are this unreliable, people have to bank huge amounts of extra time, so a trip that 'normally' takes 30 minutes really requires riders to set aside an hour. This makes transit un-competitive. "We can't have a constant state of meltdown," said Wiener.
All in all, bus riders seemed to fare better this morning. BART Board Director and Supervisoral Candidate Nick Josefowitz described an uneventful trip in via the 22 and the 5. But even some bus riders had problems this morning, including Supervisor Jane Kim:
Still, politicians and advocates agreed the system is generally getting better, with steadily increasing bus service and more new train cars coming online every day. The hope is with projects such as the Central Subway, which is set to open soon, and an alignment chosen for the downtown extension of Caltrain, "things can improve,"said Supervisor Aaron Peskin.
"360,000 people ride Muni, 440,000 ride BART, and 15,000 ride Caltrain," said Thea Selby, chair of the San Francisco Transit Riders' Board. "We are a force." Recently, the Transit Riders got Muni to honor transfers for two hours, rather than 90 minutes. And one of the reasons bus service has improved is the addition of all-door boarding, another change that came only through the heavy lobbying efforts of the Transit Riders.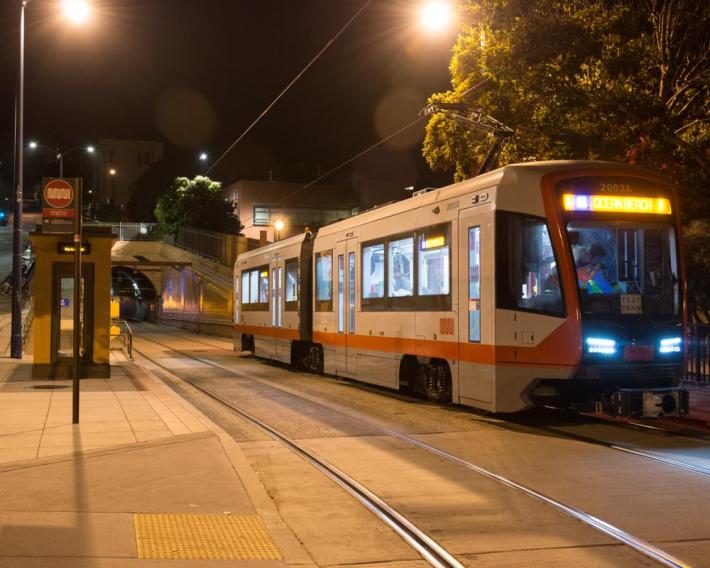 They also helped push funding measures, such as Measure RR to help repair and maintain BART. Assemblymember David Chiu praised the passage of Regional Measure 3, also pushed by advocates. Moving forward, several politicians and advocates spoke about the importance of defeating Prop. 6, which would roll back gas taxes that are vital to expanding, maintaining, and improving transit systems and roads. In addition, at a press conference that came right after the event, Peskin and others announced the passage of A.B. 1184, co-sponsored by Scott Wiener and Assemblymember Phil Ting. This bill, which was signed into law over the weekend, will put a "TNC Impact Fee" on the November 2019 ballot, enabling San Francisco to tax all Uber and Lyft trips in San Francisco. If passed by San Francisco voters, the tax would raise an estimated $30 million annually towards transportation infrastructure and operations.
With these new revenue streams and an ongoing commitment, said the politicos, it is possible to transform San Francisco transit into a world-class system. But with an estimated $22 billion in funding needed over the next 27 years (according to the County's Transportation Task Force 2045) it's obviously going to take more commitments.
"After seeing transit in Stockholm, Hong Kong, and Singapore, we've got a long way to go," said Supervisor Sandra Lee Fewer, who was also at the ceremony. But can San Francisco really build and run a transit system that is the envy of the world, as some of the politicians and advocates suggested?
Who knows? But "riders always ask me 'what can I do to improve my commute?'" said Josefowitz. "And I say 'Join the San Francisco Transit Riders.'"
It is their stated mission, after all, to "make transit awesome."
For a list of 'Transit Week' events, check out the Transit Riders' web page.
Stay in touch
Sign up for our free newsletter