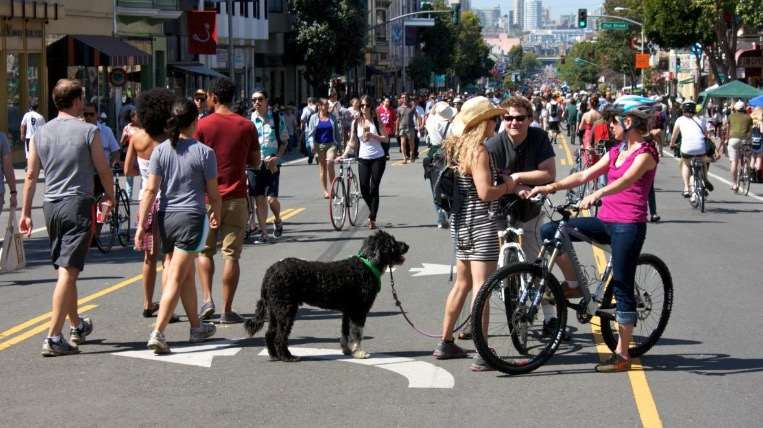 Safe-streets advocates are reaching out to merchants on Valencia Street to promote a pilot project to introduce car-free "shopping zones" between 16th and 17th Streets and 23rd and 24th Streets. Catherine Orland, District 9 representative to the Bicycle Advisory Committee (BAC) and longtime member and volunteer with the San Francisco Bicycle Coalition, is leading the effort.
"The main thing is it's a trial," she told Streetsblog in a phone interview. "We want to collect data on how many people arrive and by what method of transit, bike or car, how much time they spend on Valencia, what do they buy and how much money do they spend."
Of course, if the trial is successful--and the two blocks prove safer for cyclists but still lucrative for merchants--the idea would be to turn all or nearly all of Valencia into a pedestrianized street, similar to Las Ramblas in Barcelona, as seen in the image below: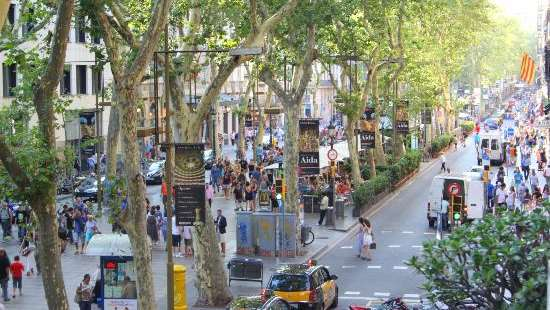 Through Orland's efforts, last August the BAC passed a "Resolution to Create Shopping Zones on Valencia Street," which proposes to set up the two car-free sections, blocked off with permeable barriers that will permit cyclists and pedestrians to pass but not through motor traffic. Provisions will be made for delivery trucks, emergency vehicles, and paratransit.
The proposal is already endorsed by the San Francisco Bicycle Coalition, the San Francisco Youth Commission, Livable City, Bicis Del Pueblo, and others.
CORRECTION, Oct. 22: The Bicycle Coalition has not formally backed the plan. But 'in general, we're supportive of car-free spaces in San Francisco,' said SFBC's Brian Wiedenmeier, in an email to Streetsblog.
On Wednesday, Orland gave a presentation to the Valencia Corridor Merchants Association, a key constituency to moving the pilot project forward. "There's some concern about parking and traffic, but there's a lot of merchants who were supportive and concerned about safety," said Orland. "They have seen first hand many of the problems with congestion and cars double parking on the Valencia Street bike lane."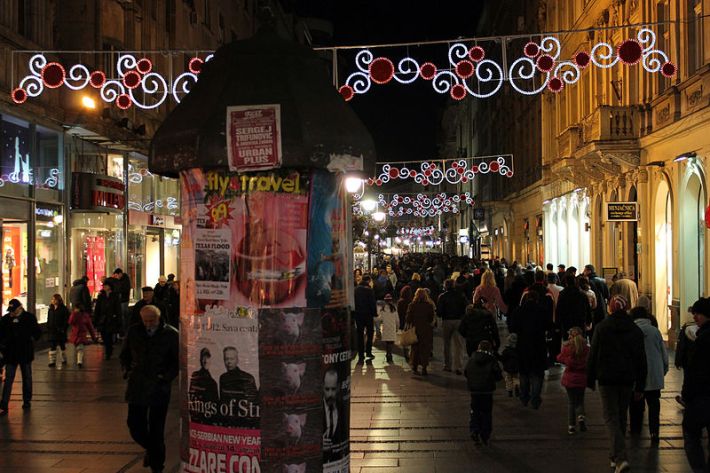 Many merchants, she said, are also excited about the idea of having expanded sidewalk cafe seating and retail kiosks.
The effort is in response to SFMTA's design options for upgraded bike lanes on Valencia, first presented to the public for feedback in July. The options include center-running bike lanes, protected one-way side-running bike lanes on each side of the street, or protected two-way bike lanes on one side of the street.
Bike safety advocates were pleased to finally see some progress on getting upgrades to Valencia, but also dismayed that the vast majority of the pavement in the designs, on one of the city's most heavily biked streets, would still be set aside for automobiles. Livable City's Tom Radulovich bemoaned the designs as being far too incremental. "There's no official vision in this room, even in the bikeway designs," he told Streetsblog at the time.
The idea is that the BAC resolution, with merchant support, can be moved to the desks of Supervisors Rafael Mandelman and Hillary Ronen, who together represent the corridor. It's hoped they can bring the resolution to the San Francisco Board of Supervisors. "If we get political traction, the Board of Supervisors can hopefully tell the SFMTA to take care of it," said Orland.
It would be a great next step towards making Valencia, which is already used by 2,100 cyclists on an average weekday, a true pedestrian and bicycle street.
Want to help? Email Orland at SeaOrLand [at] gmail.com. And contact Mandelman and Ronen to express your support for a pedestrianization trial on Valencia.
Also, "spend money with merchants on Valencia--and bring your bike helmet in with you!" said Orland.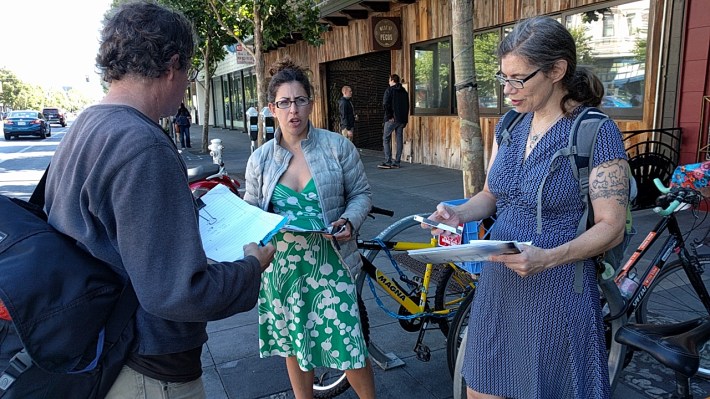 Stay in touch
Sign up for our free newsletter