Elections
SPUR Talk: Post Election Roundup
4:24 PM PST on November 7, 2018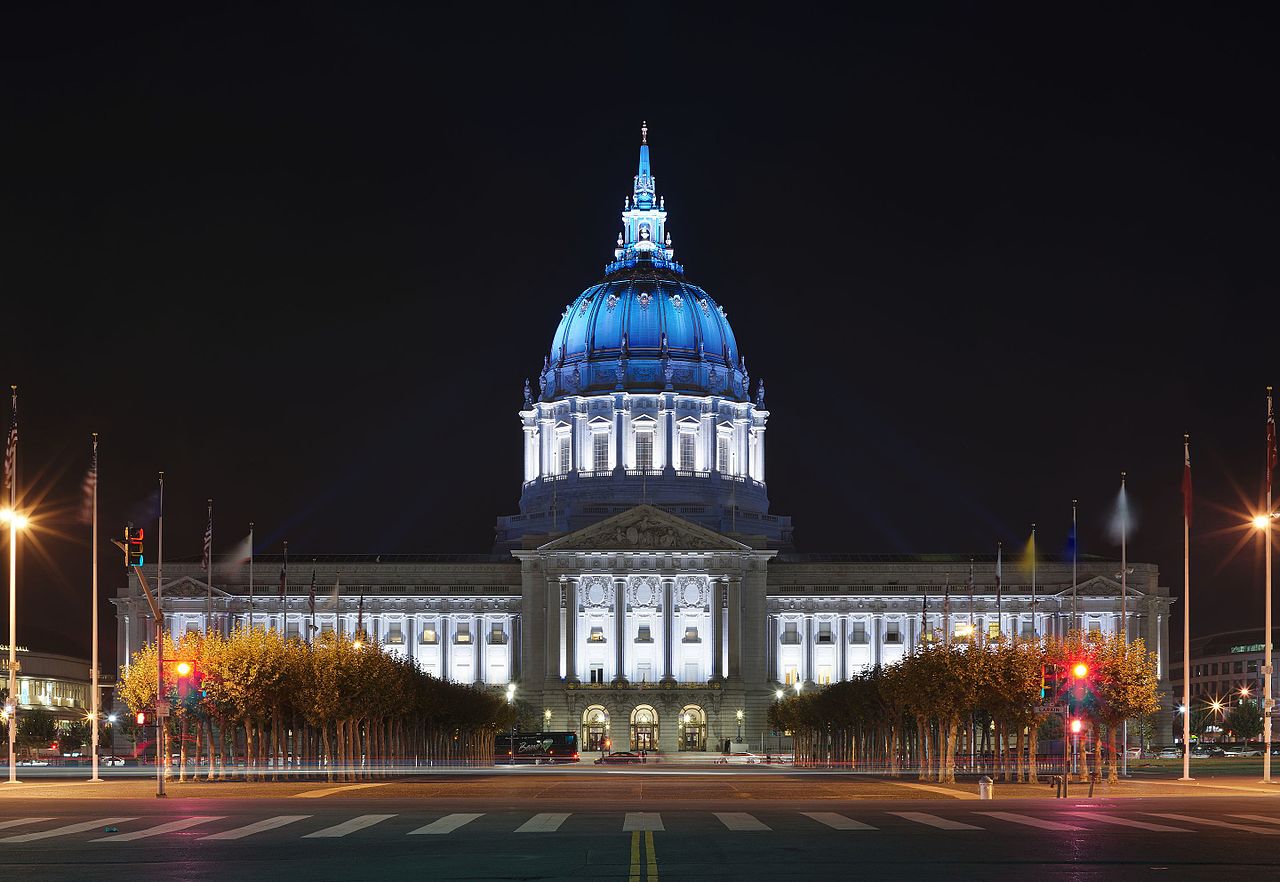 Note: GJEL Accident Attorneys regularly sponsors coverage on Streetsblog San Francisco and Streetsblog California. Unless noted in the story, GJEL Accident Attorneys is not consulted for the content or editorial direction of the sponsored content.
Was it also London Breed versus Mark Benioff for Mayor, or was it just Prop. C, a tax on the richest companies to help the homeless, that was on the line in Tuesday's election?
Salesforce's CEO Benioff, of course, campaigned hard and put more than $2 million into passing the tax (in addition to the $6 million from Salesforce). "Once Benioff got into it, it was obvious it was going to pass," said Fall Line Analytics' David Latterman, during today's post-election round-up talk at SPUR's San Francisco location. Mayor London Breed campaigned against the measure, which some saw as a referendum on her chances of winning re-election next year. But the two analysts, Latterman and Lighthouse Public Affairs' Alex Clemens, played down that notion. "What happens in Nov. 2019? A mayor's race. When does it begin? It just did," said Clemens, with Latterman adding that he didn't think the electorate would hold her position on C against her.
Additionally, neither sees Benioff--who has already said he doesn't want to run--actually throwing in for mayor, or any other political position, as many have speculated. "He has a better job," said Clemens.
They took a look at several other propositions and races with relevance to advocates for safe and livable streets. Although votes aren't all counted, it appears the San Francisco Bicycle Coalition's Janice Li will win the race for the District 8 seat on the BART Board of Directors, with 30 percent of the vote thus counted. Eva Chao came in second, with 21 percent. "If you had heard of Eva Chao before seeing her on the ballot today, raise your hands," said Clemens.
He counted only five people, at an event that was standing-room only.
The ranking, they concluded, showed many things--among them the strength of the Chinese vote. If Li hadn't jumped into the race, they pointed out, Chao--an unknown--would have beaten the most experienced politician in the race, Melanie Nutter. Nutter, who worked in the San Francisco Mayor's office and for Nancy Pelosi, only got 18 percent of the vote. Another factor was Bevan Dufty, who currently sits on the BART Board, who, they said, helped advise Li throughout the process. "Bravo to Bevan for pulling himself an excellent ally on the board," said Clemens.
Meanwhile, San Francisco's Prop. A, the Seawall funding measure, passed handily, with a whopping 82 percent in favor. "This was a necessity. This is a non controversial one," said Clemens. He said the only people who opposed it were groups such as the Howard Jarvis Taxpayer Association simply because "they don't think anyone over fifty should pay taxes for anything."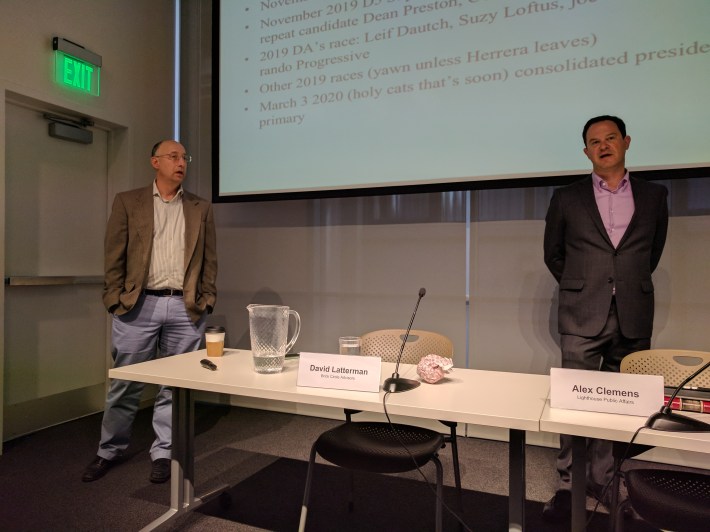 On the statewide ballot, there was Prop. 10, which would have repealed 1995's Costa-Hawkins Rental Housing Act. Clemens argued that most people in the state want more rent control, but they don't have more than a vague idea of what Costa-Hawkins is--or what it means to repeal it. People went into the voting booth and thought "wait, I'm for rent control, but… what? Damn it" and voted 'no' because, fact is, voters tend to vote 'no' for anything that's overly complicated (which, if Streetsblog may editorialize a tad, probably helped bring down Prop. 6 as well, for which a 'yes' vote actually meant 'no' to a gas tax).
It also means that rent control reform won't be up for a vote again for a very long time because "Prop. 10 got such a massive butt kicking," said Clemens.
Meanwhile, the lawsuits over Prop. C are already starting, since it didn't quite reach the two-third's voter threshold that is sometimes--albeit not always--supposed to be required to institute a new tax under 1978's Prop. 13.
That means it's going to be a while before any of those funds actually materialize as homeless services, since the money is likely to be put into escrow as the lawyers hash things out. But Latterman said Mayor Breed will probably bring everyone together in a "blue ribbon panel" and figure out a compromise, otherwise "a bunch of lawyers will make a bunch of money. So Mayor Breed is going to convene the leaders, Chambers, business leaders, and Benioff and ask, 'what can we do now to address this?'"
Meanwhile, both were impressed by voter turnout, which was 60 percent in San Francisco--a near record level for a midterm election. They attribute that to frustration with Trump and the need to do something about it. They were also pleased with the influence the election will have on national politics. "I'd like to hold a moment of silence for Jeff Sessions," joked Clemens.
In addition, he pointed out that Congress will soon have 100 women, including two Muslim-Americans and a lesbian. "It was about time we sent our team to DC to tell Trump!"
That said, he and Latterman were concerned about a Democratic Party with "100-year-old" leaders and no obvious successors. Clemens speculated--stressing that it was just speculation--that Nancy Pelosi may take the speakership only long enough to set up a younger successor, and that Diane Feinstein may not even finish her term in the Senate. That way, he added, "incoming Governor Newsom can just appoint someone [younger] for the rest of her term."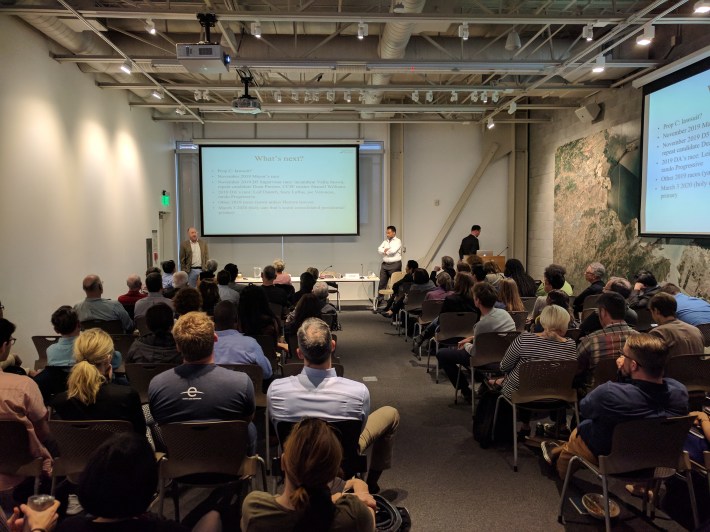 For more events like these, visit SPUR's events page.
Stay in touch
Sign up for our free newsletter