BART
Tracking Transit's Return
3:44 PM PDT on May 10, 2021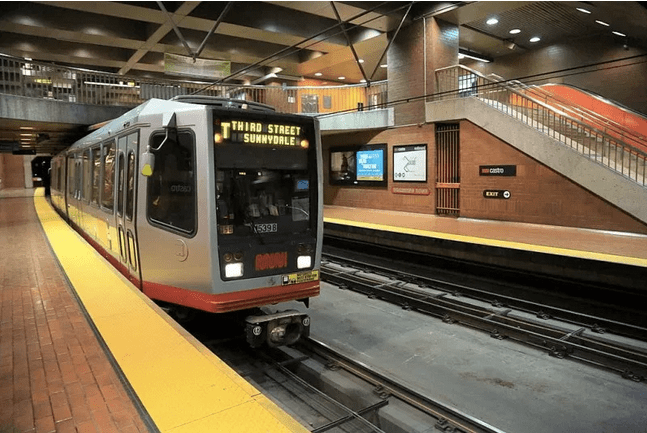 Note: GJEL Accident Attorneys regularly sponsors coverage on Streetsblog San Francisco and Streetsblog California. Unless noted in the story, GJEL Accident Attorneys is not consulted for the content or editorial direction of the sponsored content.
With the pandemic showing steady improvement in the Bay Area, transit agencies are ramping back service--or at least starting to talk about it. Improvement plans are still a little vague at some of the agencies, but Streetsblog put some briefs together on the status of the three big ones, Caltrain, Muni, and BART.
Muni:
The most dramatic changes to Bay Area transit will happen this coming weekend at San Francisco Muni. However, the changes are only so dramatic because Muni also did something that, as far as Streetsblog is aware, is unique among the world's transit agencies: they shut down the core of their rail transit system for over a year. Muni's shut down of the Market Street subway (along with all rail service) in March of 2020 was originally a reaction to the pandemic shelter-in-place orders. Service was supposed to restart in August of 2020--and it did, briefly, until damaged overhead wires closed the subway indefinitely. But at long last, Muni service, including the subway tunnel (at least for the KT and N-Judah) is set to reopen Saturday, May 15. From an SFMTA release:
One of the last and key steps in finishing repairs and reopening the subway is safety testing and certification. The SFMTA is testing the track, signal system and overhead wires to ensure they are functioning properly and meet safety standards. We've also tested our train control system to ensure it is in proper working order. The train control system is a crucial part of subway safety and operation, overseeing all of our trains in the tunnel and directing them to the right places.
In the meantime, Muni has been ramping up mock services to test their newly restored systems with the hopes of avoiding another fiasco similar to what happened in August.
A bit more from SFMTA's blog post about the reopening:
New wayfinding signs and art projects are in place at Castro and West Portal stations, and – drumroll, please – Wi-Fi availability, thanks to routers installed in stations and cellular antennas installed in the tunnels. Safety certification for the subway repairs was approved on March 11, paving the way to reopen the subway and phase in more rail service in May.
Again, Streetsblog is unaware of any other transit system in the world that shut down its main trunk during the pandemic, including systems with subways and light-rail similar to SF Muni's. If readers are aware of one, please post about it in the comments section.
BART: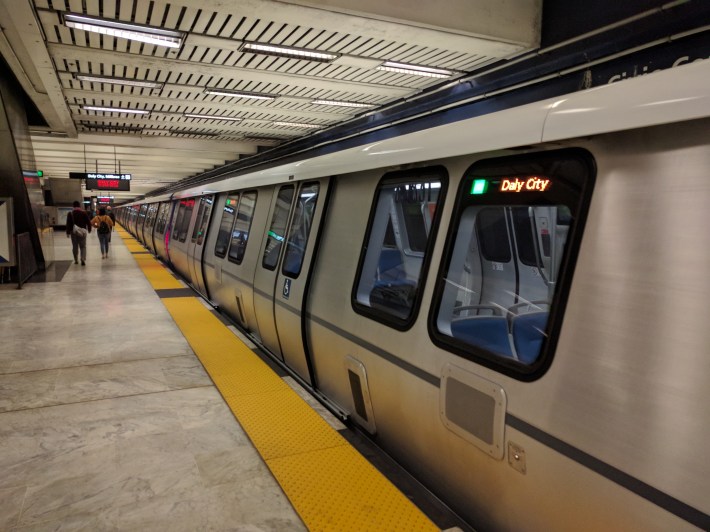 BART started shutting down service at 9 p.m. shortly after COVID struck in March of 2020. But plans are now underway to ramp things back up to pre-pandemic levels, including late-night service, as early as September [update/correction 5/11--August 30]. As reported by the San Francisco Examiner, "Currently, trains run every 30 minutes outside of peak commute hours and stop at 9 p.m. Under the new schedule, funding would be directed toward restoring 15-minute headways between trains until 8 p.m. and keeping the system open with 30-minute headways until midnight six nights a week.
The last changes were in March of 2021 when BART added an additional 26 trips to meet increased demand. "We will continue to monitor daily ridership and add more trains into service as ridership demand increases. Commute trains at 15-minute frequencies are running on most lines during our busiest times. Other times have 30-minute frequencies on each line. If you are traveling within San Francisco or a line that has more than one line of service, trains are more frequent than every 30 minutes," according to a BART release.
Caltrain: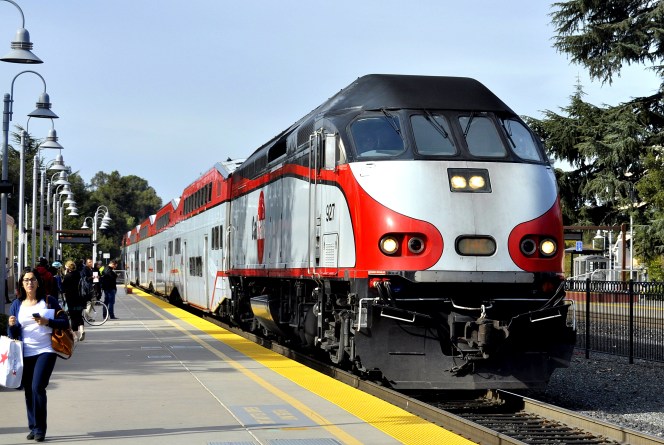 Caltrain, like other transit agencies, has been ramping things back up, albeit slowly. Last March it upped its "weekday service from 68 to 70 trains." Streetsblog reached out to Caltrain to find out when they anticipate returning to pre-pandemic levels of service. Caltrain spokesperson Dan Lieberman didn't commit to a time frame, writing only that "Caltrain is monitoring ridership patterns as well as the larger trends in traffic and re-openings throughout the region. We are also engaged in continuous discussions with our transit partners and are closely monitoring their plans to restore service."
However, "We have included an assumption of restored service in our proposed fiscal year 2022 budget and plan to bring options to our board related to service restoration in the near future."
He provided this breakdown for comparison of pre-pandemic service to what's running now:
Pre-Pandemic Service:
92 Weekday trains
28 Saturday trains
24 Sunday trains
Weekday Service:
3-5 trains per hour during the AM/PM commute period
Bullet & Limited train service during the AM/PM commute period
Local train service in early AM, midday & evening
Weekend Service:
90-min Local train service
2 Bullet trains per day in each direction
Current/Pandemic-level Service:
70 Weekday trains
32 Saturday trains
28 Sunday trains
Weekday Service
2 trains per hour during the AM/PM commute period & midday
Limited train service during the AM/PM commute period & midday
Limited A & Limited B patterns
Local train service in early AM & evening
Weekend Service
Hourly Local train service
Note: Golden Gate Transit also sent the following to Streetsblog: "...the District maintained virtually all of our regional bus service, while suspending about 90 percent of our commute/express bus service that served primarily office workers. This resulted in an overall reduction of about 50 percent in our pre-COVID bus service. We look forward to welcoming back our customers, and the District will restore bus and ferry service incrementally, in a measured way as we see the return of our customers traveling in the Golden Gate Corridor."
Stay in touch
Sign up for our free newsletter